11 Types of Futons to Match Your Decor & Save Space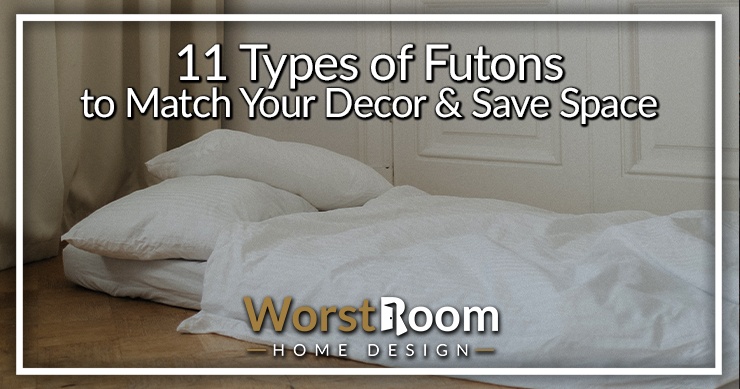 Whether you are a student living in a small apartment or someone who likes to entertain guests but doesn't want to invest in a whole additional bed and mattress, any of the types of futons will be something that has several uses.
A futon is the perfect kind of furniture if you have limited space but would also like to have a comfortable place to lounge and lie down. It's one of the most efficient and useful types of furniture.
You can use it as a sofa during the day and fold it out into a bed when you want to settle in for the night. There is a type of futon for every kind of living or working situation.
Whether you are looking for a futon for everyday use or one that you will pull out periodically when a guest visits, there are styles and frame designs that you can consider.
11 Types of Futons
The following are some of the best types of futon styles you can consider for your home or office. The futon types are followed by a brief description of various types of futon frames and the materials used to make them. If you want more inspiration after, check out the futon alternatives we've collected as well.
Traditional Futon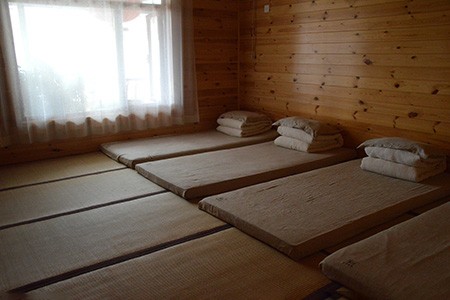 A traditional futon is a basic sofa-cum-bed or seat which comes with either a metal or a wooden frame, or rests directly on the floor on tatami mats. This is one of the most elementary designs. They make the perfect guest bed options that you can store away otherwise. A futon refers to both the mattress (shikubuton) you sleep on and the comforter (kakebuton) you would sleep under.
It simply folds out to make a bed for when you are hosting guests or want to fall asleep in front of the television. A medium-priced futon typically comes with a mattress, though you can also purchase one separately.
A traditional futon looks no different than a regular sofa. In some cases, it may even be upholstered so the frame is not visible at all. The crucial difference is that a futon is a sofa that folds out into a bed.
Bunk Bed Futon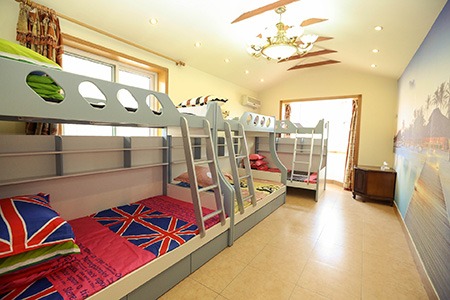 Ideal for children, bunk bed types of futons are one where there is a traditional futon seat on the lower bunk with the types of bed frames that extends up to another bed above the sofa.
The frame typically also supports a ladder so you can access the upper berth more easily. In most designs, the futon at the bottom may also open into a full bed.
This is one of the best options for a compact space. You get two full beds while taking up the floor space of only one. It is the ideal bed to install in a room shared by siblings. There are similar but different bunk bed alternatives we've covered, too.
Lounger Futon
A lounger futon, as the name suggests, is one that is meant for lounging. It has a more relaxed design and comes pre-assembled as a bed that you can lounge on.
You may have seen this kind of lounger futon at the doctor's office to make the environment more comforting for patients. They're almost one of the types of couches in design.
It typically has an armrest only on one side so you can stretch out and prop your legs up on the other side. It can also look like a chaise lounger, though a lounger futon tends to be lighter in weight.
Armless Futon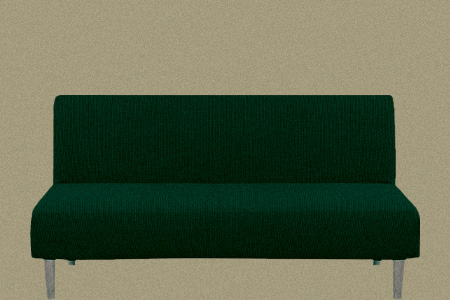 An armless futon is, as the name suggests, one without an armrest. This is a futon that you can truly lie back on without the armrest coming in the way of your sleeping posture. These different types of futons make great bed alternatives.
It's an ideal type of futon for someone who is tall and requires more length on their futon to lie down comfortably.
These futon types have an elegant design and are one of the easier futon styles to set up. Even as a sofa, it can fit more people because the armrest does not take up space.
Outdoor Futon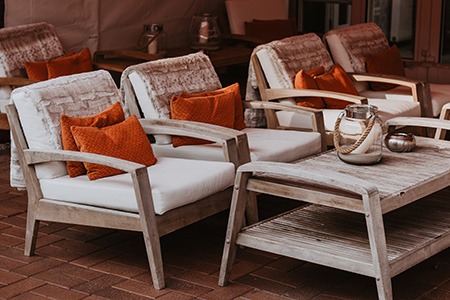 An outdoor futon tends to be a compact option that you can place on your porch or outdoor seating area. The design of the futon can be like any of the types that have been described above, but the futon needs to have a water and weather-resistant cover.
The useful thing about such furniture is that you can use it on your patio or porch, but also bring it inside the house should you require an extra bed.
Types of Futons By Frame
The different types of futons that have been mentioned above have been categorized according to their styles, but the frame of the futon is also an important categorization. The following are some of the most common futon frame structures you will come across.
Loveseat Futon Frame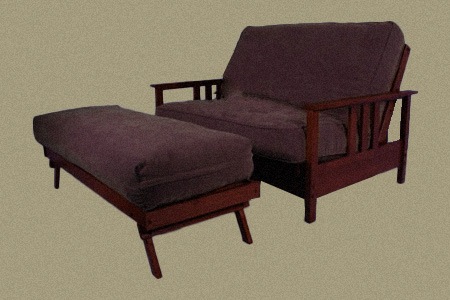 A regular loveseat is a compact and cozy seating. So when it comes to a loveseat frame on a futon, the same design logic applies. A loveseat futon is also designed for small and compact space, meant to accommodate two people at once, usually a romantic couple which is why it's called a loveseat. These futons make for great couch alternatives.
There are two pieces of futon types of mattresses in the frame which open out to become a single twin mattress, perfect for fitting two kids. If you have limited space in any room but would like to keep the option of using these futon types for guests, a loveseat frame for a futon is perfect.
Bi-Fold Futon Frame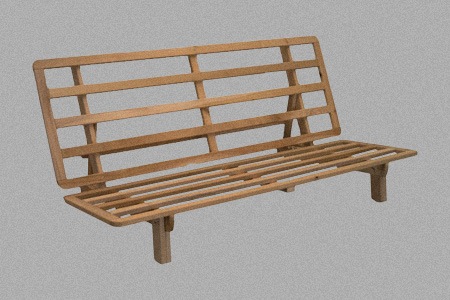 A bi-fold frame is one that folds down the middle so when you want to use it as a bed, you can simply flatten the frame out. This is an ideal futon set up for use in a small studio apartment where the futon can be used as a sofa during the day and bed at night.
A bi-fold frame is available for futon styles of various sizes—full, queen and even smaller chair sizes. Typically, a bi-fold frame will have eight slats as the base so you are fully supported when you lie down on it.
Tri-Fold Futon Frame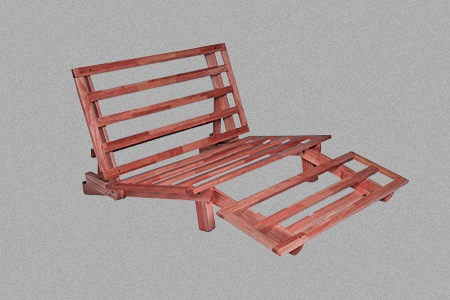 If a bi-fold frame folds into two, tri-fold types of futons will fold the futon mattress into three parts. They tend to be lower and closer to the flower when they are folded out completely and are great, compact options for a small room.
The major problem with a tri-fold frame, however, is that you can only use a thin mattress with such a frame, or else it will not fold into thirds. This can get tricky if you're using futons as mattress alternatives, due to back pain developing and general comfort.
This can become slightly uncomfortable to sleep on as you may not get the right kind of support. Besides, the trifold frame is also an unwieldy design for converting the futon into a bed.
Adjustable Arms Futon Frame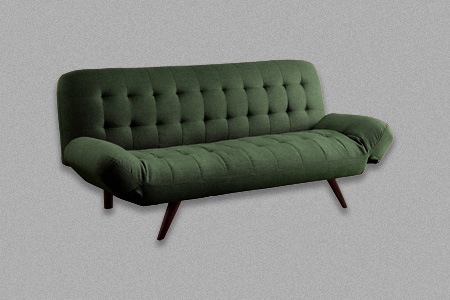 A futon frame with adjustable arms is a flexible frame in which the arms of the futon can slide all the way down so you get more length to recline and straighten your back out on.
This is an extremely efficient design as it gives you the comfort of an armrest when you are using it as a sofa, as well as more space to lie down when you convert it into a bed.
These futon styles are also a good design for those who like to sleep on a higher incline and like to be slightly elevated when they sleep.
Types of Futons by Material
Now that the various styles and frame types for futons have been discussed, it is also important to shed light on the type of materials used to make these futons.
While the covering, types of upholstery fabric, and mattresses can be of various materials, the materials used to build the futon frame is very important. The following are the two primary kinds of material used for futon frames:
Wood Futons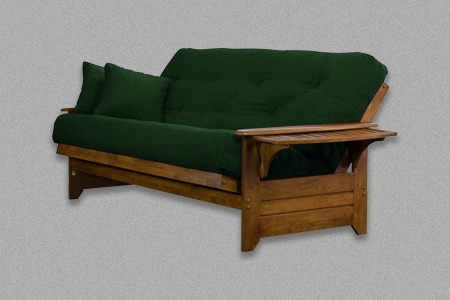 Hardwood construction is one of the best things for a futon which must otherwise have flexibility in its design. With a sturdy and durable wooden frame, the flexible design of the futon can be adequately supported.
Wooden futon frames also means you can customize various storage options underneath the futon. A wooden frame will also match most interior decors and surroundings. It is one of the most common materials used in a futon frame.
Metal Futons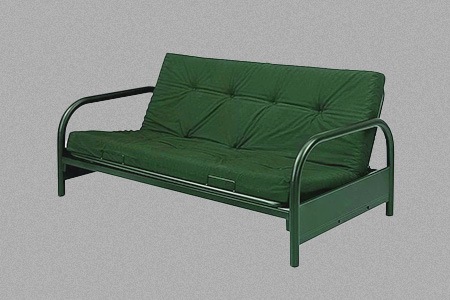 Metal offers a steady and strong frame to a futon. As a material, metal has more flexibility than hardwood so the metal base will also provide more comfort when you move in your sleep as it has more give.
A metal frame is also one that will go with most designs. What's more, metal can also be painted various colors so even if you get it for its stability and strength, it can match your interior decor easily.
However, if you live in a coastal area or a particularly humid region, a metal frame may not be the best option for an outdoor futon. These futon styles are bound to rust due to the humidity and salt content in the air.
Types of Futons for Every Need & Decor Style
When it comes to comfort and convenient living, a futon is one of the first kinds of furniture one thinks of. A futon is versatile, space saving and does not compel you to commit to an expensive mattress and bed when you can simply make do with an efficient futon.
With the right kind of futon frame and material, you can find just the kind of comfort you need from a sofa or lounger during the day, and from a bed at night.
The types of futons that have been described above are some of the most common styles you will find in the market. They are common precisely because of how useful they are furniture and have proven their design values over and over.
You'll Also Enjoy: