What Color to Paint Ceiling Beams? 8 Fancy Options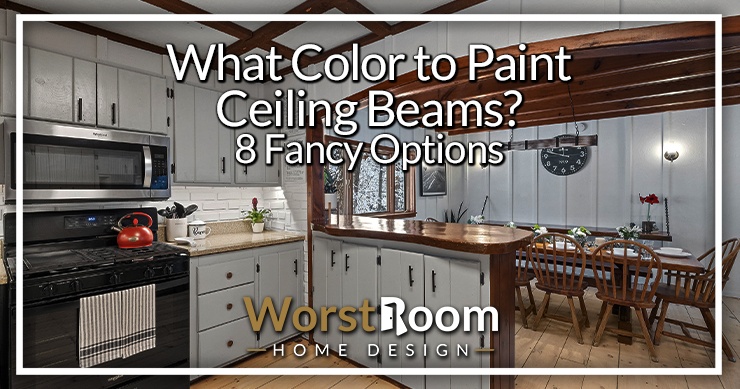 Are you struggling with deciding on what color to paint ceiling beams in various rooms? You'll have to live with your decision for years, so you better get it right. The last thing you want is to create a living space that inspires emotions of regret rather than eye-pleasing aesthetics.
Do you want the ceiling beans to stand out or fade into the background? Choosing the right color makes all the difference. The most common color choices for ceiling beams include grey, off-white, and white because they add more volume to the room, giving the impression of a bigger space.
That's not always the result homeowners are looking for from their painting projects. You might want a color that makes the room appear vibrant and cozy. It's a tough decision. We put this post together to help you make the right choice for your interior decor. Here's everything you need to know about what color to paint ceiling beams and the visual effect it creates for the room.
Painting Ceiling Beams – A Guide for Outstanding Results
Here are the primary factors you must consider when choosing your ideal color palette for the ceiling beams.
Complement the Room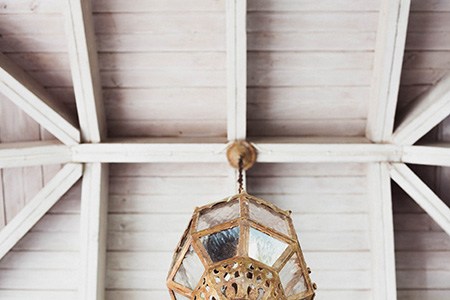 The goal of painting ceiling beams is to accentuate the design and aesthetics of the room. Whether you're painting the lounge, dining room, or bedroom, the color choice makes a style statement that defines the decor theme.
For instance, using contrasting colors makes the beams stand out from the space between them as soon as you walk into the room. Using complementary colors blends them into the living space for a less obvious and cohesive visual effect.
Before you add paint to paintbrush, visualize how the color will look in the room and the impact it creates in relation to the types of ceilings you're working with, among other features. Will you create contrast or blend in and complement instead?
Rooms Size & Ceiling Height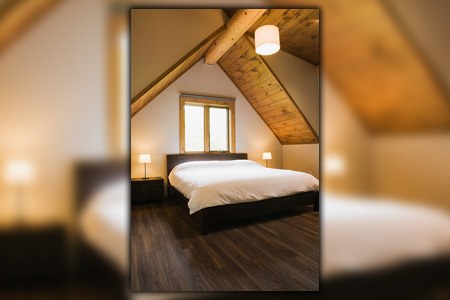 Color choice can make a room feel smaller or open. If you have low ceilings, using contrasting colors will make the room appear smaller, which is a nice way to create a cozier look and feel to a bedroom, but it might make the lounge seem cramped.
In rooms with lofty ceilings, complimentary colors add more volume to the living space but make it seem cold and hollow. A darker paint choice creates the visual illusion of a smaller space, while lighter colors open it up.
Interior Decor Aesthetic
The flooring, beams, and ceiling color don't always need to match to create a wonderful look in the room. In some cases, matching everything creates a sterile feel to the environment, especially when using lighter colors.
A room with matching dark colors creates an awkward visual impression, leading to an uncomfortable, depressing feeling. The optimal choice is to use undertones that contrast each other without canceling them out.
Understanding Paint Quality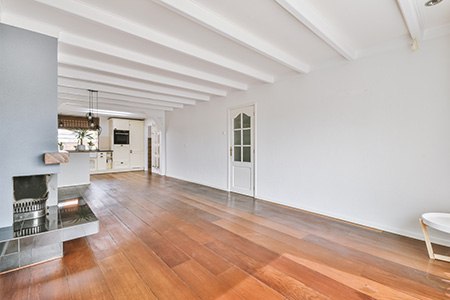 While we all want the lowest cost possible for our painting project, going with cheap paint products isn't a good choice. Cheap paints offer a poor service life, peeling and fading long before high-quality options. They may dry darker or lighter than you expect as well.
High-quality paint might cost you more, but it lasts longer, eliminating the need for repainting. You get what you pay for, meaning quality paints provide a fade-resistant, durable surface that's easy to clean and maintain.
Consider the types of paint you want to use as well. These days, you're going to have a hard time beating a latex paint, but there are other choices. Latex is water-based but there are oil-based paints among other types.
Choose Your Type of Paint Finish
You have gloss, semi-gloss, and flat (matte) finishes available. Glossy finishes stand out, while flat finishes fade into the background. Typically you use a flat paint on ceilings when you don't want to bring visual attention to it.
People ask if ceiling paint can be used on walls, and while the answer is yes, you probably don't want to reverse that, even for beams. I'd stay away from glossy finishes for your beams is what I'm saying,
What Color to Paint Ceiling Beams? 8 Options to Consider
It's nearly impossible to choose what color your painted beam ceiling should be without first seeing some pictures and hearing explanations from those who went before you. Let's take care of that concern now.
1) White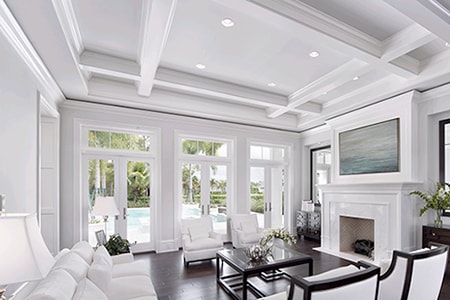 White is the most common choice for ceiling beams. Regardless of the flooring color or walls, you can't go wrong with it. White colors vary in brightness, with off-white options being ideal for blending into any color palette.
It's a classy choice transcending trends, bringing a timeless look and feel to any room. White brightens rooms with low or high-vaulted ceiling beams, enhancing the vibrancy of the living space.
2) Faux Wood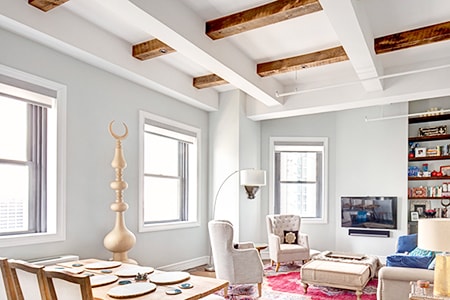 Suppose you move into a home with painted beams and wooden floorings. In that case, you can use a faux-wood color to complement the flooring aesthetic. You get a visually striking finish without stripping the old paint and refurbishing the wood underneath.
You can also use fake beams to cap them over the existing ones. You can purchase these as completed pieces you cut to size and install or you can build DIY faux beams fairly easily and cheaply as well. Consider any types of wall paneling you have that may be wood so they mesh well together with your new beam shades and wood grain.
Faux wood paints come in various dark and light finishes to complement any type of hardwood flooring. You have options for weathered/distressed, light, and dark colors to suit your project requirements.
If you decide to go the route of faux-wood paints, mix the color with glaze and mimic the wood pattern using a wood-graining tool. Comb the paint over the beam to create a grainy effect that's almost indistinguishable from the look of real wood, and comb it all over the beam. A wood grain rocker is useful for adding faux knots to wooden ceiling beams.
3) Dusty Rose Pink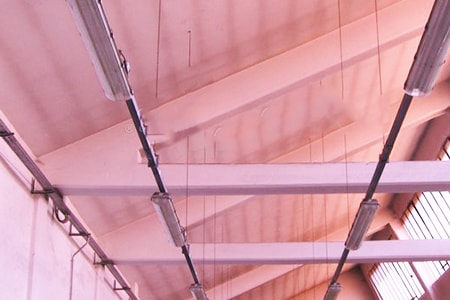 If you're looking to create an elegant, bright visual aesthetic for young kids, they'll love pink. This is also a good choice for dining rooms, kitchens, nurseries, lounges, and other shared spaces around a feminine home. Going with a bright pink color can create a striking look to the room, while dusty rose offers a more soothing visual property. Its neutral look produces a floral, airy, and subtle feel to the living space.
4) Sky Blue
While it's a popular choice, painting ceiling beams white might lead to a sterile, boring look for the room. Using sky blue paint to offset a white ceiling dampens the brightness brought into the room by white ceilings.
When it comes to what color to paint ceiling beams, doing something "wild" like this can work if you're careful. It's a great choice for living areas that get plenty of natural light during the day. There are several tones and finishes close to a sky blue color that look great in brighter rooms.
5) Grey-Green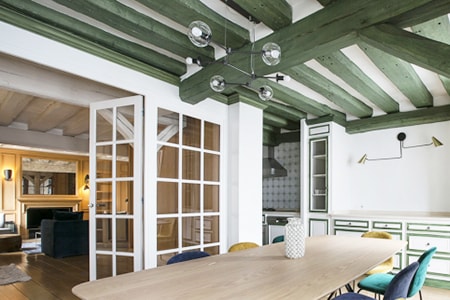 Grey-green might seem like an awkward color choice, and we'll admit it's not for everybody. However, this color is another great complementary choice for lighter ceilings and brighter rooms. Grey-green has a more natural look to it than most other color options.
It's a good choice for living spaces with bay windows, sliding doors, or those rooms that open onto a patio or garden. You also have other options for darker green colors that nicely contrast with faux wood or wooden ceilings and floors.
6) Pale Yellow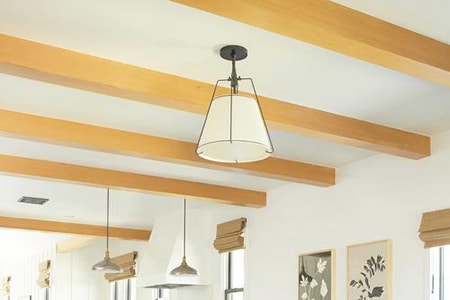 White is a popular choice for ceiling beams, but using a pale yellow produces the same effect of bringing light into the room without making it look sterile and boring.
This option pairs well with almost every color palette, including wood, white, blue, and green walls, without detracting from the visual aesthetic of the space. The result is a breezy, open look and feel ideal for the living room, kitchen, and bedrooms.
7) Light Grey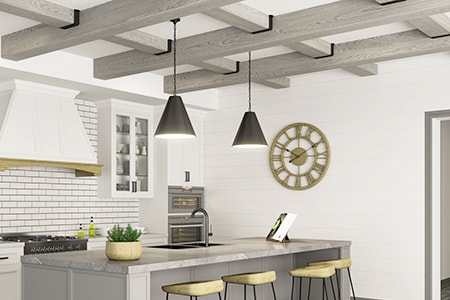 You might think painting ceiling beams light grey makes the room feel cold and dreary, but that's not the case. It's a great neutral color choice to contrast white ceilings without appearing too sharp. It's also a good choice for complementing mineral streaks and wooden flooring, improving its visual appeal and aesthetic.
8) Black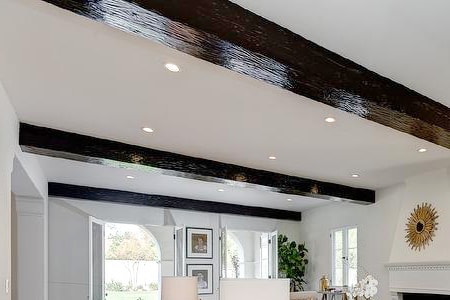 Black is, without a doubt, the most challenging color o integrate into any room, except maybe as a color for a basement ceiling where there's not much natural light. Homeowners should be careful when considering black for their ceiling beams because of the awkward look the color can create in the room. Avoid using it in smaller spaces as it makes them feel even tighter and smaller.
However, painting beams black in rooms with lofty ceilings turns an overly spacious area into a more livable and visually appealing one. We recommend contrasting black beams with white ceilings in rooms with high ceilings for a minimalist look. Semi-gloss and flat finishes are the best choices.
FAQ's Regarding Painted Beams on a Ceiling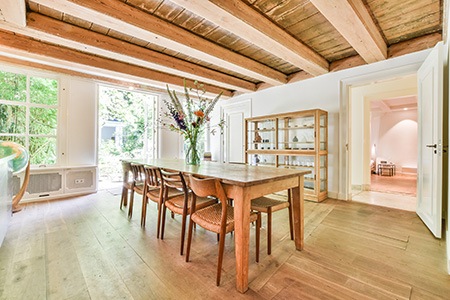 You can't just ask what color to paint ceiling beams without taking other variables into account. You probably already have some questions swirling in your head, so let's answer those now.
Should My Ceiling Beams Match the Flooring?
It's unnecessary to have the ceiling beams match the flooring or walls. Aim to choose a color creating a sense of harmony within the living space. Whether it's contrasting or complementary is up to you.
Still, the goal is to prevent making a color choice from creating conflict between the visual aesthetics of the room. We recommend using pale and soft tones in rooms with little natural light to brighten the space.
Do I Choose a Flat or Semi-Gloss Finish?
To make the ceiling beams stand out, go with a semi-gloss or high-gloss finish for an elegant effect. Since most ceiling paints come with flat finishes, you might have to look into acrylic or latex options. Matte finishes can appear dull, but they're good options for homeowners that want to add more space to a room when painting the ceiling beams a lighter color.
How Do I Clean Ceiling Beams?
You'll need to clean painted ceiling beams to keep them looking good. Dust collects on the surface of the beams, detracting from the room's aesthetic. Eggshell and glossy finishes are the easiest to clean and the perfect finish for lighter colors. High-quality paints allow easy maintenance and a longer service life than cheaper paints.
Key Takeaways Regarding Painting Ceiling Beams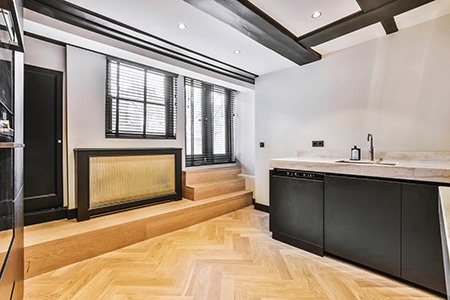 Let's recap the main points from above as a quick review:
The ceiling is an important component of any room's aesthetic. Your color choice for ceiling beams can either enhance or detract from the visual appeal.
There's no need to paint the beams the same color as the ceiling; contrasting or complementing the color with dark or light ceiling beams is a great way to add more depth to the room.
Consider the standard ceiling height, room size, and character you want to bring to the space when choosing your paint color.
Paint quality is important for a long-lasting, durable finish.
This summary will keep you on the right path. Let it help you eliminate bad choices and you'll be able to decide much more easily from there.
So What Color to Paint Ceiling Beams, Then?
Our guidance can only steer you in the right direction for your specific room. You'll have to make the final design choice, but you should be able to eliminate so many options that it'll become a much easier task.
Let the other elements in the room help you choose what color to paint ceiling beams based on contrasting yet complementing them. And don't forget to test colors if you'd like, and sleep on it before making a final commitment.
You'll Also Enjoy: