10 Types of Drapes for Functional Decoration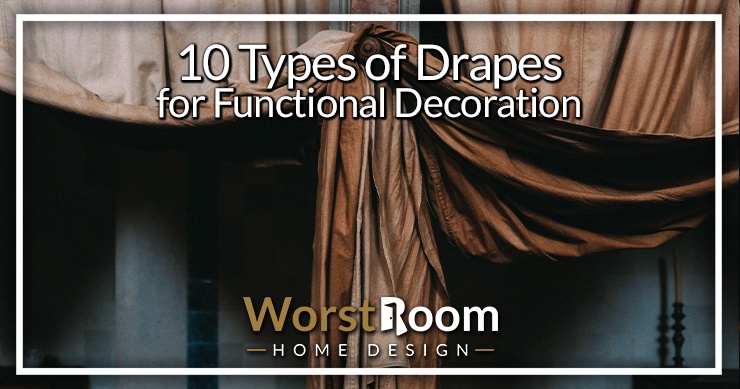 Drapes have been around for centuries and are used in several different ways and purposes. Whether to provide privacy, filter out air and light, or prevent air and light from coming through completely, all the different types of drapes both have a function and provide decor enhancements.
There are several different styles of drapes to choose from that suit your aesthetics. The variations, patterns, and colors for drapes are endless and offer several benefits at a low cost. These can easily make the place an elegant and cozy space to be in without any hassle.
10 Types of Drapes
Therefore, if you are searching for the perfect drape styles to suit your needs and wants, read ahead to find out more about them. Though drapes are made of thicker fabrics and are longer (top of window to floor) than curtains, you can find more ideas in our types of curtains article.
Window Scarf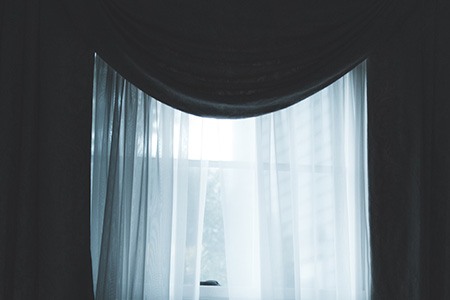 These drapes are not meant to provide privacy or protection from the sun, rain, or outside debris. However, the primary purposes of these drapes are to let light and air in and circulate through the room. And providing minimum coverage for privacy.
Usually layered on top of drapes, window scarves can be an elegant decor for your room when paired with the right color and fabric. There are several different types of materials and designs available to choose from for window scarves.
These drape types are typically ideal for living rooms, cafes, and reading rooms to make you feel cozy and comfortable. While these scarves let air and light in, they filter out the particles and prevent them from entering.
The elegant pleats and folds on the scarves are easy to do yourself. With stable and steady hands, it can only take a few minutes to get it done. You could use several different ways and methods to drape them on your window. While the pleats and folds process is the same, the hanging method differs.
Since scarves hang in front of the curtain, you must ensure the curtain holder has spots for two rods. This is to ensure the holder supports the weight of the curtain and the scarves.
To hang these types of draperies, you can use curtain rods or hook methods, which give off a similar output while being completely different to hang.
With the rod method, you will need to insert the scarves through the rod to hang these types of drapes up. Another way to hang these is by intertwining the scarves on the same rod as the curtain.
Tie-Top Drapes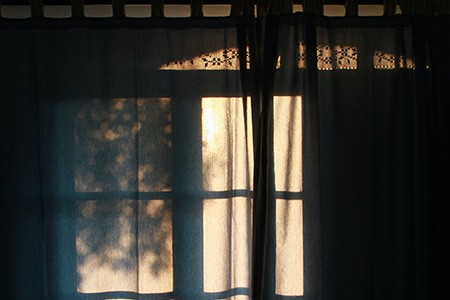 In terms of hanging, you can have tie-tops which are like many shoe strings you'll tie into knots on the drape rod. Of course these strips of fabric will be more decorative than a shoe string. They'll vary in thickness but generally will match the main color of the drapes. Some are designed to dangle down further than others.
Rod Pocket Drapes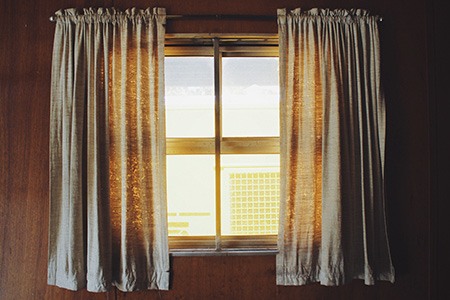 Also known as Pole Top or Casement, rod pocket drapes are sewn at the top, leaving an opening on either end. These openings are where the rod passes through and allows the curtain to hang. The rod remains properly hidden with these drapes without any additional hardware required to hang it up.
Moreover, the upside with such drapes is that they are incredibly versatile. They can be pleated inwards and create folds if the drape is too long. These drapes come lined on either end to provide a clean and tailored look, adding elegance and visual appeal to the room.
Rod pocket drapery types can also be hung through the rings on the curtain and by inserting the rod through it to the other side. These are the most accessible types you can sew yourself with basic sewing knowledge.
Whether you opt for cheaper types of drapery or the more luxurious and expensive ones, rod drapes are very easy and simple to maintain. If you have chosen rings on the curtain, ensure to take the rings apart before you wash them, as they may end up with cracks or be broken.
Back-Tab Drapes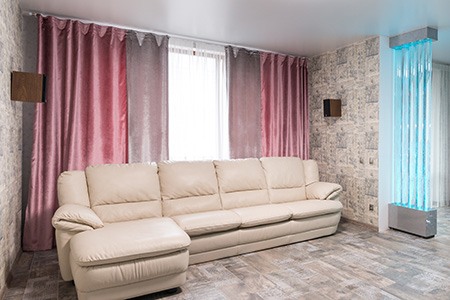 Take the concept of tab-top drapes and rod pocket ones and combine them and you have back-tab drapes. The tabs that the rod pass through are on the back of the curtain so that not only are the tabs not visible but most of the curtain rod is hidden as well.
Cafe Drapes
These are the most simple, standard, and basic types of drapes that are affordable and widely available all over. Due to their reasonable price, they are mainly used in cafes, restaurants, shops, and similar public places.
Designed to be hung in pairs, these usually add a touch of comfort, a cozy and home-like feeling to the space. The choice of fabric for these styles of drapes is generally very lightweight and unlined fabrics for it to be flowy.
These are typically made of sheer and opaque fabrics and are often seen to have a contrasting color of fabric pinching on the edges. Small double windows usually are the perfect spot for such drapes to hang up to allow light and air to circulate.
The variations for these are endless, with some being simple plain fabrics with sewn hems, pleated at the top, or combined with contrasting materials. Even though the name suggests "cafe," these are used widely at home, in bars, in the living room, or in a reading nook.
Cafe drape types are typically hung halfway or from the mid-length of the window and let flow downwards to provide minimum coverage and privacy.
However, since the fabric of choice is often sheer and opaque, these often tend to get dirty quickly. Therefore, they must be cleaned more often than other drapery styles to maintain their beautifying feature.
Pinch Pleat Drapes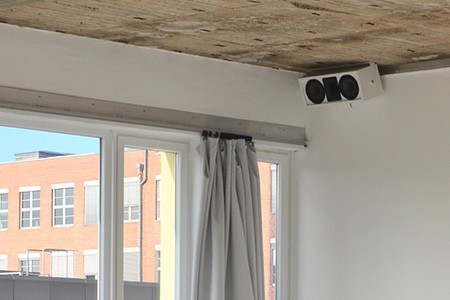 This combines the rod pocket with the preference to not have as much visible rod shown. The difference is instead of a boring and blank surface at the top, you'll have purposefully pleated sections at the top of the drape bunched up together (which is why it's called pinched). This is somewhat of a dated look, if you're going for that.
Blackout Drapes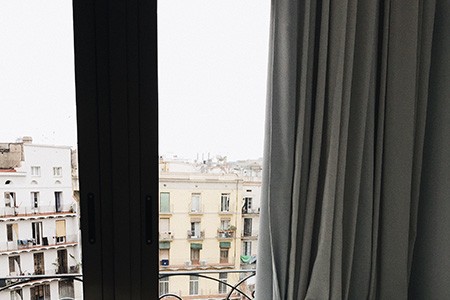 These drapes are usually made of double-lined and tightly woven fabrics that are very heavy. The purpose of these drapes is to block out any source of light from entering completely. Usually found in hotels and lounges, these are perfect when you want absolute privacy.
While other options are similar to these, such as room darkening drapes, they are not as effective as blackout drapes. However, most blackout drapes that work the best have a cheap-looking appearance.
While there aren't quite a few options to choose from in terms of color, pattern, and size, these are relatively high in demand. Usually, blackout drapes come quite at a higher price than any other regular drapes.
Since these types of drapes are typically found at hotels, they ensure the fabric's quality is top-notch and does not fluctuate. However, if you want to make them for your home, you will be required to customize them, which will surely be costly.
Heavy microfiber fabrics with a triple-weave are the go-to choice for such drapes as they are made of heavy, thick fabrics. Polyester is more common, though. They don't let any light as well as air through, which means it might need to keep the temperatures high inside the room.
Overall, these are the best options for you if you are a light sleeper who struggles to sleep when light passes through. They work well combined with solid types of awnings to block out light on a patio to keep bugs from swarming you , too.
Grommet Drapes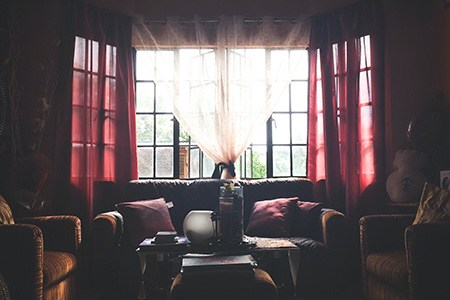 These drapes feature a metal ring at the top punched into the fabric. They offer a sleek, modern, clean look to the area while being visually appealing. Often these drapes are used in living rooms to provide privacy from the outdoors.
Grommet types of draperies allow the curtain to create seamless pleats and remain as it is until moved or messed with. Available in several different fabrics, patterns, and shapes, these are mainly used at home or office spaces to provide just enough privacy while letting air and light flow through.
Moreover, these drapes move around easily due to the metal rings and the drape rod slipping. To prevent these slips, you can opt for a baton on either end of the rod to keep the drapes in place.
Grommets add a nice touch of decor to your drapes while being cost-effective. They are also relatively cheap and easy to install on any drapes. However, to install grommets on drapes, you will be required to make cut-outs on the drape, which will never go back to being the same again.
Thermal Drapes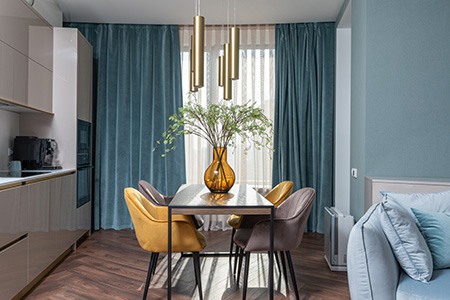 Think about the concept of blackout types of drapery and how they block light, and apply that to cold air instead and you'll understand thermal drapes. Sometimes you'll see these referred to as insulated drapes.
These drapery types block the cold temperatures that pass through your window's glass (even double paned windows have these problems) and keeps it from exchanging with the warm air in your home.
I hesitate to say how much of an impact it'll make, but people say you can notice a decrease in your electricity bill by using these drape styles, both in the winter and the summer. They basically help regulate the temperature in any types of rooms in a house where you're heating or cooling at the moment.
These types of drapes have to be thick enough to block the flow of the temperature gradient so that means they're also thick enough to help act as blackout drapes too, so you'll be in a much more comfortable position both in terms of temperature and light to take a nice nap on the couch or in bed.
Tab-Top Drapes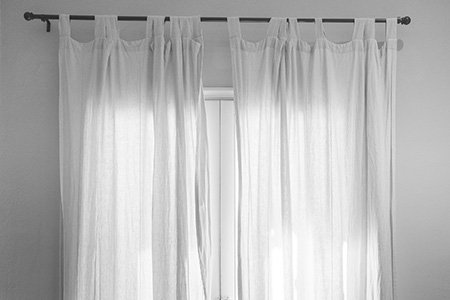 If you had tie-tops that were then sewn on both sides of the top of these drape types to form a loop, without any twisting so that the surfaces were flat, you have the tab-top style of drapes. It's basically like rings made out of fabric that you have to pass the rod through.
These are informal in appearance and will have a pleated appearance due to the stitching of the tab-tops. They're typically very sturdy so you can feel comfortable using heavier fabric with these kinds of loops. They're like rod pocket drapery styles but instead of one long section of fabric, it's dozens of smaller loops.
Types of Drapes to Decorate & Be Functional
Drapes have always been an element of decor while being very low-maintenance. There are several different styles of drapes, whether for home, office, or cafes. These drapes can easily incorporate themselves into any decor and add a touch of elegance to the area.
All you need to decide is if you want polyester, cotton, silk, linen, velvet, or lace drapes. So, after going through this blog, you should now have an in-depth understanding of the different types of drapes you can pick for your space.
You'll Also Enjoy: