16 Kitchen Cabinet Alternatives to Expand Your Storage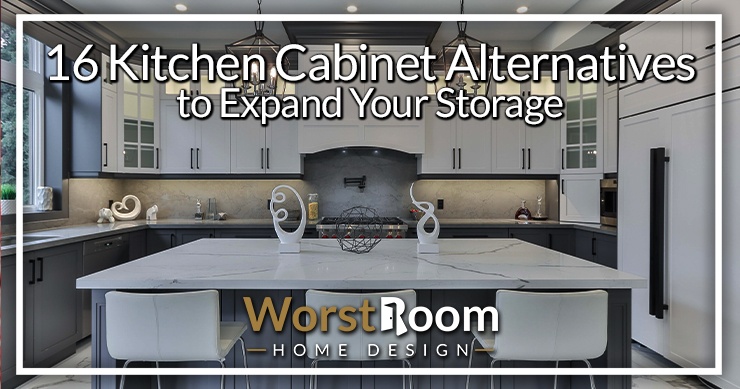 Cabinets are essential in every kitchen. Whether it is to store utensils, spices, crockery, groceries, or even to just display some unique knick-knacks, you just can't have enough storage. Sometimes that means bringing in kitchen cabinet alternatives.
Kitchen cabinets have a lot of variations like the base/lower cabinets, upper/wall cabinets and floor-to-ceiling cabinets. They can be completely closed or even have see-through panels.
While those are all good options for storage space in the kitchen, they might not be the most pocket friendly.
16 Kitchen Cabinet Alternatives
In this article, you can find some modern alternatives to kitchen cabinets and some inexpensive kitchen storage options.
Antique Hutch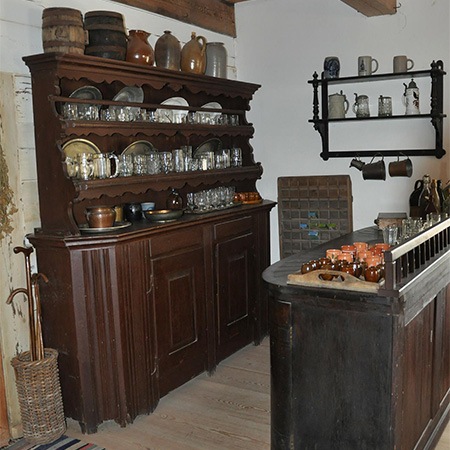 Hutches usually have cabinet and types of drawer storage in the lower half, with shelving or see-through cabinets on top. While they are usually used as study/work desks or to display and store crockery, they can also be an excellent addition to your kitchen.
If you have any hutches lying around or find a lovely antique one, and have enough space in your kitchen for it, you can use it as an alternative to kitchen cabinets. My mom has one in addition to cabinets and has managed to use the entire thing to stack candles she "intends to burn one day".
The desk section can also be converted into a breakfast or coffee nook with your coffee makers/kettles, etc. kept within reach. There's a lot that goes into choosing a hutch as a kitchen cabinet alternative.
Dresser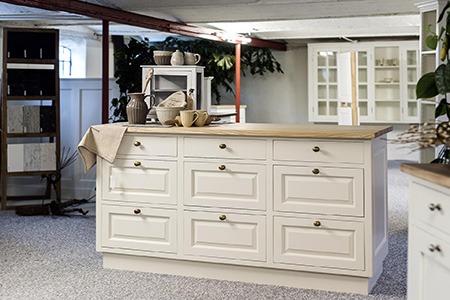 Just like a hutch, dressers too can be used as alternative kitchen cabinets. Dressers have a large flat surface on top that can be used as a countertop for your kitchen equipment.
They take up much less space than hutches and can be easily found in a range of sizes and designs to fit in your kitchen. You can find all types of dressers, too, so your options are broader than you think.
Bookcase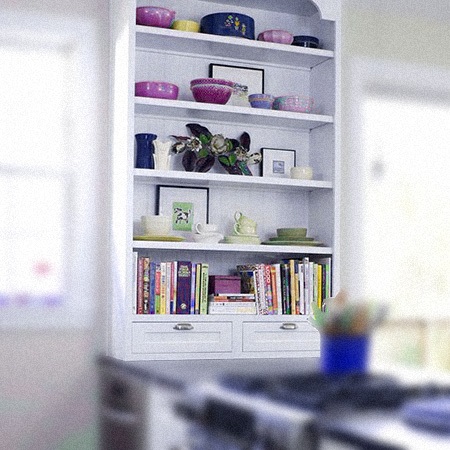 A bookcase is another lovely alternative to kitchen cabinets. If you're looking for open shelving for crockery, opt for an inexpensive bookcase with multiple shelves.
If you have smaller bookshelves, you can even choose to mount them on the wall to save floor space. But that's getting closer to actual cabinetry when we're looking for kitchen cabinet alternatives.
Bookcases can easily be up-cycled as well to match your kitchen's aesthetic. As the front is open, you might want to keep the items neatly arranged in the bookcase at all times.
Cubbies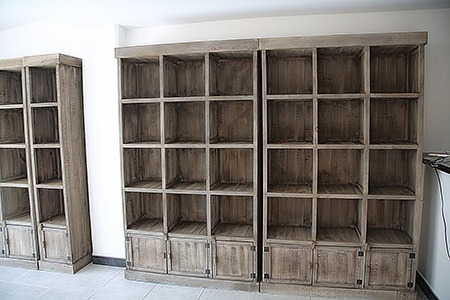 Cubbies, like the ones found in children's playrooms or schools, are just compartments that are open from the front and back.
Like bookcases, these too have multiple shelves. These are quite inexpensive compared to bookcases as they require very little material. You often will see these being called "cube storage".
Cubbies have a very minimal look that can blend in with any space. They are available in different widths that can fit even in the smallest of kitchens.
Lockers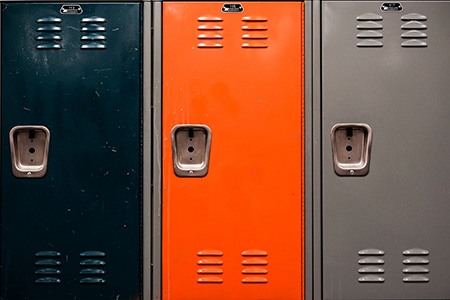 Vintage lockers, like the ones in schools and gyms, can add a funky look to your kitchen. They are usually large and have a lot of shelves. They are also quite easy to clean and maintain.
As the vintage lockers are usually made of metal, they can be used to stock up on pantry items that you'd like to store for a long time.
These lockers can be very expensive, so keep a lookout for second-hand lockers. Also, they are quite heavy, so repositioning them can be a hassle.
If you're buying them from a thrift store them, clean them well and leave them open for a few days to air out any lingering smells.
Metal Storage Racks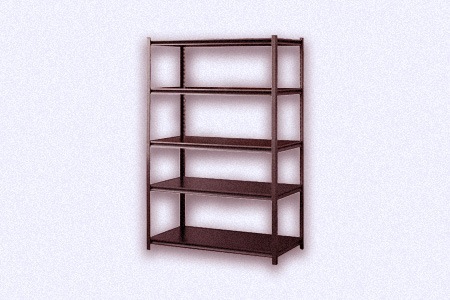 If you have a lot of items to store, metal storage racks are probably the best option for you. They are large, sturdy and use very little material, and hence do not block the visual look around the kitchen.
Though metal storage racks are usually seen in shops and warehouses, you can paint these a pretty color that goes with the rest of your kitchen decor so that it does not look too out of place. These are very durable kitchen cabinet alternatives you can take from place to place, too.
Open Shelves / Ledges
Having open shelves can bring down your kitchen storage costs drastically. They are also very easy to install and make your items very accessible. Open shelves can also be used to add some decorative elements such as plants and different types of vases.
Open shelves do have some disadvantages though; as the smoke and vapor from the stove rises upwards and can make the items on the shelves greasy. The dishes on open shelves also tend to collect dust and have to be cleaned more often. You can consider other types of shelves if this bothers you.
On these shelves, you can use baskets, repurposed crates, and boxes to compartmentalize your items. This is probably the easiest and most attractive way, in my opinion, to have a no cabinet kitchen.
You can find a lot of beautiful baskets and boxes online in various materials, sizes, and colors. Repurposed crates can even add a rustic feel to your kitchen.
Recessed Shelves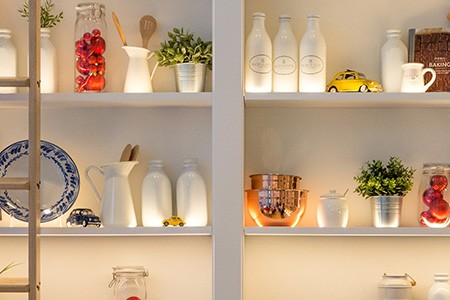 If your home is still under construction, consider adding recessed shelves in your kitchen.
Recessed shelves, or wall niches, also work as open shelving but you can opt to add doors to them if needed. They are a great way to show off your crockery and utensils.
Suspended Racks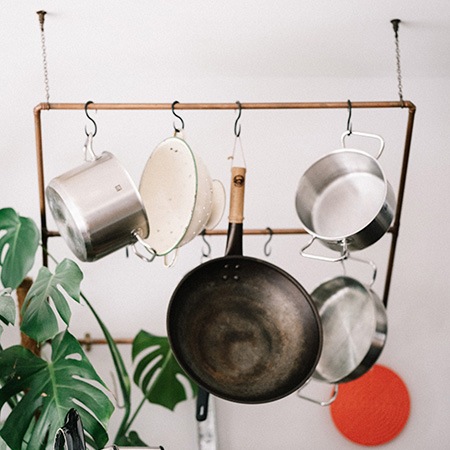 These are shelves or racks that are suspended from the ceiling. If you're running out of wall and floor space, suspended racks are the best way to go in terms of cabinet alternatives.
They can be hung in front of windows as well without blocking the daylight coming in from your window.
Suspended racks do need to be installed by a professional so that they are hung properly and can bear any weight. You can make your own suspended racks with rope and wooden planks for a natural look.
Box Shelves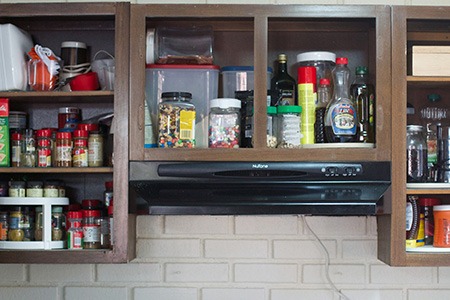 If you have some crates and boxes lying around, you can either stack them on top of each other to make a shelving unit or you can mount these individually onto the wall as open shelves.
Wall-mounted box shelves can add a quirky look to your kitchen as you can arrange them in an asymmetric layout and play around with the layers. Among the kitchen cabinet alternatives these allow for the most creativity.
You can not only use the inner side of the box for storage but you can add decor pieces and other objects on the top surface as well.
Rolling Kitchen Cart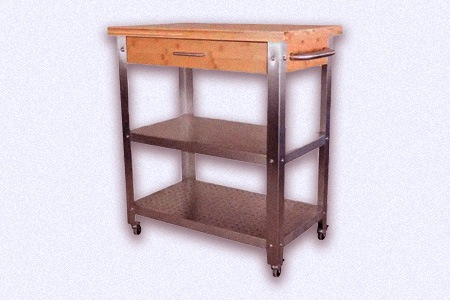 A kitchen cart provides a lot of storage with multiple shelves and a countertop. You can even customize it with hanging storage on all sides.
These can be used to store utensils, spices, kitchen gadgets or as a standalone breakfast counter. If you want a kitchen without cabinets, especially at a restaurant for example, this is a great way to do it.
A rolling cart can be used in even the smallest kitchen as it can be moved around easily, stored away from sight and then pulled out only when needed. The nice thing about them being elevated on wheels is they come with naturally super-deep toe kick dimensions so you can stand closer without bumping your feet against anything.
Pegboard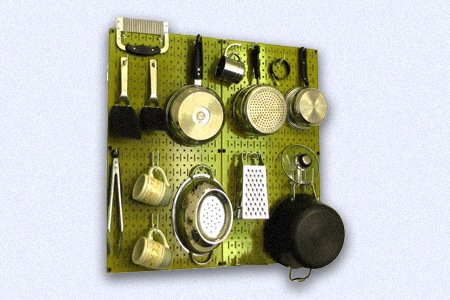 You might have a lot of kitchen tools like spatulas, chopping boards, graters and so on that you'd want to keep within arm's reach. With a pegboard, not only are you doing that, but you can also customize the layout to make it look beautiful.
By using a pegboard for storage, you can customize it any way you want to just by rearranging the pegs and playing around with the layout. Also, you can keep a lot of small items here, which would otherwise get lost in drawers.
Bar with Hanging Storage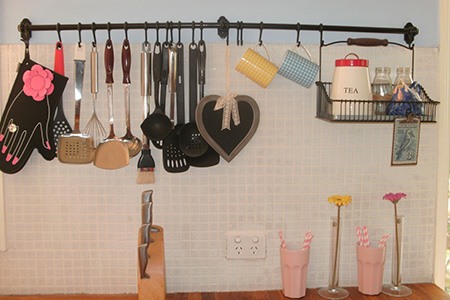 While wall-mounted bars are a common sight in bathrooms, you can use these in a kitchen as well. You can easily add or remove S-shaped hooks on these bars to hang your spatulas, spoons and mugs.
These items, while inaccessible in cabinets, are made easily accessible and visually pleasing with wall-mounted bars. From unreachable to kitchen cabinet alternatives, who would have thought?
To the hanging rods, you can also suspend a basket from two hooks. Baskets can be used to hold spices and jars that you use frequently. This is a great way to keep your countertop clutter-free while still keeping things accessible.
Stainless Steel Slatted Shelves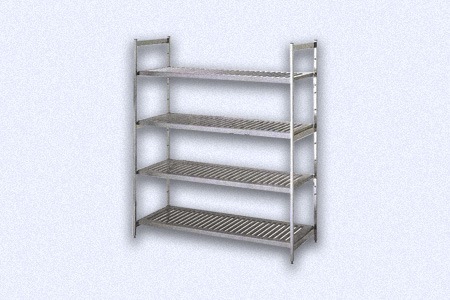 If you're looking for shelf space as well as hanging space, a slatted shelf is a perfect choice for you in terms of alternative kitchen cabinet ideas.
You can keep your utensils, spices, and groceries on the shelves while also adding hooks to the metal slats to hang your pots, pans, and all of your types of spatulas. It is truly the best of both worlds.
Wall / Ceiling-Mounted Pot Rack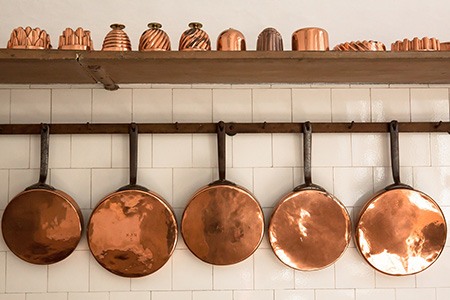 Keeping all your types of pots and pans in cabinets can be a hassle as they need to be piled on top of each other and become very inaccessible. A hanging pot rack makes it easy to access your pots and pans.
Hanging pot racks can be mounted on the wall in a semicircle layout or from the ceiling in a circular or rectangular layout.
They have a lot of hooks to hang pots and pans. Some mounted pot racks even have an additional shelf on top to keep more utensils.
Frosted Glass Doors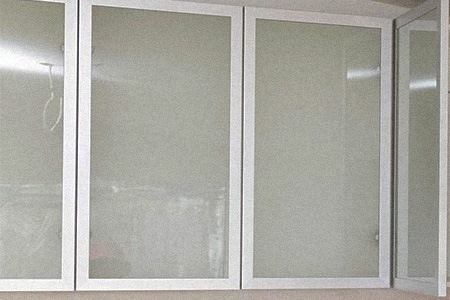 If you opt for open shelves as alternatives to kitchen cabinets, you don't have to stop there. You can install sliding frosted glass panels on front so you can kind of hide what's behind them. It's not about hiding it so much as just adding another layer of sophistication and decoration to the kitchen.
And since you can install these on sliding tracks, you can constantly move them around and redesign the feel of your shelves, or hide certain open areas when guests arrive.
Kitchen Cabinet Alternatives to Give You More Space
Those were some of the modern and inexpensive options for your kitchen cabinets that are functional and also add a unique look to your kitchen.
While you look for such options, keep in mind the kind of items you want to keep in them, the space you have for them and the color or material you would like them to be in to make the search process easier.
A lot of these options are inexpensive and you might even come across some great kitchen cabinet alternatives at your local thrift store or garage sale at a bargain. If you do thrift something unique, up-cycle them to have a unique piece of "cabinetry" that is exclusive to your home.
You'll Also Enjoy: