10 Pocket Door Alternatives to Get Away From the Slide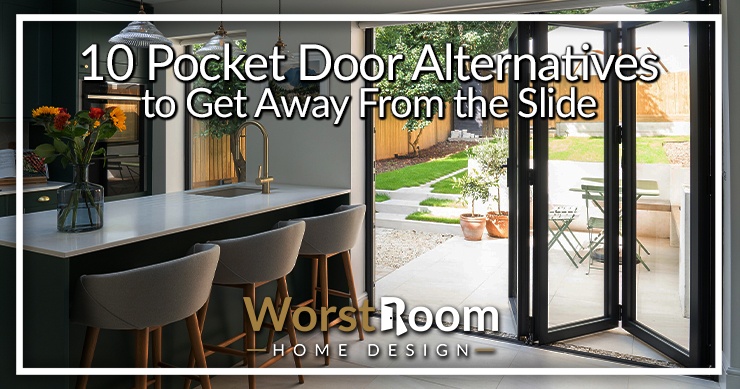 Pocket doors are made to disappear within the walls when opened. These "magical" doors slide into a groove in the wall seamlessly, leaving a wide, open door frame. But after time you may want pocket door alternatives.
While a lot of people mostly choose pocket doors for the style, they are also ideal for smaller rooms. But sometimes you have them and want to get rid of them. They can pose a lot of annoyances, especially over time as the tracks get messed up, etc.
10 Pocket Door Alternatives
There are a lot of reasons why you should or shouldn't opt for pocket doors (like having to adjust pocket doors). Let's have a look at at other space-saving pocket door alternatives and then look at the pros and cons of pocket doors.
Sliding Doors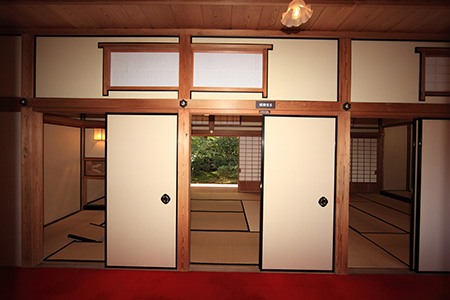 Sliding doors are quite similar to pocket doors, with the difference that they don't slide into walls. Instead, they are installed with a frame that may contain multiple grooves such that the doors slide behind each other.
If installed with glass panels, sliding doors let in a lot of light, making the rooms appear bigger. They also don't require too much space to install, making them space saving doors. They have a lot of security features as well and can be used for exterior doors too.
It's not all positive though. The sliding mechanism needs to be cleaned often so that the doors don't get stuck on dirt, trash, or bugs. So there's no alternative to pocket door maintenance or functionality here.
Sliding doors are quite expensive and the cost can increase based on the number of sliding grooves required. Installation is difficult and time consuming, for you or the people you hire.
Barn Doors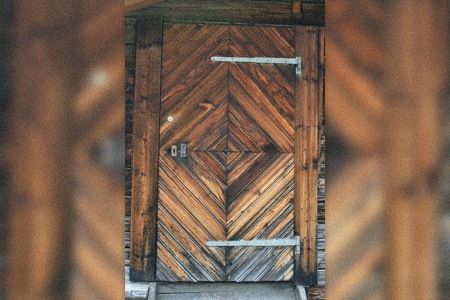 If you haven't been living under a rock for the past few years, you've most definitely come across the barn door trend. These are similar to sliding doors, but with a rustic look that is trendy and modern.
Barn doors are a great way to save on swinging space. They only require sliding space along the wall. They can improve the overall look and value of any home. They're easy to install and maintain.
But what about any negatives? Barn doors don't close flush to the wall. Sound, smell, and light can seep through the gap. And if you want to lock the door you'll have to get real creative with the types of door locks you install.
As barn doors require space to slide, the wall area adjacent to the barn door remains unusable for artwork or mirrors, etc. There is no guarantee for the barn door trend to last. It might get outdated soon.
Bi-Fold Doors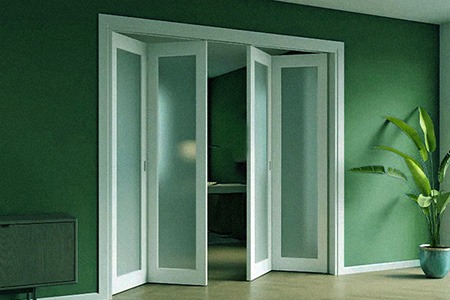 Bi-fold doors can also be used to save space, making them fairly true pocket door alternatives. They are two-paneled doors and can be installed without a track.
As bi-fold doors don't require tracks, the floor can stay flat, making it practical for households with kids or elderly people. They add value to your home over standard doors. They can be used to replace entire walls, making them the ideal option for patios or balconies.
But also an area near the door needs to be reserved exclusively for the doors to be opened fully. While this is a lot less than regular doors, it still takes up space. Bi-fold doors are quite expensive, too.
Hidden Doors
Hidden doors are the right mix of functionality and privacy. If you're looking for a discreet door for a hidden room or closet, a hidden door can not just be the perfect way to hide it, but also be designed as a bookcase, shelf or even a fireplace.
Hidden doors provide a lot of privacy and are a great way to hide a den, reading nook, or home office. Based on the design, they do not take too much space from your room. They're a cool pocket door alternative if you want to replace a novelty with an even more interesting novelty.
Some hidden door designs might be really hard to install. Though they visually hide a room, they might not be soundproof enough to keep the noise from giving away the secret.
French Doors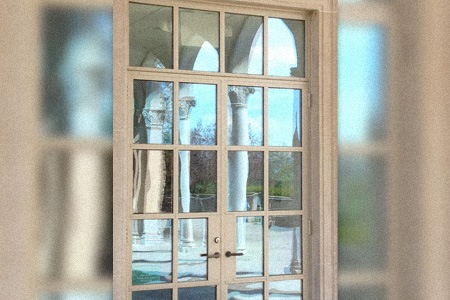 If swinging space is not an issue, French doors are perfect to give the illusion of a larger space. They have glass panes in wooden frames and let light in from either side of the door.
French doors provide a lot of natural light. They can make your home look bigger as there are no visual barriers. They are strong and can be installed in exterior spaces as well. They make great alternatives to pocket doors if you really want to wow your friends with your new door.
French doors have a unique aesthetic that may not go with every home style. They're very expensive and fragile. French doors require a lot of space for installation.
Dutch Doors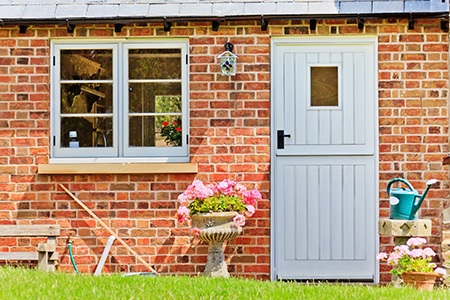 If you want to save the door space to be used as windows, Dutch doors are just perfect. Dutch doors are split horizontally, giving you the option to close the door, while still letting air flow through.
Dutch doors work great in cramped spaces like the garage or laundry room. You can shut the door, yet keep the top half open for airflow. These are classy pocket door alternatives and alternatives to sliding glass doors.
The bottom half of the door can be used as a pet door. These can also be used to keep pets and kids out of certain areas in the house like the kitchen and the stairs. As far as pocket door alternatives go, the utility of dutch doors is out of this world.
As dutch doors are technically two doors, the installation cost is slightly higher than regular doors. They might not be ideal for exterior doors in insect-ridden areas. Children can get their fingers caught between the door halves and get pinched, too.
Pivot Doors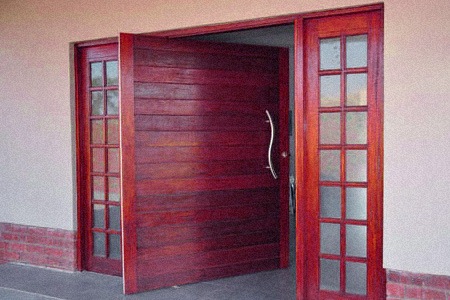 Pivot doors are a relatively new door design. These doors are anchored at the center of the door frame with a pivot on the floor and ceiling instead of on the usual types of door hinges.
For spaces that do not have enough swing space on both sides of the door, pivot doors are the best option. As they are tethered at the center, they open halfway towards both sides of the door frame, thus using lesser space in both rooms.
Pivot doors are unique and look very sleek and modern. As they are centrally anchored on the floor and ceiling, they are a lot stronger than regular doors that are only supported on one edge. The weight of the door is borne by the floor instead of the wall.
Pivot doors are generally wider than regular doors. As the door is anchored at the center, it might get difficult to move large objects through. They do not close flush to the floor and ceiling due to the installed pivot.
Standard Doors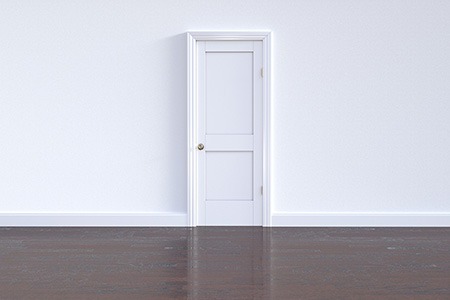 If all else fails, just get a regular hinged door. They are simple, timeless, and easy to install. Standard doors have a lot of amazing locking systems and are very secure.
They have a wide range of color and design options. They're inexpensive and easily available. They're very easy to install and maintain, too, which is a bigger plus than some people imagine.
Standard doors are not considered stylish or modern. They don't have any space-saving features. You have to leave enough floor space clearance to swing the door open and shut.
Shoji Doors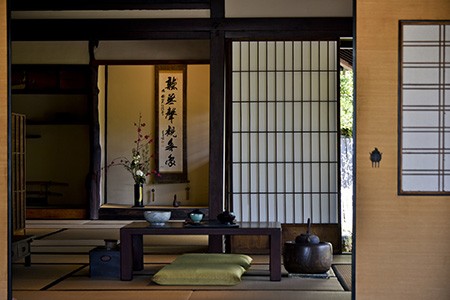 A shoji door is a Japanese design concept similar to the free standing room dividers we've all seen that have washi paper that's transparent but blurry. The doors, however, slide like pocket doors but do not slide into the wall.
They're mounted on the outsides like a barn door would be. They're great doors for small spaces. The one thing to be careful of, unless you buy one with glass or plexi-glass style window panels, is that the paper can be easily torn by children or pets or a simple accident even.
These are very similar to what you have now, so consider if these pocket door alternatives truly are going to satisfy you. There's much to learn about them to decide if they're really for you. They need to match your decor in general.
Curtains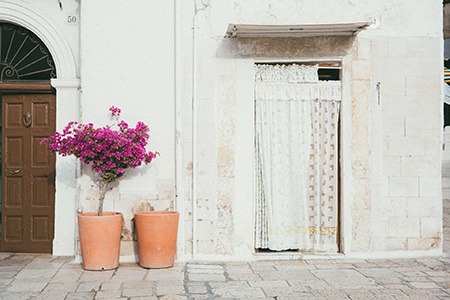 If the sole purpose of your door is to cover or separate a space indoors, you can also opt for curtains as a cheaper alternative. Curtains also make for great closet door alternatives and even bathroom door alternatives.
Curtains are inexpensive and easy to install. They are ideal for rental spaces where you wouldn't want to make permanent changes. They are easy to maintain and replace.
Curtains are not smell proof, soundproof, or light proof (without heavier blackout curtains). So they can not be used in most places to replace doors. They are lightweight and tend to lift and wave about in windy rooms.
Pocket Doors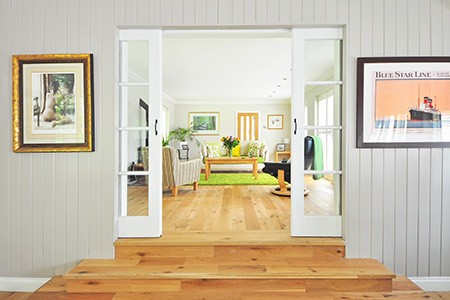 Pocket doors are usually installed during the construction or renovation of the home, as the crevice in the wall and the railing on the ceiling need to be pre-installed within the walls. Removing pocket doors is as much of a nightmare as installing them.
They come in a variety of designs and materials, both single and double sided and can be customized to match your walls. The one-door-width sized pocket doors are great as types of closet doors as they don't eat up extra space in the room to swing.
Advantages of Pocket Doors
Pocket doors can be used in ways to split up larger rooms into two smaller rooms. This can be great to separate areas like your home office or dining room.
Leaving the pocket door open will make space for large gatherings while closing the door gives the right amount of intimacy you need in such spaces.
When opened, they vanish into the wall, thus taking up less space to open. This is in contrast to regular swinging doors that need enough space in front.
This feature makes a difference in small rooms where swinging doors might cause a hindrance, especially bathrooms or closets.
Pocket doors save up on wall space too. As they are fitted within the walls, there is no need for a door frame, which can take up a decent amount of space, especially in smaller rooms.
Disadvantages of Pocket Doors
Installation of pocket doors is a tedious task. They can only be installed during construction or remodeling.
Pocket doors may not close as perfectly as regular doors.
With time and wear, they can fall off the tracks. This is more likely in households with kids who might play around with the doors or hang onto them.
Pocket Door Alternatives for a Change
Pocket doors have a lot of benefits and can make your space look stylish and modern. But if for some reason, these are not the right choice for you, the above are some great pocket door alternatives for you to explore.
You'll Also Enjoy: