8 Fireplace Alternatives to Set the Mood & Bring Warmth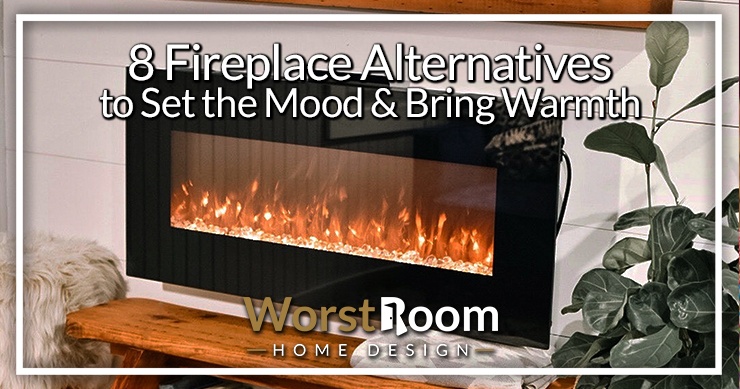 Sitting by the fireplace creates a pleasant and comfortable atmosphere, whether you like to spend time alone, with your partner, or even with your children. But not all of us have one, and that's where fireplace alternatives come into play.
A fireplace not only adds warmth to a home, but it is also necessary on cold winter evenings. Unfortunately, burning wood is problematic and inconvenient in several ways, including getting the wood and maintaining the fireplace.
We have created this piece with our recommended fireplace alternatives ideas for those who seek a more sustainable lifestyle.
8 Fireplace Alternatives
This part of the article will go over the top alternatives to the various types of fireplaces you can get instead of a classic styles. Each of our options is tailored to specific demands and aesthetics.
You should check out each of our selections first and then pick the one that best complements the rest of your house.
Electric Fireplace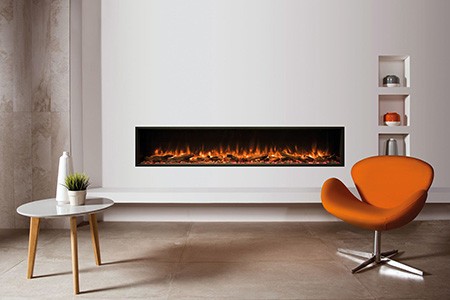 People seek an alternative to a fireplace for a multitude of reasons. In most cases, though, they would like to reproduce the sight and effect of a genuine fire. And the best option for simulating an actual fire is to acquire an electric fireplace.
Presently, there seems to be a selection of electric fireplaces on the market, and the majority of them can produce something that appears just like the real thing. This type of replacement option may do an excellent job of simulating the experience of having a legitimate fireplace.
Some electric alternatives to fireplaces even have 3D fire effect settings that are pretty spectacular. The flames seem so lifelike with these choices that it occasionally confuses people into thinking they're the actual thing.
Some people don't realize that electric fireplaces can give off heat. They do so by taking ambient air in from the room and passing it by a heating element. You can run this feature without the appearance of flames, and you can have flames without using the heat portion as well (in nicer models).
Aside from providing a flawlessly attractive atmosphere to any home, this type of fireplace is also helpful in other ways. For example, it delivers consistent, high-quality heat. As a result, it serves the function of a natural fire.
Electric fireplaces, on the other hand, are pretty expensive. And you'll have to pay more if you want the most realistic-looking fireplace replacement for your living room.
At the end of the day, these alternative solutions are well worth the investment since they not only literally and figuratively light up your home but also give enough warmth to keep you comfortable at home.
Gas Insert Fireplace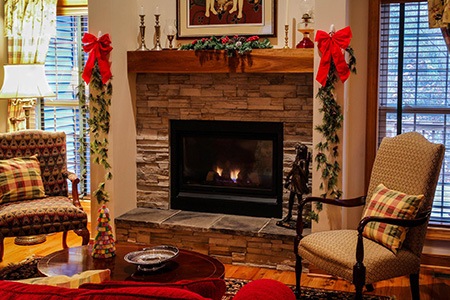 Obtaining fake fire logs is another excellent choice. You might be put off because of the name, but these fireplace alternatives are virtually as good as electric fireplaces. Some of these are similar to the previously described electric fireplaces.
That is because they may function as heating systems and keep you warm and comfortable on a freezing winter night. But these gas fireplace inserts are still fireplaces, though, in my opinion, but I mention them for the sake of completion. They match the standard fireplace sizes in such a way you can slot them right into your existing surround and hearth.
You can't just decide you want a gas fireplace either. You need to be hooked up to your local utility company's gas lines as well. That may not even be a possibility either. But in the case you're in the lucky group, you can get a lot of enjoyment out of a gas insert.
Fake Firewood Logs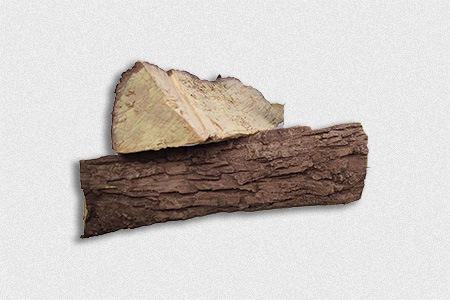 There are, however, fake fire logs that have no heating capacity at all. With these fake fire alternatives, you can bring the visual sense of a fireplace into your house without the natural warmth of one.
This type of choice is designed for people who stage houses or construct an aesthetically pleasing house for display. If you desire a cozy environment, a fake fire log solution without heating arrangements is not for you.
You should select a type of this category that includes heating choices. Unfortunately, these are somewhat expensive.
So, before acquiring this type of goods, you should look through all of the model's features you're interested in and make sure it's worth the money.
The appearance of the fire is highly appealing, and it will undoubtedly conjure recollections of real-life flames that you may have witnessed sometime before.
Decorative Fireplace Mantel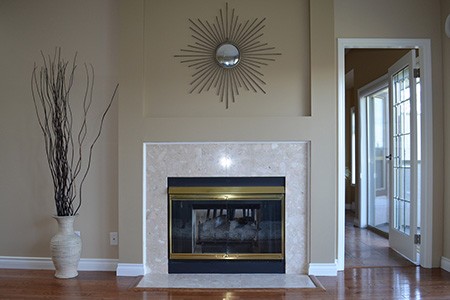 A beautiful fireplace mantel is another excellent option for a fireplace replacement. It refers to a visually attractive fireplace. But it is essentially a more expensive alternative to the electric fireplace or the artificial fire logs discussed before.
If you thought the preceding selections were pricey, you could be put off by this. However, for those that can afford such a commitment, this is a fantastic alternative. Typically the mantel refers to the shelf above the fireplace, but here it describes the entire facade. It will have a fireplace mantel at the standard height, as well as other decorative elements.
People looking for a charming fireplace without the hazards and upkeep connected with natural fires would appreciate this fantastic option. If you don't have enough space or proper accommodation for a traditional fireplace, this is an excellent alternative for you.
Besides, this ornamental fireplace mantel can be utilized for many other purposes as well. It will look fabulous in virtually any living area and may be used to display photo frames, medals, and other personal artifacts to give character to the house.
It is a fully working electric fireplace that generates plenty of heat for a household in terms of practicality. At a certain point you have to stop calling these fireplace alternatives and just accept them as the real thing, if they're nearly indistinguishable.
LED Fireplace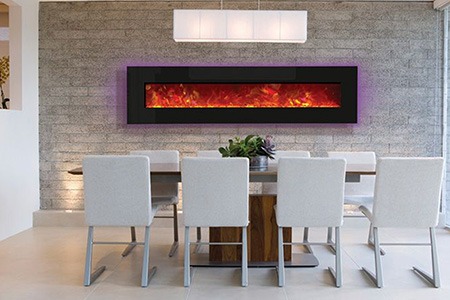 People are now using LED fireplaces to provide a lovely and comfortable setting for the cold season. The most striking choices in this category allow consumers to feel intense heat while viewing simulated flames.
Although you will get the sense of having a conventional fire, you will be able to escape all of the problems of having an open fire. If you have the funds and are willing to splurge, without a doubt, this will be an excellent fireplace choice for your house.
As previously said, these systems are typically rather expensive, especially if you want the best of their kind. However, if you anticipate you will use this fireplace frequently, it is well worth the investment.
Nonetheless, if it is beyond your price range, you should not be upset. There are a few cheaper alternatives to a traditional house fireplace that you might consider.
Wood Burning Stove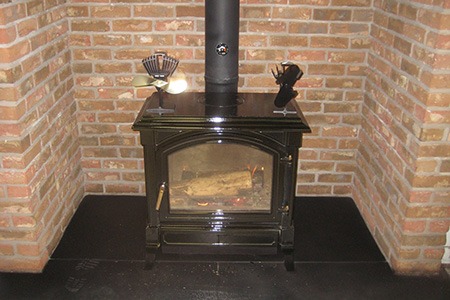 This isn't an option that you'll just run out to the store and pick up and start using immediately. These require professional installation and need to vent through the roof like a fireplace does. But if you find that you already have one, or perhaps you've rented a cabin that has one, you're in for a treat.
You can really get a fire baking in these. I recommend placing a pot of water on top so the evaporation helps keep the humidity high. These humidifier alternatives are a must for these types of stoves.
Pellet-Burning Appliances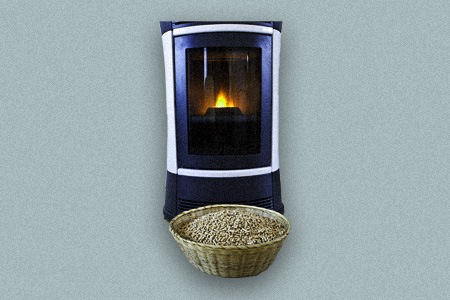 Pellet-Burning Appliances are a more environmentally friendly substitute to conventional fireplaces. In this procedure, wood pellets created from sawdust and other leftovers of the timber industry are burnt.
These gadgets run on compressed organic fuel derived from those other recycled materials. Although these solutions are also costly, they heat up much cleaner than the majority of the alternatives.
However, they only generate heat in the location where they are installed. So, if you're thinking of getting a pellet stove, make sure to position it in a room where you enjoy spending time.
One of the key reasons for proposing these fireplace alternatives is because pellet logs are environmentally friendly and burn very effectively and almost entirely. If it seems appealing to you, you should explore this alternative.
Space Heater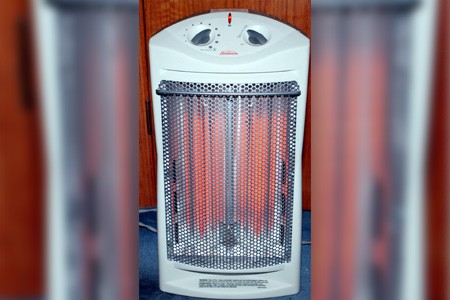 A space heater is used for those looking to create a toasty environment in whatever room they're spending the most time in. This can be more efficient than running central heating and air and it doesn't involve the annoyances of a fireplace. We've also covered a list of space heater alternatives for you to check out as well.
These plug directly into a power outlet on your wall and generally have settings so you can choose how hot they get. Some people choose smaller space heaters to place under their desks to use with some types of blankets on their laps. Others choose larger ones to heat up the whole room or garage.
Fireplace Alternatives to Look Good & Provide Heat
There's generally two reasons we're looking for a fireplace alternative. We either want to create that aesthetic in our living rooms that don't have one otherwise, or we want a more convenient and easy way to add some warmth to a room.
With the fireplace alternatives above, we hope you can find an option that suits your needs and goals that you'll be pleased with for many years to come.
You'll Also Enjoy: