No-Drill Blinds: All the Benefit Without Drilling Holes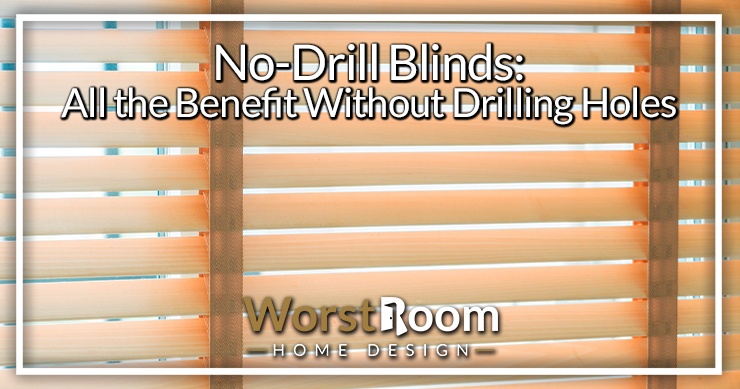 No-drill blinds are a practical and easy-to-install window covering solution. The beauty of no-drills is that they fit into place without drilling tools or making holes in the wall. Since there's no drilling, no-drill blinds don't leave any permanent damage to door and window frames.
Window treatments are a fantastic way to create privacy, shade, and light control. No-drill blinds fit most spaces and have many benefits over traditional blinds or expensive custom drapery. Here's what you should know.
How Do No-Drill Blinds Work?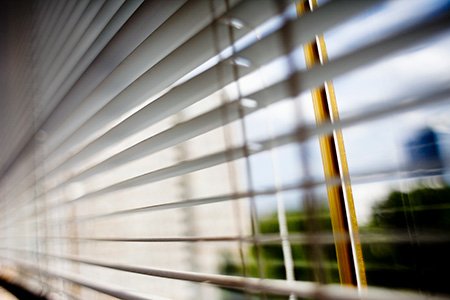 No-drill blinds, sometimes called "perfect fit blinds" when custom made-to-measure, perform the same task as regular types of blinds. The difference is in the installment. Depending on your needs, you can choose magnetic, clip-on, or self-adhesive blinds.
Adhesive blinds have a permanent function, while clip-on blinds offer the convenience of coming off quickly without leaving a messy glue residue. We'll break down the pros and cons of each style.
Easy To Install
The selling point of no-drilling blinds is that they're easy to install without tools or damage to window sills and door frames. Anyone can attach them to create privacy or shade. There is no additional expensive hardware like curtain rods or any tools. This is a great way to dress windows without curtains, too.
No-drill blinds are just as versatile as traditional blinds. Many types of no-drill blinds can achieve the look and functionality you want. Creating a decorative designer look is easy, and they're fantastic for sliding doors.
Convenient
The problem with blinds that require hardware is that you're always looking for the tools you need to drill holes, measure, and mount.
No-drill blinds are a newer but welcome addition to the window covering market. DIYers love them for their convenience and time-saving quality when installing. Another reason DIYers appreciate that there are no tools or damage to the surface.
No-drill blinds leave you in control of how permanent or removable these blinds are. That means when you take the no-drill blinds down, there are no holes to patch and repaint. They're ideal for homeowners and renters.
The downside to using the adhesive no-drill type of blind is that the adhesive will leave a residue if left to bake in the sun or for a long period. A way of avoiding glue marks is to use the blinds only temporarily.
Choice of Print Patterns & Colors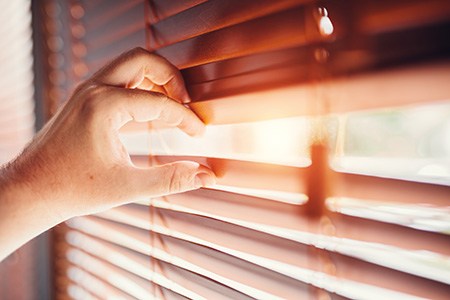 Window fashions change with time, and no-drill blinds come in numerous print and color options to match home decor trends.
No-drill blinds can accessorize any home decor trend or style. Big box stores like Home Depot, Walmart, and leading home improvement stores to carry a huge selection.
Best Choice for Renters and Students
No-drill blinds are versatile and portable. Landlords often stipulate that renters can't puncture the wall to hang paintings, drapes, or blinds. This can help settle the debate between having blinds or curtains in your living room. These blinds end up your only choice.
No-drill blinds are an excellent alternative. They are also portable for short-term renters, like students or young couples waiting to purchase their first home. Many rental agreements come with damage deposit clauses. Holes in the wall or window frame might mean forfeiting the deposit.
Not Ideal for South-Facing Windows or Hot Climates
No-drill blinds have another benefit. They weigh less than traditional blinds. The material in no-drill blinds is less thick and dense. However, that means less coverage from sun exposure.
Window coverings in hot climates play a major role in keeping a house cooler. No-drill blinds will not provide the same coverage as regular, heavy gauge blinds. They also don't have the same black-out factor as most types of curtains or blinds, with extra backing to prevent any light from seeping through the material.
Another consideration is if the wall they are on is getting beat by the sun and the interior temperature of your home stays higher than average for too long, the adhesive can weaken and the blinds can fall off the walls.
No-Drill Blinds Are Disposable
Typically, no-screw blinds have a five-year lifespan. They're best as a temporary window covering solution. The adhesive will deterior
ate while clip-on also lose their grip and fall. Clips can snap; replacing the blinds is essential before they can damage the window, decorative accessories in the drop zone, or the wall surface.
This doesn't mean you can't re-use the fabrics with new stick-on wall clips. But by that time you'll likely be moving on from your dormitory or apartment and ready for an upgrade or change in color anyways.
Popular No-Drill Blind Types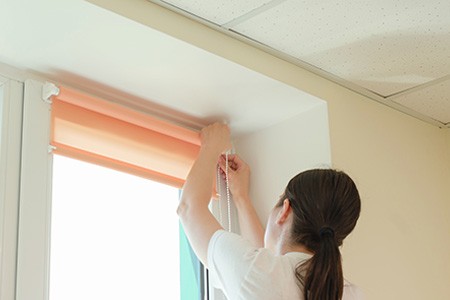 No-drill blinds come in five formats that work reasonably well without drilling them into the wall.
Magnetic
Command Hooks & Strips
Clip-on
Adhesive
Tension Rods
Command Hooks and Strips are newer types of adhesive backed clips that don't damage surfaces. Tension blinds without drilling are great but limit you on where you can hang blinds since the tension rod needs to grip between two opposing walls. Command hooks are possibly the best option here for most people, especially those dealing with curtains.
Magnetic No-Drill Blinds
Magnetic blinds bond to smooth, clean surfaces without leaving residual glue or marks. Made with heat-resistant technology, magnetic blinds are easy to use and create a sense of privacy.
Command Hooks & Strips No-Drill Blinds
Command hooks are truly a fantastic invention and work well as the easiest method of installing no-drill blinds in any window or door opening. They're types of wall hooks that mount on the wall using an easy to remove glue adhesive that doesn't damage the paint or drywall.
This innovative adhesive technology allows homeowners to move home decor and window covers without any tools or damage. They're the best option for renters and students as they leave no drill marks.
Clip-On No-Drill Blinds
Clip-on blinds work with a hook system that fastens onto the inside of the window. They're easy to use and don't damage the window frame. They're a great alternative option to magnetic blinds.
These blinds that don't require drilling also very transportable; you can move them around the house or take them with you.
A real benefit of clip-on blinds is that they work well with patio doors. They're versatile in size and come with small weights to help prolong their lifespan.
Adhesive No-Drill Blinds
Adhesive-based blinds are perfect for windows that don't open or where the blind will remain shut. Adhesive blinds are not a good option for windows with lots of traffic, as moving them can cause the adhesive to break down.
Since adhesive blinds work with glue, use a rubberized bonding agent. Intense heat and cold changes can break down the bond and cause the blinds to loosen. Adhesive blinds are great as privacy screens to block a neighbors view into your home.
Tension Rods for Blinds
The difference between blinds and curtains is that blinds fit within the "soffit" created for a window and curtains are mounted out in front of these window crevices. Blinds with rings on the top can be hung using a tension rod (the kind you might hang a shower curtain on).
Some of these no-drill blinds come with tension rods built-in so you don't need to make a quick trip to the hardware store or make an online purchase for adhesive strips. It really just depends on the construction of your windows and walls which you'll use.
Deciding on No-Drill or Other Window Treatment Options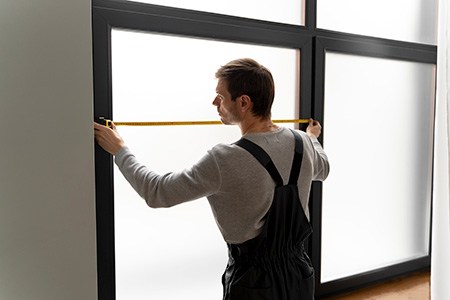 Investing in window coverings for every window in the house can quickly become expensive. The average home has between eight and twelve windows.
Hiring a Professional Installer
No-drill window blinds are a great treatment solution for many windows in our homes. Some people are comfortable tacking DIY jobs, while others would rather have a competent person with home renovation skills install window coverings.
No-drill blinds are easy to install, but they may require reaching tall heights with a ladder. Skylights are notorious for being difficult to get, and no-drill blinds are a great option to block the sun.
A professional can install no-drill blinds or other window treatments with ankers and rods. In the end, it might be more cost-effective to entrust the job to someone with experience.
Dimensions & Measurements
It's not a good idea to eyeball your window size. Get a retractable measuring tape and take accurate inside measurements before you head to the store.
Actually, before you tackle any at-home project and you're unsure, speak with someone at our local home-building supply store. Some blinds are measured on the inside of the frame; others fit on the outside.
It depends on how the blinds will sit against your window, or you'll have light coming in regardless. It's always a good idea to double-check your measurements.
Are No-Drill Blinds Pet-Friendly?
Before installing no-drill blinds, ask your cat if it plans on climbing them as they do the drapery. Although cats might not actively climb, they also like to sharpen their claws. No-drill blinds can't handle excessive pulling and climbing. Hardware blinds might be better for the cat.
Depending on where you're putting the no-drill blind, a dog can also cause wear and tear with their tail or aggressive playing.
FAQs About No-Drill Blinds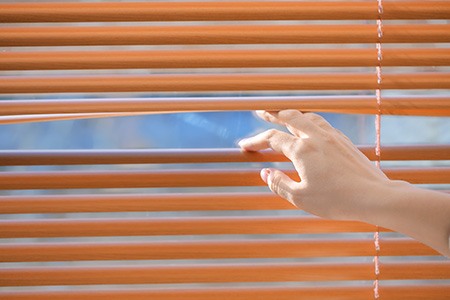 Here are some frequently asked questions about no-drill blinds that always pop up when the topic enters the conversation.
Do You Need a Drill for No-Drill Blinds?
No. However, installing a no-drill blind requires planning and installing. You do it differently. Instead of screws, you'll use glue, clips, or magnets. It's a great idea to ask someone for help if you don't have any DIY experience.
Do No-Drill Blinds Work on Exterior Doors?
Depends on where you live and what elements your door and blinds face as the seasons change. While the material in no-drill blinds comes from poly-based sources that can withstand climate change, there are some considerations. Extreme heat and cold fluctuations can cause the adhesive to deteriorate faster.
If the blinds face the howling wind, they may not last. Seeking the advice of a professional installer is a great idea to explore your options.
Can I Put Up No-Drill Window Treatments By Myself?
Yes, but it's always easier with help. It will be as simple as using a tape measure to locate the right spot to stick the adhesive clips, then sticking them on. Remember that the adhesive might need 24-48 hours to set.
How Do I Install No-Drill Blinds?
The best way is to follow the manufacturer's guidelines. Use the adhesive or clips as shown in the instructions. It's typically as simple as measuring the correct height and width locations and drawing a dot with a pencil, then peeling off the paper backing to expose the adhesive and sticking the clips on the wall.
How Do I Hang Blinds Without Holes?
No-drill blinds are the best way to hang blinds without damaging window frames or walls. No-drill blinds rely on adhesive, magnetic, or clip-on mechanics to work. They are the perfect way to hang curtains in a rental apartment when you can't make holes in the walls.
Are No-Drill Blinds Worth the Hassle?
No-drill blinds are an easy and affordable way to get semi-permanent window treatments for shading or privacy. They are the low hassle option, which is to say they're not a hassle at all.
No-Drill Blinds are the Low Hassle, Easy Option
If you've just moved into a rental apartment or condominium and don't want to put holes in the wall, knowing you'll need to patch them when you move out, then the perfect option is out there to hang your blinds.
Perhaps you're just not comfortable with or don't have access to the tools needed to hang blinds in the traditional manner. Worry not, because no-drill blinds exist and will solve all your problems.
You'll Also Enjoy: