14 Types of Closet Doors to Improve Your Bedroom Decor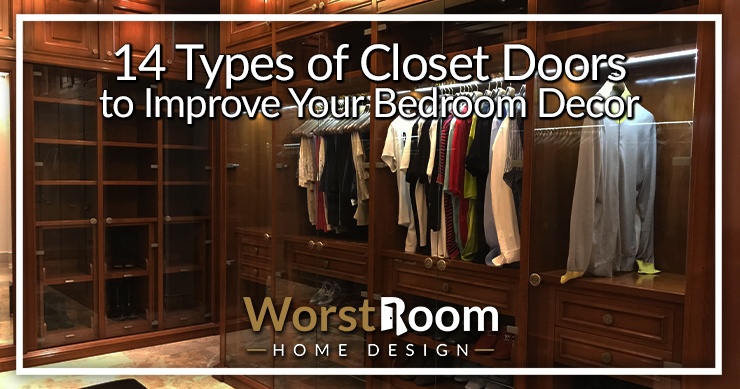 Choosing the right types of closet doors plays a vital role in maintaining the flow of your interior design. If you pick the wrong one, the space will lose its functionality and beauty, which isn't acceptable at all.
Therefore, before you start building your closet, you need to have a clear idea about the different types of closet doors you can get. And that's what this article is all about.
Here we'll discuss all the closet door options you have so you don't have to be clueless while working on your interior decor. Well, without wasting much time, let's get enlightened.
14 Types of Closet Doors
Just like any other thing in the world, you'll get tons of variety when it comes to choosing a closet door. Some doors are more functional than others, and some are more on the fancier side. There are even closet door alternatives. But which one is the perfect piece?
By the time you finish reading this write-up, you'll become an expert on closet doors. So, let's get to know all the options we have.
Bypass Closet Doors
One of the most common ones is the Bypass or Sliding closet doors, which are highly functional. If you have a small space for your closet area, this door will be perfect. We don't mean bypassing a door altogether and having closet alternatives. This is a specific type of door named "Bypass".
Moreover, these doors can be made with different patterns and materials and go smoothly with any decor. Especially when you're a fan of minimalist outlooks, these sleek doors will make you the happiest person on earth.
A bypass door is installed with a track so you can easily slide past one another. This way, you get easy access to your valuables. You can add panels if you want a conventional look or make it sleek, whichever you prefer.
These closet door types are mostly made with wood, but you can get aluminum or glass-made ones if you want. So yes, you're getting full liberty of decorating your house when you choose this door type.
Bifold Closet Doors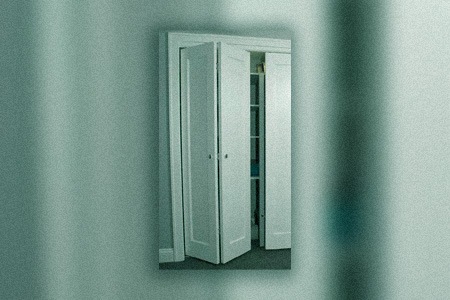 Do you want to have a dramatic entrance every time you enter your closet? If so, getting these bifold doors will be the ideal choice for you. These paneled closet door styles are connected and can be folded when you open them.
You can build the bifold doors with two panels to keep things simple. But people also get four or six pairs of panels to make the design more exciting. They come with these little static types of door knobs that don't really do much but help you start opening the door.
From any small space to bigger ones, these doors will fit perfectly. And they are pretty budget-friendly, which makes them popular among homeowners. However, the installation is a bit tricky, and you need professional help to do the job.
Accordion Closet Doors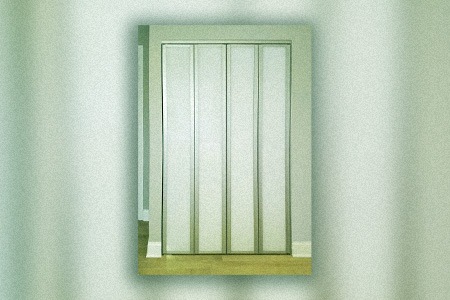 These types of closet doors are made with multiple narrow panels. The accordion doors get stretched and look flat when you close them. Hence, you can easily call it a compact version of bifold doors.
If you have tight closet space and still want to give it a unique look, you should definitely go for this style. And while choosing the material, you'll get a wide range of choices, making it more user-friendly.
These lightweight closet doors can be made with vinyl, aluminum, or plastic. As a result, you don't have to have an expensive budget for it. And that's good news for many people out there.
Pivot Closet Doors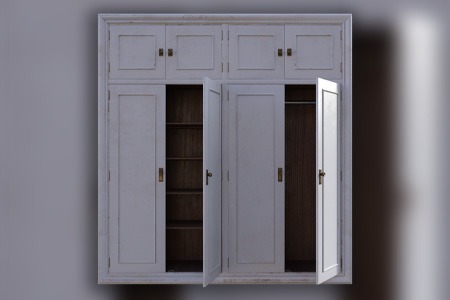 These doors are super elegant and not for the faint-hearted. Yes, the pivot doors make your interior look spectacular as the panels are attached from top to bottom. This way, the door opens entirely, giving you full access to your closet.
To install this kind of opening, you need to spend a bulky check, to be honest. They are mostly made of wood, and the required hardware is quite expensive. So, if you have a plan of designing an exclusive closet, getting pivot doors will be a brilliant idea.
French Closet Doors
French decorations are known for their elegance and elitism. And these French closet door types are an excellent example of that. Once invented in the 17th century during the French Renaissance, they spread throughout the world as an attractive option with much larger overall door frames.
Well, these doors require something robust to hold on to and to open it, you'll need an ample amount of space. Therefore, if you don't have a bigger closet space, you shouldn't choose this style.
The French doors mostly come with wooden frames, clear glass panels, and shiny hardware, but among those three aspects you'll have plenty of closet door options.
So, if you install this on your walk-in closet, it will turn into an epitome of elegant decor. But this door isn't a great option for minimalist homeowners as it gives a vintage vibe.
Mirror Closet Doors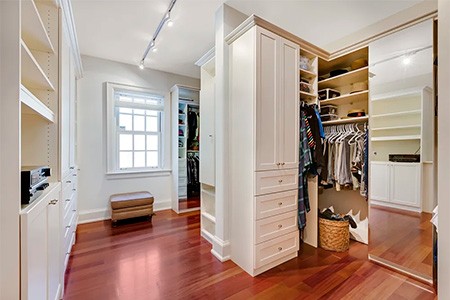 These doors are super chic and keep your closet space bright. You can turn your bypass doors into mirrored ones and personalize your frameless mirror doors.
Besides being a space saver, you'll get full-sized types of mirrors to check out your outfit. This way, you don't have to mount a separate mirror in your walk-in closet, which is pretty impressive. It can also help dial in your bedroom feng shui.
But when it comes to maintenance, these types of closet doors demand some real effort. And you will have some unwanted glares in your room, and that's something discouraging.
Pocket Closet Doors
As the name suggests, the pocket doors go into a little pocket when you open them. And yes, this thing is suitable for compact space; you may have already gotten that idea. Just be ready to have to adjust your pocket doors over time to keep them sliding freely.
If you don't have a space for full-sized swing doors, but you still want to get full access to your closet, these doors are a perfect choice for that. And it goes with any interior style, from traditional to contemporary, making it more popular among the millennials.
Bookcase Closet Doors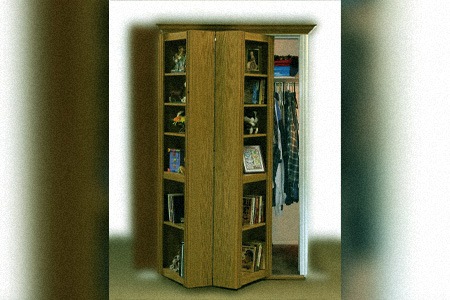 Many of us struggle to arrange things as we mostly own shoebox apartments or small houses. In that case, the bookcase closet doors will be a brilliant addition to our interior.
It's basically a bypass door that has shelves for the books. You can keep your reading materials as well as some decorative pieces to make your place cozier. And once you open up the door, you'll have full access to your closet. Isn't that the best of both worlds?
No matter how small or large your room is, these closet door styles can be installed pretty easily in any place. Moreover, you can use any material you want, so you don't have to spend a hefty budget on it.
Single Panel Doors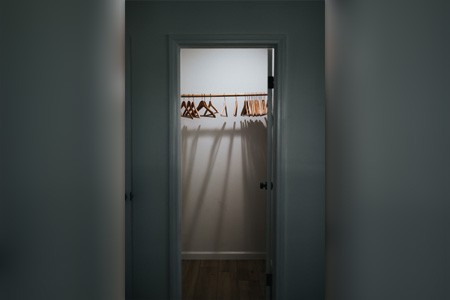 A moment ago, we talked about the shoebox apartments and space issues. Well, to get out of that ordeal, you can get this single panel door for your closets without any second thought.
It comes with just a single panel and can be swung in even in the tightest space. Additionally, these doors are super easy to install, and anyone can afford them. That's something impressive, isn't it?
Sliding Barn Closet Doors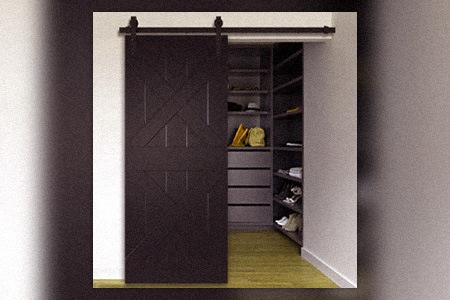 This one is similar to the bypass sliding doors, but it has exposed slide bars from side to side instead of on the bottom. However, it comes with wheels on the bottom to offer smooth sliding. These have become hugely popular as types of interior doors to any room or closet.
And these closet doors are most suitable for rustic interiors, so make sure you are okay with that before buying them. Using the right types of wall hooks, these are perfect for hanging robes, blankets, bags, and more since they don't swing, but only slide.
When it's about the material, you're getting multiple options with this these types of closet doors. You can get aluminum, wooden, or even vinyl doors, whichever you prefer. And all of these materials are available within an affordable price range, so your budget isn't going to be an issue here.
Glass Closet Doors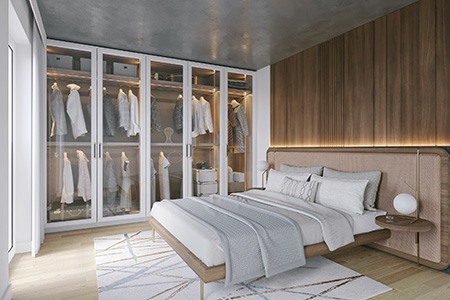 Just like the mirrored ones, the glass closet doors can be made with a sliding style. These doors are known for giving a sleek outlook to your interior, which is the dream of many. And they really simplify the decision making about the best colors for closets as you'll just use the same colors as your bedroom walls.
Furthermore, you get tons of closet door options options when choosing glass closet door styles. Glass closet doors can be made with a framed or frameless design, whatever you prefer. And if you're not confident installing clear glass doors, you can get tinted or frosted ones without any issue.
But after getting the glass door, you have to take care of it to maintain its top-notch conditions. These doors tend to get dirty pretty easily, so make sure it won't be a problem for you. And yes, to handle the durability issue, always go for the impact-resistant glasses for a better experience.
Single Swinging Doors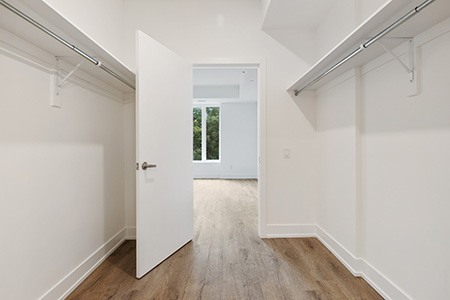 Are you looking for a fuss-free design? Then go for single swinging types of doors for closets. It's made with hinges that allow the door to swing 90-degrees only. This is an elegant and simple option and the best thing for minimalists.
But to open this door, you'll need enough floor space to have access to your closet. So, if you've got a cluttered room or closet, this might not be a good option for you. Also, these swinging doors tend to not work well with closet flooring that is carpeted and features an extremely high nap or pile.
Double Closet Doors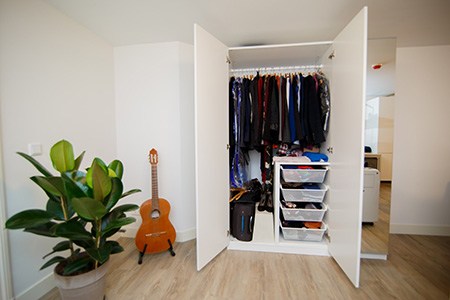 These closet door types are just like single swing doors (very much like your standard interior or exterior door), except there's two of them. They both open from the center and swing outward.
Each door will have it's own separate door knobs, but they're really just for grabbing. The real latches usually are at the tops of the doors and only need pulling to open (and no knob turning).
This way you can choose to only open one side or both if you really need light and space to get in there and organize or clean. They're inexpensive but require a lot of room to swing open and install.
These are great to help remove moisture from your closet if ever needed. You can swing both doors wide open and the natural ventilation will do the trick, or you can even blow a fan in to aid in the process.
Louvered Closet Doors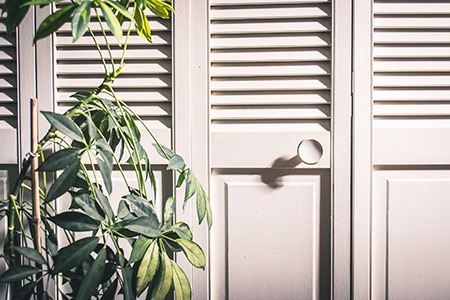 These doors are made with wooden or glass louvers on the frame that allows your closet to breathe and keep a balanced humidity. They typically come with two pairs of panels and are suitable for any medium to a large room.
But the louvered doors are tricky to clean and not the best choice for those who live in a humid area. They take a lot of effort to dust but they do provide constant ventilation as opposed to solid doors. Unfortunately the slats can be broken if they're in kid's bedrooms, for example.
Types of Closet Doors to Perfect any Decor Style
That was pretty much everything on the different closet doors types. All you got to do is pick up the one that suits you best and you'll be good to go. If you're still confused about which one to go for, you might want to ask an expert.
But no matter which of the different types of closet doors you go for, make sure it's strong. A wrong closet door can give you a real hard time, so yes, you better choose something good.
You'll Also Enjoy: