13 Bathroom Door Alternatives to Beautify the Space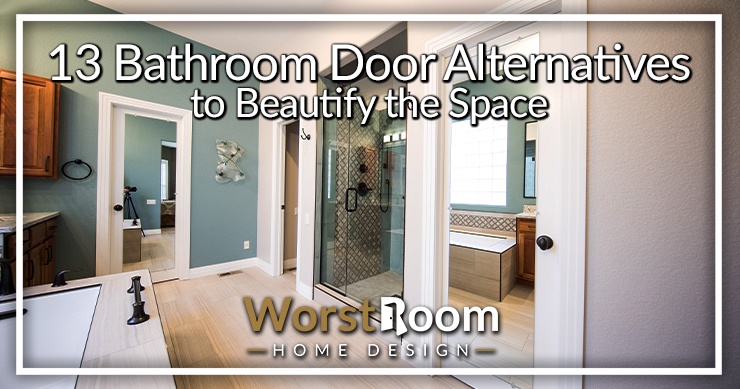 If you're redecorating, you might be considering bathroom door alternatives. You may find that choosing the right door for your bathroom can be quite tricky and you'd rather not have one at all.
Your bathroom door can play a key role in its design and the ambiance inside the bathroom. Since most bathrooms are small, practical spaces, homeowners tend to focus on functionality rather than aesthetics.
Also, choosing a bathroom door can be challenging because you need to consider various factors such as the size, setup and the direction in which the door should open so that it does not come in the way of the sink, toilet or cabinet in the bathroom.
Your bathroom door should be a combination of both size, as well as function, and at the same time, it must be aesthetically pleasing.
13 Bathroom Door Alternatives
In this article, we'll discuss various types of bathroom doors that can be a great alternative to a simple, traditional door. You may find more ideas when reading about closet door alternatives as well.
Pocket Doors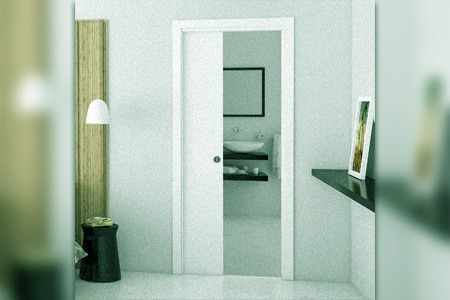 These space-saving doors are a great alternative to traditional hinged doors. Pocket doors remain out of the way, preventing pinched fingers while providing the privacy you need. There are also pocket door alternatives that might suit your needs.
Instead of swinging open, pocket doors open by sliding into the wall, making them an excellent option for small, tight spaces, especially bathrooms, giving you more room to move around.
Also, it makes ventilating your bathroom much easier. However, installing and adjusting a pocket door can be a bit cumbersome and time consuming because it requires a recess in the wall for the door. Overall, pocket doors are functional, as well as nice looking, especially when you have guests over.
In my opinion, these are fantastic as types of closet doors, though adding them later is quite the task and expensive. But if they're built in already, I'd keep them around.
Hidden Doors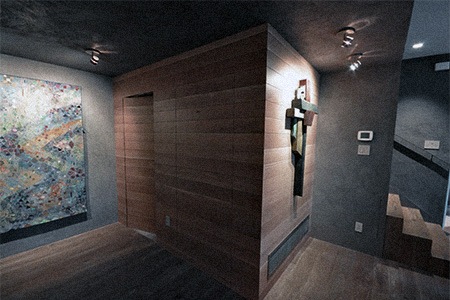 If you want an interesting and cool vibe, then you can install a hidden door for your bathroom. When closed, these door alternatives for bathroom are completely concealed and you don't know that there is one until you open it.
You can install a hidden door attached to a bookshelf or behind a large painting to hide your bathroom, connected by strong types of cabinet hinges. You can also use the shelves of the door to place some knick-knacks or potted plants.
Hidden doors are a great option for bathroom door alternatives along with the primary bedroom. While hidden doors may not be the most practical, yet it injects some mystery and fun in your private space.
Barn Doors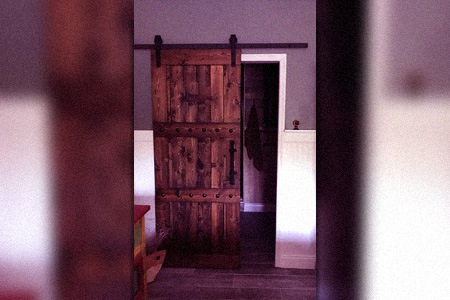 If you want a door that stands out, then you can opt for barn-style sliding doors for your bathroom. Installed on rollers, barn doors are quite similar to pocket doors, except that they slide over the wall instead of into it, which means that the installation is less tedious. You don't have to worry about the clearance of the doors swinging and eating up your toilet room dimensions, either.
You can choose from many different styles, colors and finishes to match your décor and if you want to be environmentally friendly, you can opt for barn doors made of reclaimed wood.
Barn doors are a great alternatives for bathroom doors to simple doors with typical types of door hinges and apart from having a space-saving minimalistic design, the rustic-style barn door can make your bathroom space look very stylish, while also making it look cozy and welcoming.
Shoji Doors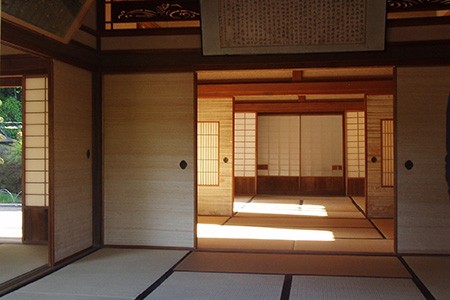 If you want a unique bathroom door option, then you could go in for shōji doors. Inspired by Japanese architecture, shōji doors originally consisted of a bamboo frame with translucent rice paper attached to the small compartments.
While these may not be very fragile, traditional shōji doors aren't among the most durable options, though there are various shoji door designs you can use to increase the durability. But the paper can easily be damaged by children or pets, so take that into consideration.
Modern shoji doors; however, are made with frosted glass panels or two panels of glass with paper in between that is attached to a wooden frame. The beautiful door not only has a functional space-saving design but also looks discreet, stylish and offers the privacy you need.
So, if you want your bathroom to have a traditional eastern-style vibe, you're sure to love shōji doors and they look great as bathroom door alternatives.
Curtains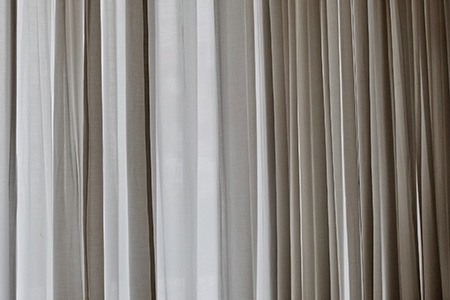 If you don't want restricting doors in your bathroom, then you can opt for curtains. The soft and flowing shape of the curtain ensures they don't take up a lot of space and adds a nice, soft touch to your interiors.
The best part is that when it comes to choosing types of curtains, there is a huge variety, styles, design and patterns you can choose from and they're also fairly inexpensive.
Curtains are versatile and functional as they offer the privacy you require and when you need access to the room, you can simply push the curtain aside.
Also, curtains are much simpler to install compared to a traditional door and you can have one up in a jiffy. Look at these creative curtain rod alternatives like tree branches to give you more ideas.
However, when choosing curtains for your bathroom, you may have to look for moisture- and mold-resistant ones because the excessive moisture and humidity in your bathroom can damage your curtains.
Another drawback of using curtains is that you can't lock them and if you live with a large family, then curtains may not offer the privacy you want when using the bathroom. You don't have to worry about how to unlock a bathroom door from the outside since you can't get locked out, though. You can come up with some great bathroom door ideas using curtains, though.
Beads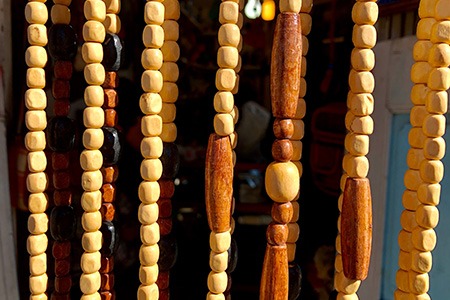 While you may not see beaded doors commonly used for bathrooms, if you want something unique and stylish, hanging beads are a cool option.
Giving off a gypsy vibe, bead doors look very interesting. These doors may not provide a lot of privacy if you live with a large family; however, they may work quite well if you live alone or with your partner.
Bead doors can be installed very quickly and easily. They are available in a wide variety of colors, textures and styles. They are quite inexpensive and cost effective too.
So, if you're looking to do something creative with your bathroom door alternatives, beaded doors are a nice, quirky option to consider. Many of these ideas work as bedroom door alternatives too, and there may be some fresh ideas there so check that out, too.
Glass Panel Doors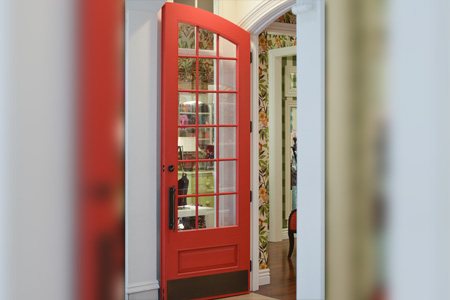 These doors usually have a glass panel instead of wood, making it look like a window. A glass-paneled door can have a single glass where the door will have a wooden frame with a glass core.
Or, you can have several glass panels that are arranged in a pattern. If you want more privacy, then you can use translucent, frosted glass or even use a curtain to cover the glass window.
French Doors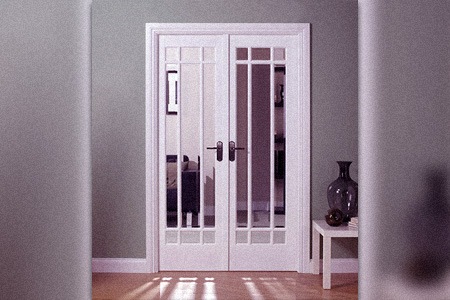 If you want a classy look, then you can install a French door for your bathroom. These usually hang on hinges on either side of the door. The doors swing open and close by swinging toward each other, meeting in the middle.
While French doors may not be commonly used in bathrooms, using them can make your bathroom stand out. They're pretty cool alternatives for bathroom doors. As you can see, these are beautiful when used as types of interior doors where visual privacy isn't a big deal like leading to a living room.
Fixed Bathroom Doors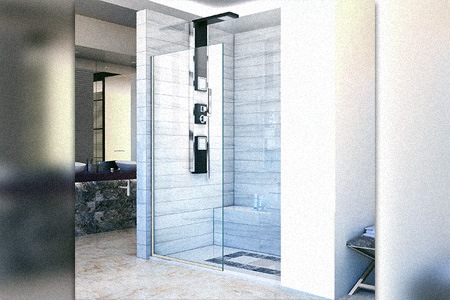 If you want a modern, contemporary look for your bathroom, then a fixed bathroom door is a great option. Fixed bathroom doors feature glass panels, which are screwed into the fixtures and don't move.
These doors not only work for regular bathrooms, but you can use them to show off your modern toilet, without the need to open the doors every time. You can also opt for fixed doors with frames, designs or etching on the glass to add to the appeal.
Folding Bathroom Doors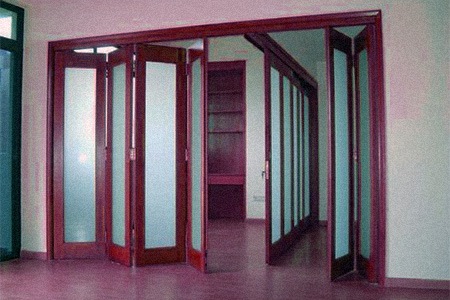 Folding bathroom doors can liven up your bathroom with their stylish elegance. Folding bathroom doors have a unique folding mechanism and you can choose between a bi-fold or tri-fold door.
Folding doors are made of many glass panels, where one of the panels is fixed to the wall and the others are fixed to each other and can move or fold freely.
These doors are very versatile and work well in small, tight spaces. Folding doors are very easy to open and close, making them an excellent option for any modern bathroom needing bathroom door alternatives.
Doors with In-Built Mirrors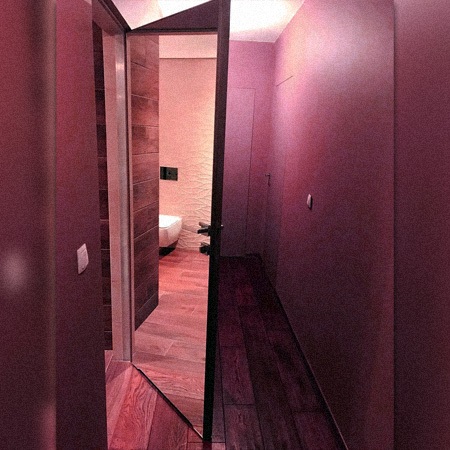 You need a door, as well as mirrors in your bathroom. So, what if you can combine both into one? A bathroom door featuring an in-built mirror is a very practical option if you have limited space.
Also, the door with in-built mirrors or a mirror sliding door can make your narrow bathroom seem much larger. There are many types of mirrors you could look into installing within a door, too. As far as door alternatives for bathroom entries go, a mirror works well.
You can either mount a mirror onto the bathroom door or integrate a full-sized mirror into the door, where the door will act as the mirror frame and will swing open to allow you to get in and out of the bathroom.
Glass Partition
If you live alone or live with your partner and privacy isn't an important concern, then you can use a transparent, translucent or etched glass partition instead of walls or wooden doors.
However, since you need something to keep the water and moisture out of your bedroom, you will need some type of partition, and using a glass one can be a great option.
A glass partition can make your bedroom-bathroom space unique and modernistic.
Chalkboard Doors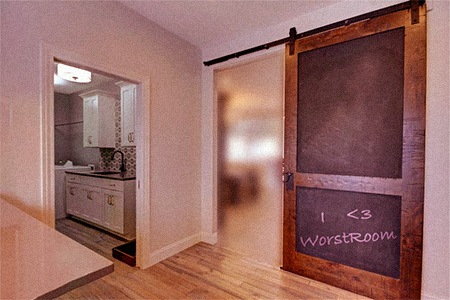 If you want a cute and playful vibe, then you can jazz up your plain bathroom door and turn it into a chalkboard bathroom door.
You can paint the inner panel of the door with chalkboard paint and the door can be functional and fun. You can also find dry erase board types of paint, as well.
You can use the door to leave fun messages and also use it to write down your to-do lists, reminders, notes, etc.
Bathroom Door Alternatives to Better Use the Space
While bathroom doors are functional and are designed to offer privacy when you're using the bathroom, your bathroom door need not be staid and boring.
There are loads of creative ways by which you can make your bathroom door unique, fun, and out of the ordinary, and that starts with bathroom door alternatives.
You'll Also Enjoy: