11 Paper Towel Alternatives to Reduce Waste & Clean Even Better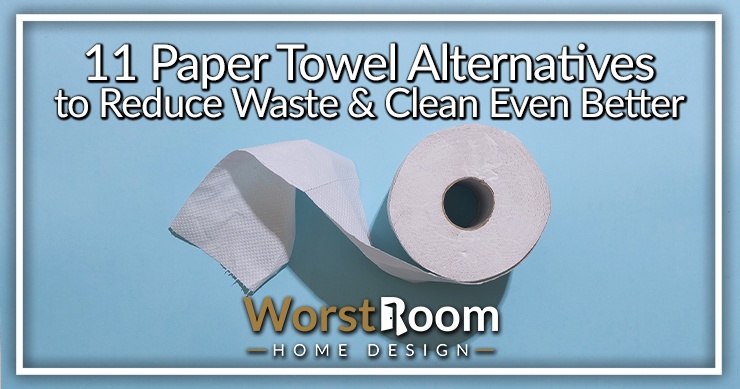 There are so many reasons to let go of paper towels. And if you haven't figured it out yet, there are so many paper towel alternatives that make cleaning up kitchen messes just as easy.
And a lot of them come with the added benefit of being eco-friendly, something that all of us should think about.
11 Paper Towel Alternatives
Every year, used paper towels across the planet generate a waste of over 250 million tons. That means 51,000 trees must be planted every day to make up for the losses. It's easier to switch to alternative types of towels, don't you think?
Microfiber Cloths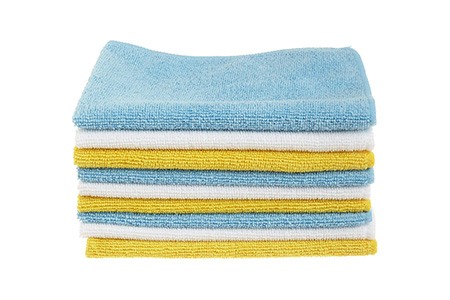 Remember the good old days when everything was wiped and cleaned with pieces of cloth? Well, we moved to paper towels because there wasn't a range of fabrics at our disposal. But that is no longer the case.
Today, microfiber cleaning cloths are very easy to access. This is particularly a great choice if you are trying to move from paper towels to a sustainable choice. Microfiber is a mix of polyester and polyamide, which provides huge absorbency and durability. How's that for a paper towel alternative?
They are great for everyday use and come in handy from minor spills to major cleaning jobs. They are great for all surfaces and do a great job with dust too.
So, you can get a set and assign these alternatives to paper towels for different tasks. Apart from being eco-friendly, microfiber cloths are also an affordable choice. And yes, they do a better job cleaning up your mess than paper towels too.
That is possible thanks to the tiny fibers in the fabric which is better at absorbing. But we don't have to tell you that because the name gives that detail away. They are also cheaper because you don't have to keep buying rolls of them.
If you look up reviews online, you will see great reports from people who have bought and continue to use microfiber cloths.
The only disadvantage is that some of them are not as durable as advertised. So, you might want to watch the brand before making the purchase.
Pop-Up Sponges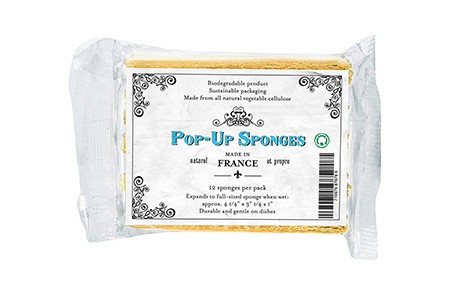 The entire point of moving away from paper towels is to reduce waste, reduce the use of space, and to use something that's actually capable of taking a little elbow grease. Paper towels fall apart during the kind of jobs that sponges don't even flinch at.
Sponges are the ultimate paper towel alternatives. They can soak up spills, they can scrape at sticky residue, they can hold soap and cleaning solutions, and then they can be rinsed out and used again.
The reason we mention the "pop-up" variety is that they come dehydrated and flat, which means you can store a lot of these sponges and take up little space, compared to pre-fluffy sponges. Use them to scrub your countertops, microwave, types of bathtubs, or whatever needs it.
Reusable Bamboo Paper Towels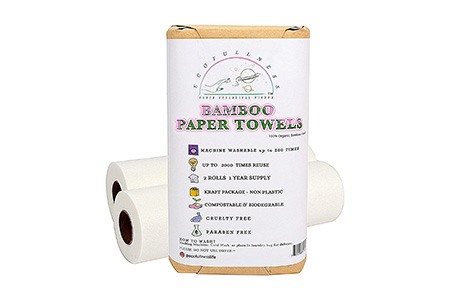 If you want to go green, there is more than one way to do that. If you didn't know it already, there is a variety of reusable paper towels in the market that will give you the satisfaction of using paper towels while keeping the entire operation eco-friendly.
Wiping towels are an essential part of places like the kitchen and the restroom. They are a convenient item and are great from cleaning your hands to mopping the floor.
Bamboo paper towels are the result of people wanting the same convenience while being environmentally friendly. They're a paper towel substitute for the basic kind, but not completely revolutionary.
These are now for sale by many manufacturers and the reusable ones can be washed and reused quite a few times. Some of them can also be attached to your mop to clean the floor.
Now, most of the brands offer bamboo paper towels pretty much at the same cost as the regular ones. The difference is that you would be doing the planet a favor.
They are soft but good enough to wipe thick messes like pasta sauces and they are washable. But the product is not perfect.
Each roll has only a few sheets (although it's the same problem as you would have had with paper towels). Stains can be hard to wash so it's like cleaning a regular cloth.
But if you're committed to being eco-friendly, these are very small compromises and you will realize that the benefits outweigh the disadvantages.
Fabric Bowl Covers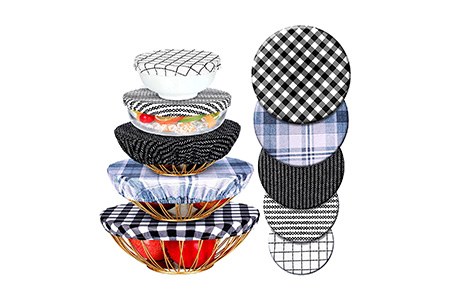 If you use paper towels to reheat food in bowls or on plates, then you know the paper towels inevitably sag and get on the food, become soiled and moist, and have to be thrown away after one or two uses.
Using fabric bowl and plate covers give you washable paper towel alternatives to cut down on this waste. They look a a hair net or bed sheets where the outside edge of the fabric has elastic sewn in so that it becomes stretchy and can hold onto the sides of the bowl or plate.
These can be had in very attractive colors and designs and are a lot more fun to use than paper towels. It simply provides a more refined and purposeful experience in the kitchen. They should pay for themselves pretty quickly, too.
Cotton Kitchen Cloths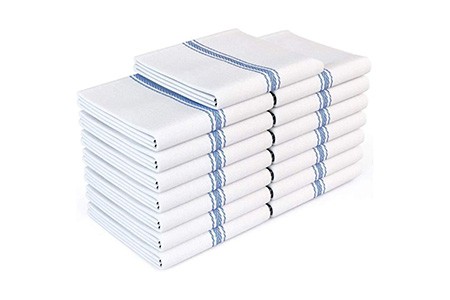 Sometimes it is best to go back to the basics. Cotton pieces of cloth were always one of the best options to clean up messes in the kitchen, right? And there's a reason for that.
They are available in a range of designs and patterns. So, whether you want a cleaning cloth or a dinner table napkin, you will be covered. These are the most obvious paper towel replacement.
There are some ridiculously good-looking cotton napkins with top ratings everywhere in the market. So, if you're not the microfiber type but want something good, these cotton cloths are a fantastic option. You can also use them as dish towels.
They absorb liquids really well and can be washed in the machine. Cotton cloths can handle tough stains like those from a steak sauce or coffee spills from your Keurig alternatives before they leave a stain.
Obviously, this makes them a better choice than paper towels. Unless, of course, you are too lazy to lean. That is understandable but even then you might want to give this item a shot.
Cotton cloths are cheaper than most other alternatives. You can get them in many colors, shapes and sizes. But they do have a couple of drawbacks.
They get wrinkled quite easily and you need to check the cleaning instructions from the manufacturer before you throw them into the washing machine.
Beeswax Wraps (Reusable)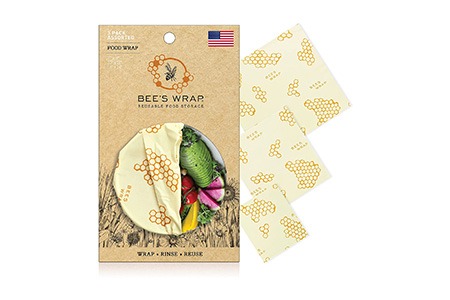 If you're looking for materials specifically to wrap food, you want to make sure that it's something that doesn't stick to the food, right?
Well, paper towels work for dry food like sandwiches (some of them anyway) but what to do with greasy food items like pasta or slices of pizza?
Reusable beeswax wraps are a great option for those and for those who want to be eco-friendly. These wraps are made of natural materials and are an organic option when it comes to storing food whether it is cheeses and bread or fruits and vegetables.
It is made of beeswax, organic cotton and tree resin which is 100 percent compost-able. And it does so without making the soil toxic.
And if we're talking about re-usability, which we are, these wraps can be used at least 200 times if you use and wash them regularly. That comes up to about a year of usage.
It is a good choice even price wise simply because it is reusable. Plus, it won't cause any damage to the environment. So, there are those savings too.
But you must remember that these paper towel alternatives don't do well when they come in contact with heat. So, you must keep them out of direct sunlight.
That also means you can't leave them in a hot car in the summer months. They stick to one another and that's a mess you don't want to deal with.
A lot of temperature fluctuation is also not recommended if you're going to use these wraps. It is harmless but the wrap becomes unusable if you abuse it.
Linen Bread Bags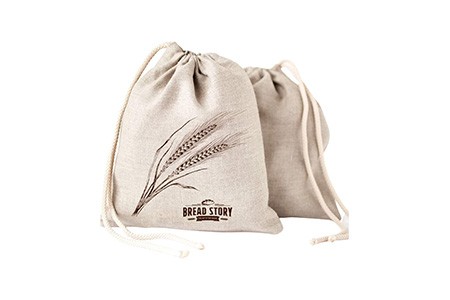 If you're the kind that wraps their loafs of bread in paper towels instead of leaving them in the plastic bag (or you're baking your own bread!), you'll be happy to know about linen bread bags.
These bags can be very stylish, coming with various colors and designs built into them. Many have a handle built into the ends of them to make carrying a lot of bread an easier task.
As you can imagine, this is more about the artisan bread maker experience. There's nothing like sharing loaves of bread you made with your own hands with friends and family and delivering them in linen bread bags and having those bags returned to you later.
These bags have drawstrings sewn in on the open end that can be drawn taught and tied off once the bread is safely inside.
Swedish Dishcloths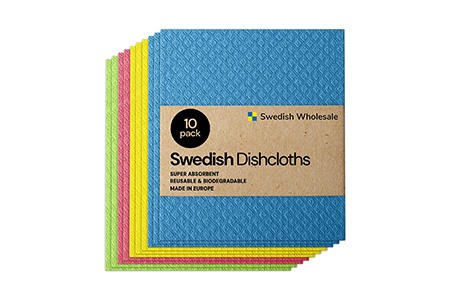 These are cellulose dish towels that are made of biodegradable materials. So, that's another win for the planet. These dishcloths are supremely absorbent and have a cotton lining. If you want to know what to use instead of paper towels, these are a great choice.
These dishcloths are said to have the capacity of 17 paper towel rolls and they are compost-able too. These dishcloths are made of organic cotton and cellulose (which is made of natural wood pulp) and come with no odor.
A lot of people who have used them have said that they really won't go back to using paper towels. So, there is a strong endorsement, right?
They can also be used instead of sponges. So, that's the level of absorbency we're talking about. Now, because these dishcloths can take so much in, they do get quite dirty after usage. But they are really easy to wash and can be placed in the dishwasher.
A little detergent is all it takes to get these bad boys back in the business. That also takes care of getting rid of bacteria which means no compromise on kitchen hygiene.
But if you're not sure about that, make it a little damp and place it in the microwave for a couple of minutes to sanitize it. Expect it to be hot coming out.
You can also throw it in the washing machine but there is a chance it will shrink. And definitely keep them away from the dryer.
Newspaper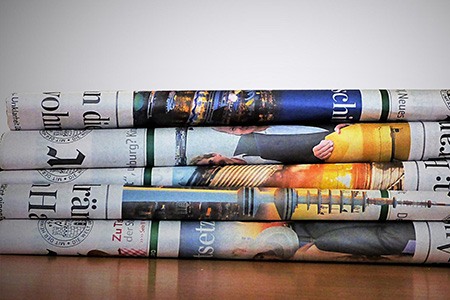 This suggestion of using newspaper as paper towel alternatives goes to those looking for something else to use while cleaning.
You likely hate going through dozens of paper towels while trying to wipe the streaks off of a mirror, for instance, or whatever alternatives to glass shower doors you have.
Newspaper is a wonderful glass, window, or mirror cleaner that can do so without streaks. But lets be fair, for anything else they don't work that well. But they work so good that you might as well keep your newspapers around to clean the windows.
Linen Napkins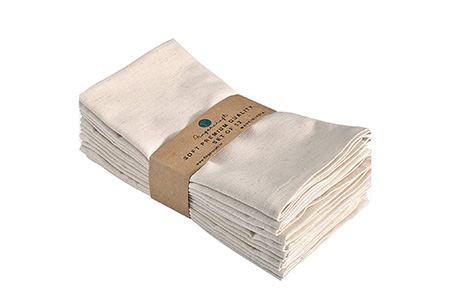 And finally, there's linen. These towels are a great alternative to paper towels especially with food items like bread. It stays fresh for a long time when wrapped in linen towels and that's why you will find these wrapping bags in the market especially to store bread.
Linen towels are available in many colors and some cool designs too. Some of them also have a handle which means you can carry and store them quite easily.
They are affordable too which makes them an attractive alternative. But there are some problems. They also double up as coasters for drinks and dinner situations.
Linen bath towels, on the other hand, are very absorbent. So, if you want to repurpose those for the kitchen, it wouldn't be a bad idea.
They also dry quite quickly and leave no musty odor. Linen towels last for a really long time and in fact, get better with time. They're great paper towel substitutes if you're willing to stain them and see them as rags and not fancy napkins.
These towels are not a great substitute if you have to clean up in the kitchen. They can be washed in the machine but you must be careful so as to not damage them.
Cloth Diapers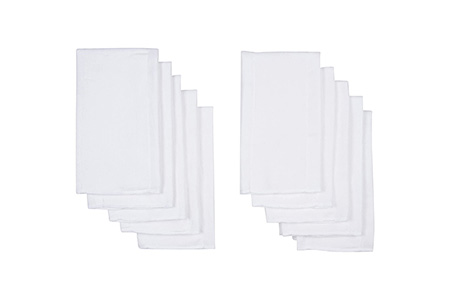 The most common thing to do with your cloth diapers once your baby outgrows them is to pass them on to the next family. But perhaps you've grown attached to them or don't know anyone with a baby on deck.
Cloth diapers are designed to be very absorbent and that translates right over to cleaning up spills in the kitchen or dining room, or anywhere else you're bound to knock over a glass. They can scrub well, too with a little dish soap or degreaser.
Paper Towel Alternatives for the Eco-Conscious
If these options did not get you thinking, we don't know what will. It's time you started looking for brands that get you these products. We linked to good options above for your convenience in your hunt for paper towel alternatives.
You'll Also Enjoy: