10 Types of Crown Molding to Add Ornate Detail to Your Rooms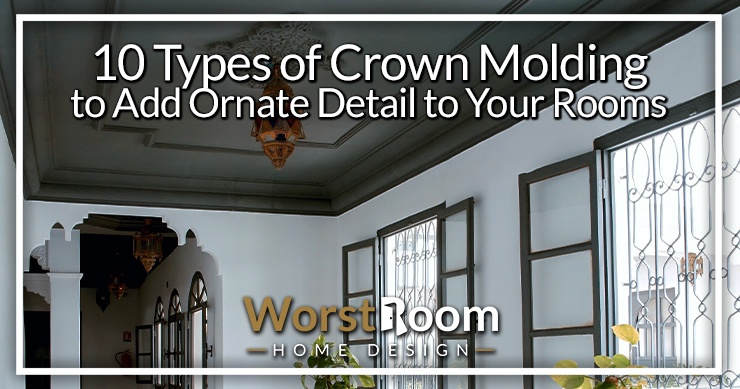 The use of all the different types of crown molding is to decorate the exteriors of the building and the columns and wall corners inside of your home.
When set right, crown molding can lift the space and make the ceiling appear taller. It will also hide any flaws and even distract your eyes from peeling paint, spider webs, and dust.
If you are a modern individual who wishes for a neat and aesthetic interior design to complement your living space, you might want to add crown molding as a decorative feature in your room.
10 Types of Crown Molding
Crown molding is available in multiple materials ranging from wood to PVC and loads of other materials, which can be daunting to choose from. We've talked about the major crown molding types below. You'll want to give this part a read and see which type goes with your taste, or even consider crown molding alternatives afterwards.
Before you start, for some context and just as an interesting trivia tidbit: Crown molding was already being used and possibly invented by the ancient Egyptians who would carve it directly into the stone used in their buildings. Their two types are called cavetto and torus crown molding. And even now, crown molding is still not outdated.
Plaster Crown Molding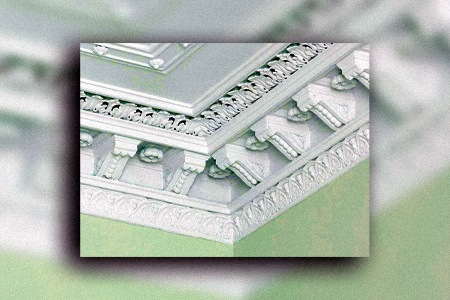 Plaster crown molding is great for intricate designs, and can be cut into incredibly sophisticated profiles. They are usually used for grand interior decor. Most importantly, these styles of crown molding do not warp or shrink over time.
However, these crown molding styles are a bit heavy, and even though they don't warp, they can crack easily if you don't handle them with care. For which, many homeowners have a hard time installing these ceiling molding types themselves, unlike other ones in the market.
Plaster crown molding has to be made to order, which can make it more expensive than your other options. Installation is tricky as an additional layer of plaster is required on the back of the molding, so it becomes even more expensive to hire an expert for proper installation.
Solid Wood Crown Molding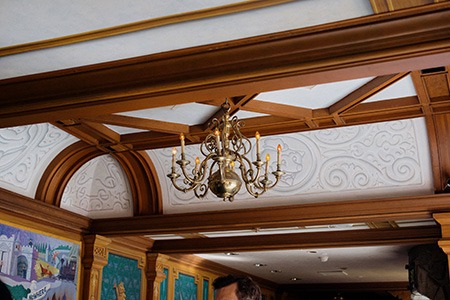 Solid wood is amongst the most versatile and desired choice for crown molding. The color and the grainy pattern make it very hard to imitate while adding warmth to the room. Custom looks can be easily created by embossing different wood composites into your wood crown molding.
Wood ceiling molding types usually come in two styles – softwood and hardwood. Hardwood such as mahogany and oak provides a much more natural and finished look.
They stain beautifully and will add warmth and color to most rooms. Softwood includes aspen or pine. Plus, they are a much cheaper alternative than hardwood.
Solid wood types of crown molding are an excellent choice if you plan on painting over them. However, a drastic change in weather can possibly swell or shrink the wood.
MDF Crown Molding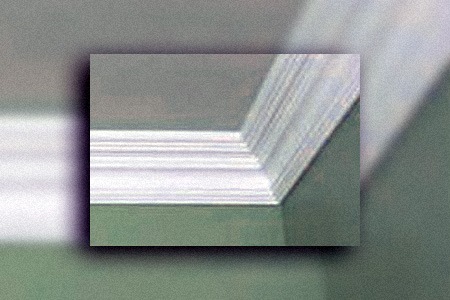 Medium-Density Fiberboard (MDF) is a rather inexpensive choice for a crown mold. These ceiling molding types are typically used in rooms where the trim needs to be painted, making them one of the most versatile options when it comes to crown moldings.
They are a low-cost alternative to solid wood and quite stable and firm as well. Plus, these crown molding options even come in a huge variety of stock profiles. You'll find the natural wood veneers that are suitable for staining while others are without veneers that need to be painted over.
MDF crown molding does not split while cutting with miter saw blades. These crown molding types are resistant to warping. They are, however, prone to getting damaged easily, especially if you decide to get the ultralight variety of MDF.
No matter what types of ceilings you have, MDF crown molding can match it because any intricate design can be manufactured and then all it needs is a coat of paint and you'll never know the difference.
Polyurethane Crown Molding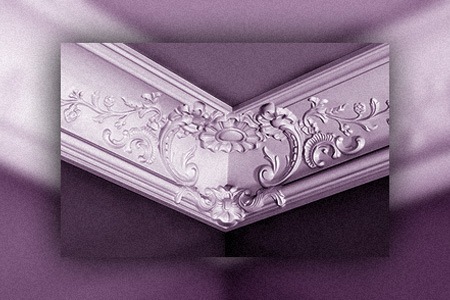 If you want to go for a cheaper types of ceiling molding, the ones made of polyurethane are your best bet. They are a very versatile option and works with most interior decor.
Compared to wood, these crown molding varieties are cheaper and have added benefit of being resistant to rot. Insects will not be drawn to these moldings as well. They do not shrink or warp with temperature changes, like traditional wood moldings.
Polyurethane crown molding can be easily installed with nails, and they are heavily customizable.
Polystyrene Crown Molding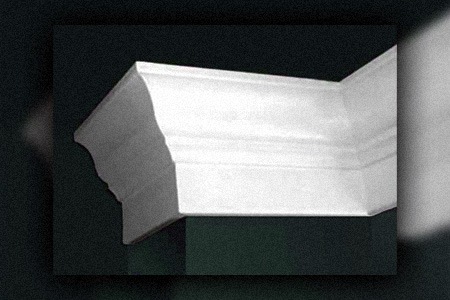 Polystyrene crown molding is ideal for a quick and easy room redesign. They are relatively cheaper than plaster or wood crown molding as well.
This molding has a foamy and light texture which makes them easier to cut by using either a pair of scissors or a sharp knife. It does not need to be attached to the wall or columns with nails and can be installed with construction adhesive.
These types of crown molding don't have very detailed, sharp, and well-finished edges. The texture is quite thin as well. As a result, it will be easier to spot installation errors from up close.
PVC Crown Molding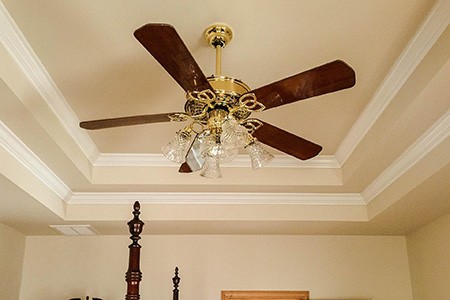 PVC crown molding is the ideal choice for bathrooms or any room that will accumulate a lot of moisture. Plastic polymers are made to protect against moisture no matter how wet it gets.
These crown molding styles will not warp or rot even if it is exposed directly to water. They are also easy to install and relatively inexpensive. You'll often find these crown molding types referred to as Vinyl Crown Molding, where the 'V' in 'PVC' stands for vinyl.
Due to the nature of the material, PVC doesn't allow for much detailed or intricate designs and profiles. PVC crown molding has to be painted to cover the plastic sheen; however, its slippery and slick surface makes it difficult for the paint to stick.
Flexible Crown Molding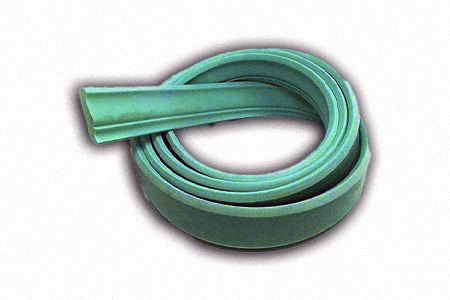 Traditional crown molding are meant to be used in a straight line. Flex crown molding is ideal for using around curved walls and window bays. It is made from a rubbery and flexible material that usually comes in a variety of profiles.
They can be easily bent around a curved surface without needing relief cuts. As relief cuts are difficult to do, a lot of moldings go to waste while installing it; thus, flexible crown molding is both a time and money saver.
These moldings are, however, more expensive than traditional crown molding and also need to be custom ordered. The extra cost is balanced by not having to need experts to install it for you and not needing to use relief cuts. You may need it if you have an oval or circular tray ceiling, for instance.
Metal Crown Molding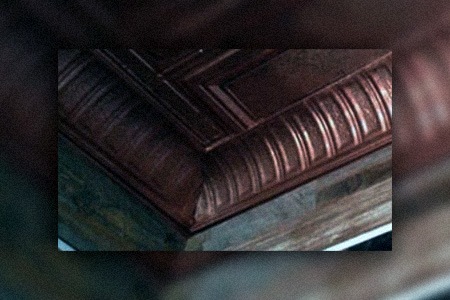 For a truly unique look, metal crown molding can be used. They're of a heavy-duty construction and can be used as a decorative accent for the interior. Due to their nature, they can be easily damaged if handled carelessly.
Any flaws, mistakes, or dents can be seen easily and will affect the finished look of the room; therefore, as recommended, they should be installed by experts and professionals.
Metal crown molding can give the room a unique look; however, they might not be suitable for a lot of homes since they are prone to tarnishing, which is why the climate and temperature have to be taken into account. These types of crown molding also need sufficiently more aftercare than most other crown molding options.
Recycled Crown Molding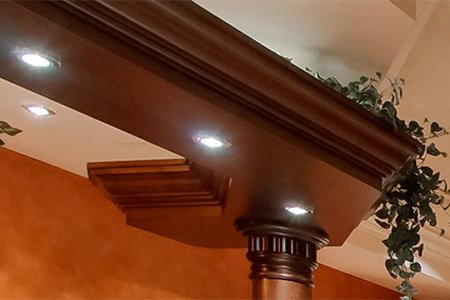 Recycled crown molding is the ideal choice for decorations without affecting the environment. They work and function like regular and traditional crown molding varieties, but the material they're made from is recyclable and environmentally friendly.
Generally, a material made out of recycled parts and wood that is reclaimed from somewhere else is used to make these types of ceiling molding. You'll often see styles like the classic ogee, dentil, egg and dart, and rope molding in these styles.
Handmade Crown Molding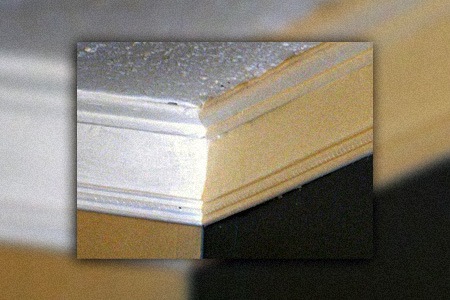 For the most unique and personal designs, handmade crown molding is ideal. You can design these moldings exactly to your liking and preferences, so you end up with a product that is truly unique and potentially one of a kind.
They are generally used for finishing a smaller room or for a smaller portion of the overall room.
Types of Crown Molding to Add Sophistication to Your Room
From here, once you decide on the material you want to use, you'll want to begin asking how decorative or simple you want it to be.
Do you want to run and hide any types of video cables behind them for wire management? Do you like the one piece crown look or the two piece crown or even three? Do you want accents embedded in them? Do these accents need to match your types of wallpaper designs?
Now that you are familiar with the different types of crown molding available out there, we hope you make wise choices with the interior of your house. Thanks for reading with us.
You'll Also Enjoy: