Should Curtains Touch the Floor? The Big Debate!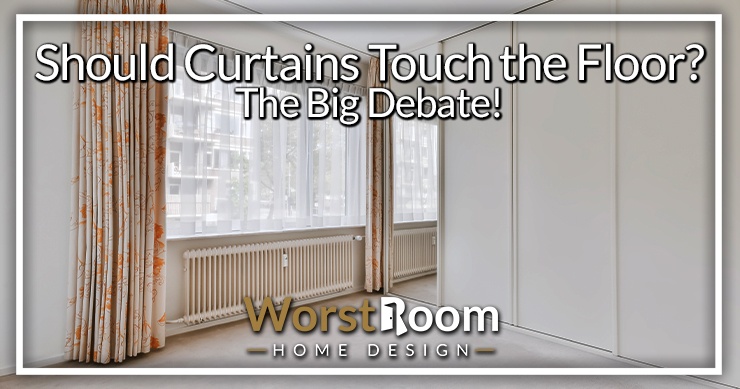 While there are many curtain styles and materials to choose from, many of us wonder about the correct length. Should curtains touch the floor? Does that go for every window?
Curtains or drapery are an excellent way to incorporate color and texture into any room. Aside from a decorative appeal, curtains also serve a purpose for privacy and light control. They also dampen sound.
Curtains were once only for the wealthy. In the 15th Century, only the elite could afford to buy enough fabric to decorate windows. Curtains eventually replaced tapestry and other heavy textiles. Are curtains supposed to touch the floor? Find out what is best.
Should Curtains Touch the Floor? A Heated Debate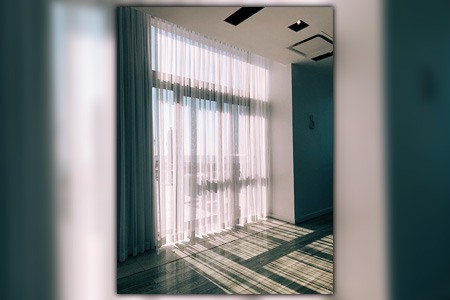 Curtain length preference is closely related to our style choice. It also depends on the purpose of the drapery. Is it decorative? Or do they serve another function, like room darkening?
The material choice has a significant influence on curtain length. However, kitchen or bathroom windows are typically shorter and only cover the window and frame with little overhang. Blackout curtains generally reach from the curtain rod to the floor for optimum darkening effect.
Curtain Length Guide
Not all curtains serve the same purpose, decorative or otherwise, and this calls for varying lengths. Here's a quick reference guide with details on each type to follow below.
Single panel: Floor-length
Double panel: Depends on window and style
Blackout: Floor-length
Window scarf, tier, or valance: Cut to size
Drapery sets: Custom sized
Sheer panel: Floor-length
Please realize these rules are meant to be bent. There are no hard rules on whether a curtain touching the floor is acceptable or not. Personal preference depends on style choices.
When Should Window Treatments Touch the Floor?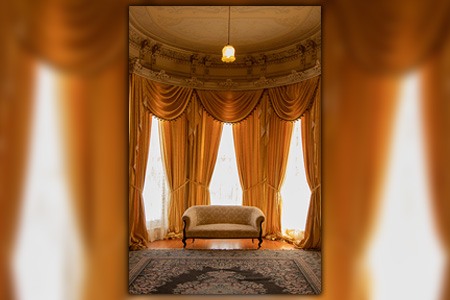 It's about style choice. The room and curtain type make a significant impact. Traditionally bathroom, kitchen, or stair windows are shorter.
Bedroom and living room windows are sometimes oversized and create dramatic decorating flair. Bedroom windows also benefit from full floor-length curtains to help with room darkening.
Curtain Style
Before cutting a curtain to length, consider the style you want to achieve and what type works best. Blousy sheer curtains are lovely but will they provide any privacy or sun protection on big south-facing windows? Bulky, heavy curtains can make small rooms look top-heavy and crowded.
Single Panel Curtains
Single-panel curtains hang from one side of the curtain rod and are best for narrower and tall windows. Most often, they hang down on the floor. Single-panel curtains get drawn across the window face and cover the whole window. They're decorative but also help to create privacy and protect from the light.
Double Panel Curtains
Double-panel curtains are perfect in living rooms and bedrooms and for dominating window sizes. Each half pulls to its respective side for opening. They can add dramatic flair to a room if they pool on the bottom or use exciting textures and colors.
No style law governs whether double panel curtains should touch the floor. In bedrooms, it's safer to have them skim the bottom to prevent a tripping hazard. Trimming-to-fit curtains hanging above the floor work best for an aesthetically pleasing look.
Blackout Curtains
Blackout curtains can come in any format. They're a denser fabric and usually have a polyester backing material to create a darkening effect. Are curtains supposed to touch the floor? Blackout curtains should and will extend further horizontally than others might.
For the full darkening effect, most blackout curtains cover the entire window and overlap to prevent light from seeping in. Blackout curtains provide darkness and are an environmentally safe method to keep the sunlight and heat out.
Window Scarves & Valances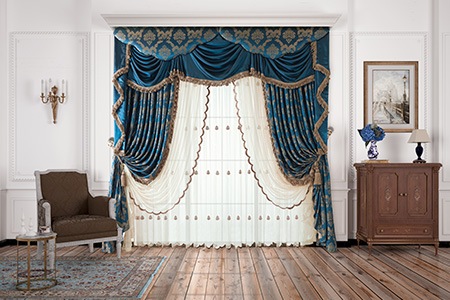 Window scarves and valances are decorative types of window treatments. A scarf is an elegant and whimsical length of fabric draped for effect. Sometimes one side will touch the floor while the other side remains short.
Valances are more structured and often built over a frame. They're usually only one foot long and have no darkening effect.
Window Tier Curtains
Many install window tiers to create a sense of privacy without sacrificing light. This window treatment style only covers the lower portion of the window and is likely made to fit.
The fabric is usually a light material that doesn't touch the floor. Window tiers fit inside a specific space with little overlap. Window tiers are versatile and can be curtains or a blind style.
Window Drapery Sets
These treatments usually cover a window from floor to ceiling and are often custom tailored. Each side is balanced and may have a sheer curtain beneath to help with privacy. Typically, they have a window scarf or valance to complete the look.
Sheer Curtains
Sheers create a soft look that is bright and airy. They work well to create a finished look and add a sense of privacy. Sheers work well in kitchens and upper windows. Sheers and semi-sheers can adapt to any style, touch the ground, or fit the window size. Should curtains touch the floor? Sheers can and will look great while doing it.
Style Considerations
Style is closely related to form and function. Floor-length drapery can add a sophisticated sense of drama or a contemporary style element. Curtains are a great way to introduce texture and color. They can be decorative or practical to create privacy or room darkening. The length depends on personal preference.
A great way to experiment with style is to drape a bedsheet or light blanket over the curtain rod and window. Some people prefer floor lengths that float or skim, kiss or touch, or puddle and pool. Each look is unique and sets the tone for a room. And it can all change if you decide to use curtain holdbacks, too.
Type of Window & Location
One of the critical determiners of curtain floor length is where the window is in the house. Kitchens and bathrooms often have short-to-fit curtains. In these cases, you can temporarily use no-drill blinds to experiment and see what you like, then go for a more permanent curtain rod fixture.
Living rooms, bedrooms, or dining rooms are lovely staging areas to add drama. Thicker drapery is also great for drafty windows. Should drapes touch the floor? Well, it's not wise to have puddle curtains in high-traffic areas. For dog and cat owners, puddle-style curtains become a catch-all for fur bunnies and dust.
Curtains Sizing
Poorly fitted curtains look bad. Large windows work best with floor-length drapery regardless of material type. Study the window, the light, and the traffic. Then, if you want an easy-to-control window treatment, install a blind. Also, you can hem any types of drapes to fit any size.
Tip: Many no-sew methods can work for you. However, if you use iron-on, no-sew bonding material on blackout curtains, know that the heat of the iron will melt the poly backing material. Also, always measure twice before cutting.
Reasons for Any Curtain Style
Curtains instantly soften a room's atmosphere. Style choice dramatically impacts whether short or long is the way to transform a window space.
Curtains also act as privacy screens blocking neighbors' views into your home, sun and light screening methods, and reduce the echo and reverb effect in larger spaces to a degree. They also help slightly with heat loss.
Finally, curtains should match your decor style. Heavy velvet drapes don't pair well with ultra-modern concepts.
Tip: Buying quality curtains is a great way to prolong their lifespan. Look for washable curtains. Curtains can trap odors and dust.
FAQs Regarding Curtains That Touch the Floor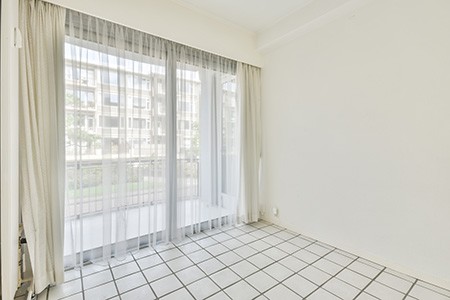 Whenever the topic of a curtain touching the floor comes up, there's always a handful of other questions that arise. Let's cover those now.
How High to Hang Curtains Off the Floor?
Most store-bought curtains come in specific 63", 84", 96", and 108" formats. Measure your window from the curtain rod down to find the ideal length. For the puddled effect, order enough material to create the full effect. Otherwise, the puddle look will look silly and be more of a tripping hazard.
You can adjust the curtain length by raising the rod. Also, the hanging style like rod pocket, grommet, or hook method affects the look and whether they touch the floor. The hanging style can change the length significantly.
If you use a tension rod, you can easily adjust the height to match within certain parameters based on the height of your window and the cavity it sits in. This is a great way to hang curtains in a rental apartment where you can create holes in the walls.
How Can You Use Longer Drapes With Short Windows?
There are no rules. Longer curtains can mask short windows and change the look of a room. Floor-to-ceiling curtains add an elegant stylistic element. However, it doesn't always work stylistically. Ask your friends and family for their opinions or upload images to home decor forums.
Can You Hang Curtains From the Ceiling?
Curtains are very versatile and help to create a unique decorating effect. Usually, hanging curtains from the ceiling rather than the top of the window won't create a sophisticated look. You can hang curtains from your ceiling but it will probably look very strange in a residential home, but not in some businesses.
So, Should Curtains Touch the Floor?
It's up to you. With this guide, you can make an informed decision. Curtains are an inexpensive way to create so many effects. Hiring a professional interior designer is nice if you can afford it but not necessary. Second-hand stores are an excellent resource for finding gently used curtains to experiment with and try different styles.
Should curtains touch the floor? Sure, they can, but for easy cleaning purposes, it's best to have curtains that skim or float across the floor rather than puddle. Experiment with fabric swatches to discover the hidden potential in a room just by adding curtains. Decide if your curtains are decorative or functional, or both.
You'll Also Enjoy: