9 Filing Cabinet Alternatives That Don't Detract From Your Decor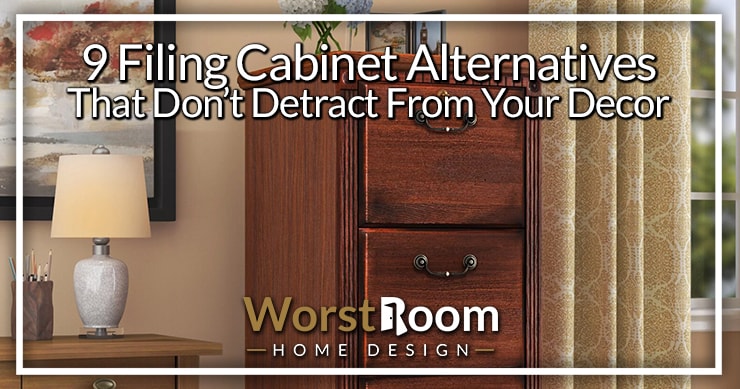 Filing cabinet alternatives are a must for a home office. The last thing you want while at home is to have it feel like you're back at your work place, under horrible lighting, in a cubicle, surrounded by blocky metal contraptions.
You know what's nice about filing cabinets? They're functional and organize your documents nicely. They're commercially viable and are mass produced. There's just one problem. They look like crap.
They've been made with no insight or care into the aesthetics of your office or room. They're incredibly dull and boring. Fortunately we all have some much nicer options so we don't feel like we live in a cubicle.
9 Filing Cabinet Alternatives
So if you want the functionality of a filing cabinet but would rather have something that looks much better, here's a bunch of filing cabinet alternatives that might inspire you in the workspace.
And they are just as clutter-free as you need them to be. Let's look at the nine stylish and creative filing cabinet options.
Dresser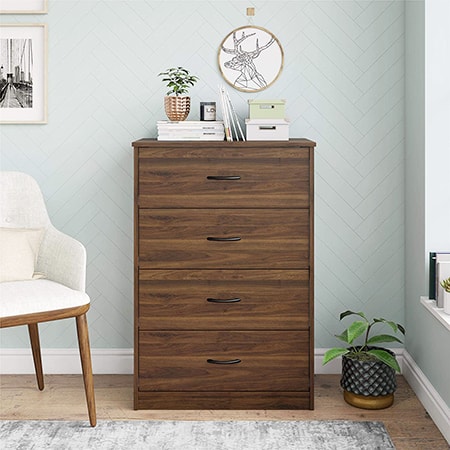 It's possible that you didn't envision any types of dressers or one of the dresser alternatives as a substitute for a filing cabinet. But think about it. It's a pretty neat solution, isn't it?
If you have extra drawers free in a desk dresser, you can turn that into storage space for one section of files. It's convenient, practical and can be used to repurpose existing storage spaces in the house. If the drawers are deep enough, you can create hanging files, too.
This, however, doesn't work if you have a whole bunch of files. If you want to replace an entire cabinet, this isn't the best option for you. However, you can get a new dresser for the office and store all the files in it rather than making room in one that includes your clothes.
The top of the dresser can double up as a desktop to hold decoratives or useful materials. But this is mostly a way to put an existing dresser to good use. Otherwise there might be some better alternatives to filing cabinets.
If you have a limited number of files, a few drawers is a lot better than getting a new filing cabinet. These are also simpler in terms of aesthetics. Just remember that while it's an elegant solution, it's not perfect.
You can store your papers vertically to make space for as many files as possible while also making it easy for you to tell them apart with separators and tabs for labels.
Storage Trunks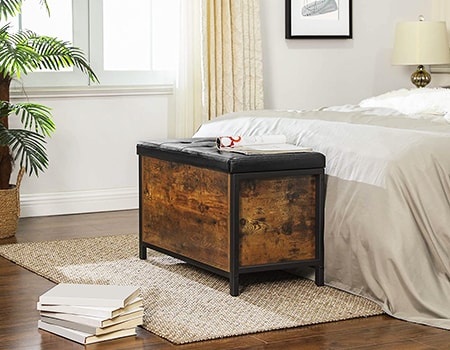 This is a bit unorthodox but storage trunks are actually a very popular choice in some parts of the world, especially for valuables. So if you are looking for a place to store the files related to your taxes or medical records, you might want to consider storage trunks.
It is an easy solution and is just enough. You get them in different sizes and visually pleasing designs too. Some people also use storage trunks as decorative pieces and put them on display. So you can have the information handy while adding a pretty piece of decor to your room.
These trunks look awfully like treasure chests and are quite a treat to the eye. You can get them in as big or as small of a size as you want depending on the available space and your storage needs. They most definitely look better than drab filing cabinets and are priced reasonably too.
But before you invest in one, remember that it might not go well with all types of decor. Large trunks are hard to move from one place to another. And if you get a metallic trunk, maintenance is something to think of.
You might also have some trouble sorting them out because they usually need you to place the items stacked upwards. You might find that inside the trunk things can get a bit cumbersome.
Shelving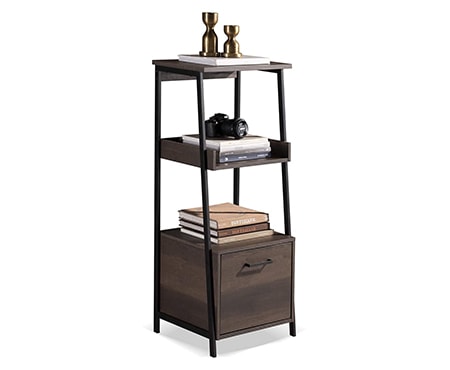 This is not a simple one. So look into the pros and cons of shelving before you settle on it as an alternative for filing cabinets. This is what works for it, though.
Shelves are convenient and you can build as many as you want depending on the amount of files you have. They don't take up space inside the room as a trunk or a dresser would. It's convenient and you can pick one file apart from the others very easily.
It's like having a bookshelf that you can design and spread out across the wall as you like. And if you can spare some of those shelves, you don't even have to invest in construction. You can secure these bookshelves to the wall without screws, if they're tall enough and need it. That way cats and kids can't pull them over and make a mess or get hurt.
Now, businesses have made the shift from filing cabinets to shelves a while back. And it is working for a reason. It is easy to sort out a bunch of files if you hole punch them and put them in binders first.
The shelves can start near the floor and go as high as the ceiling. If you can figure out how to access the files, shelves are a great alternative to filing cabinets that can be accessed from both sides.
You can keep them away safely and neatly. You can organize them alphabetically or numerically or implement your own filing system. This is a perfect choice for big businesses that have entire file storage rooms.
Shelving can be prettier than using dull filing cabinets. While metal cabinets look lifeless, wooden shelves are easy on the eye and elegant, overall. Whether it is in your office or your home office, it works.
They go with any space and you can design them in patterns if you'd like. However, there are a couple of things to look out for. Shelving might be slightly more difficult if you need to bunch files of different sizes together.
You might have to think of getting some various types of ladders if the shelves go too high. That, sometimes, comes with its own risks. Deeper filing cabinets are easier to use.
Desk Drawers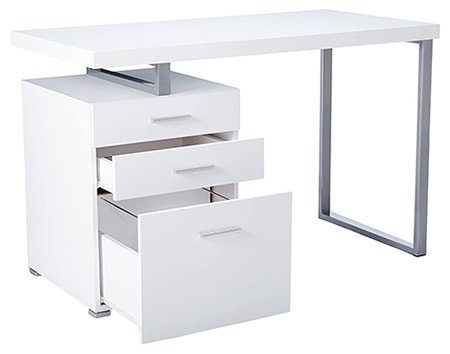 These are for a home office. Because there, you probably already have a desk of some kind and you have a limited number of files. So make sure that your desk has some kind of drawers.
If it doesn't have it already, it's quite easy to get some made or buy them pre-built. If you already have drawers, you'll have plenty of room for the essential files.
You can literally use them like a filing cabinet with hanging drawers and everything. My brother does tihs. It's easy and doesn't cost you anything. The only downside is that you might have to keep them horizontal depending on the space you have.
If you decide to get some drawers made, you have the option of getting them in the size, material, and dimensions of your choice. You can store the files vertically (the way it makes sense) and make life easy for yourself.
You'll have to keep the dimensions of your desk in mind. But you can customize them so that's a win. You won't have to make any extra space on the floor or walls. You can use it like a regular filing cabinet except it looks better.
It's easy and extremely convenient. The downside is that you can't decide on the depth of the drawers if it's not a custom job. If they are too deep, that's a bit much. The more you store, the less movable and heavy the desk becomes.
But there aren't too many flaws in this model. So you might want to try and stick with it. With proper planning you can even have these installed on your DIY adjustable standing desk. My brother's desk moves up and down despite the drawers on the sides storing all his tax files.
Storage Containers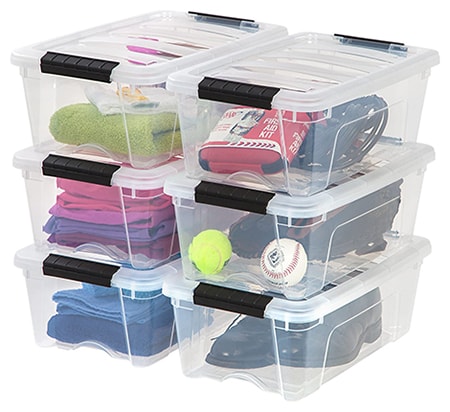 Storage containers, especially those made of plastic are very cheap and make a great substitute to filing cabinets when you are on a budget. This is an option that solves all your problems with just a few bucks.
They're cost effective and storage effective. They're available in different sizes, colors and patterns. So you can try and make them match the vibe. But they are not really for aesthetic appeal.
Their work is purely functional—to keep your files safe and organized. Some of them, in fact, work exactly like a filing cabinet. You can place your files vertically and enjoy the comfort of an affordable storage solution. And it requires no setting up either. I do this and have the storage container in my bedroom closet on a bookshelf I have in there.
Here's the downside. They don't look great and they might not be durable depending on the way you handle them. They can have a professional look but don't really count on that. They're still a good buy as filing cabinet alternatives if you are looking for a cheap solution.
File Storage Ottoman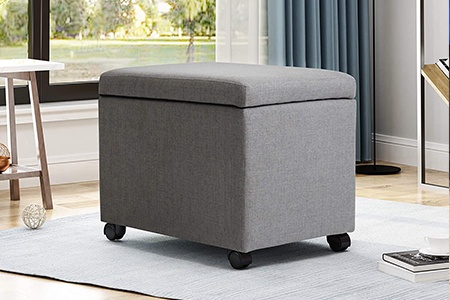 A cool idea people have come up with is to let an ottoman, which is largely full of empty space, double as a file hanger. The one above is made out of a frame and fabric like any ottoman you might find, but you can find them made out of wicker basket material and much more.
Having one with wheels is nice if you're using it in the office so you can wheel it over to your desk to help you organize your files and receipts as you stick them in their respective files. Otherwise you need to take them all out to the living room or bedroom and be in an uncomfortable position while filing your papers.
Portable Filing Storage Baskets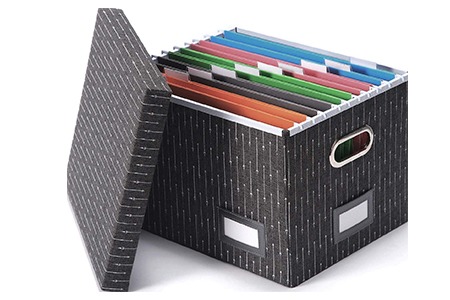 These kind of filing containers are built specifically to be stacked into bookshelves (especially cube storage) when not in use and simply sit there and look pretty. I use these, but mine is more of a hard plastic with a hinged top, simply because it's just what someone bought me at one point.
The main advantage to these is that they can be stuck on a bookshelf or tossed into a closet and are completely out of the way. If you're like me, you let paper stack up by the printer before you file it, which ends up happening once a month. So why not just keep the basket in the closet or out of the way for now and save more space!
File Storage Crates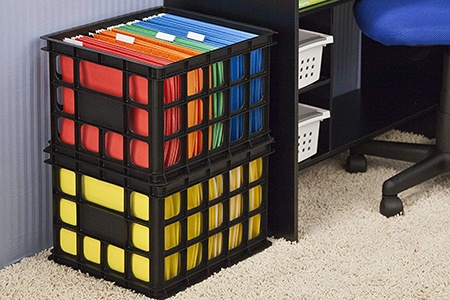 These are just like a plastic milk crate but they have lips on the inside that allow you to hang file folders. What that tells you is they're extremely durable, so if you have kids that like to roughhouse around these will survive (though your files may get scattered).
As you can see in the picture, you can find them in various colors and see through so you can use the colors of your folders to help decorate the room. It looks great in the office in the picture if the straight lines and colors match the rest of your furniture. And the best part is, they're stackable and cheap.
File Storage Bench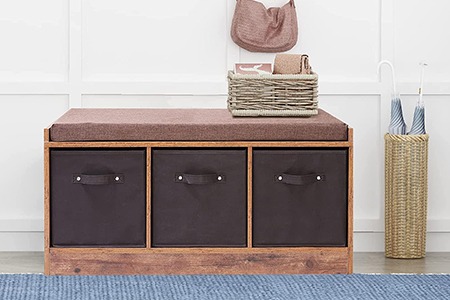 If you like the idea of the file storage baskets above, how about a bunch that can hold 3 of them while also sitting under a window and providing a place for the kids or pets to hang out? You can find many in this style or tons of others where the lid lifts open like a trunk or file storage ottoman, too.
Any of these can be more easily stored away out of visibility or can be left out in the open and worked into your decor. All of these plus the options above can be used as kitchen cabinet alternatives, too, depending on the look you're going for.
Filing Cabinet Alternatives Can Be Superior
There are also a ton of other items with the likes of IKEA and similar brands that are high quality, come with good types of cabinet hinges, etc.. Today, we have a lot of innovative options to organize every item in the house of office exactly the way we like.
For example, while the above mentioned ideas are great alternatives to filing cabinets, you might have also stumbled upon wall file racks. They are a great way to class up a space, especially if you get a cascading rack. The files never go out of sight and look pretty too.
You can also opt for wall file trays (wooden ones if you please) to store files. This is a great solution for files regarding active projects.
Many individuals and even companies are completely eliminating files and folders. While it meant turning to binders for some, others are turning to digital solutions. And that's a great start towards a paperless economy. But most of us still need filing cabinet alternatives, and these are the best options out there.
You'll Also Enjoy: