9 Bedroom Door Alternatives That are More Fun Yet Private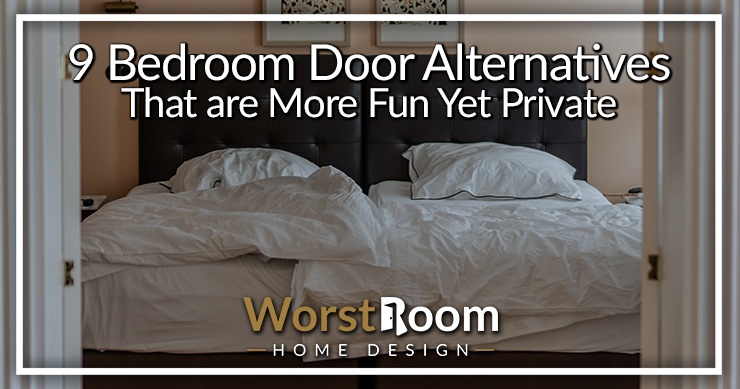 Home decor is vital if you want to live in a comfortable home, and nothing sets a better first impression than bedroom doors. But you can do often do better with bedroom door alternatives.
It is the perfect welcoming note to your personal space. Therefore, it's vital that it should be beautiful and stand out exceptionally to put you in a relaxed and happy mood. However, bedroom doors can be very generic and boring, with the designs often seeming oddly familiar.
Therefore, it's quite normal to look for bedroom door alternatives to enhance the overall aesthetics of your home. Furthermore, they tend to be more creative and inexpensive, bringing forth a fresh wave of uniqueness while also not costing you much comparatively.
9 Bedroom Door Alternatives
Below is a list of descriptions of the most popular ideas that can serve as an alternative to bedroom doors. Keep on reading to discover their features and benefits to realize which one will work best for you and go well with your home.
Colorful Curtains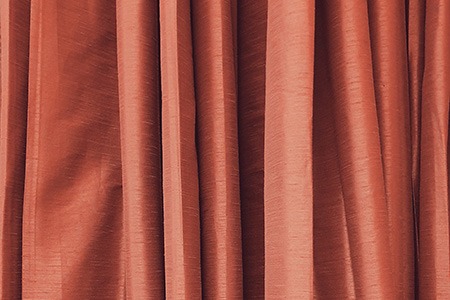 A great option is to hang beautifully colored curtains within the door frame. This won't stop sound from passing through but it'll provide visual privacy and look good with your decor while you're at it.
Don't think you have to go curtain shopping because you're not as likely to find what you want. You can buy fabric from an arts and crafts store and sew exactly what you want at the perfect size. This can be from several types of fabric if you want. These tapestries and curtains make for great closet door alternatives as well.
Place some plants in planters on both sides of the door and perhaps even decorate the door frame with ivy or stringed lights and it'll be like having an entrance into your own utopian dream room. For college students and younger people, these are great alternatives to having a bedroom door, especially if you have a lot of visitors.
Bookcase Door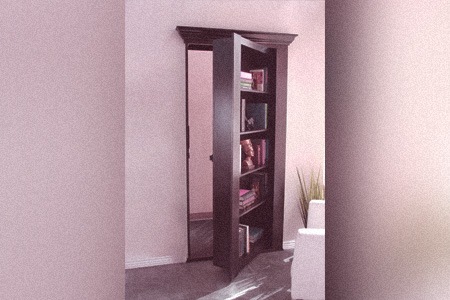 Our first item on this list is something that gained rapid popularity through mystery movies, a bookshelf that dually functions as a bedroom door. It works beautifully as a cover while also providing more utility than what the conventional models can offer.
This product is also the perfect choice if you're looking to bring a touch of intrigue to your home. Users are bound to immediately fall in love with the level of privacy it has to offer. Unlike other similar models, it provides a layer of security and control that you won't find anywhere else.
It easily blends into walls and hides the possibility of a room behind it. Thus, you won't have to worry about nosy guests entering your bedroom when using it.
A noteworthy quality you will get to enjoy while using a bookcase door as the gateway to your bedroom is the dual purposes it fulfills simultaneously.
Other than being the entryway to your personal space, it also works as a storage unit. Therefore, you can use it for storing a wide variety of items, ranging from books to houseplants.
There are a lot of qualities that the bookcase door possesses which make your house feel interesting and intriguing. However, it does come with a major problem as bedroom door alternatives or as any door, really.
Using it is not as easy as the conventional models due to the absence of a handle. Thus, you won't be able to open and close it as efficiently as the other options.
Hanging Beads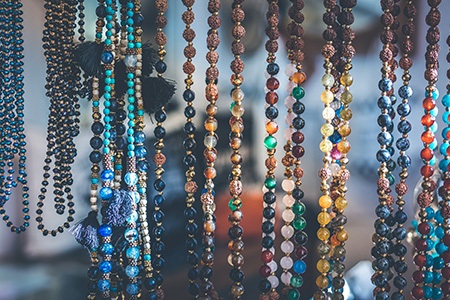 Having beaded curtains is another great way to really emphasize the transition from one room or hallway to your bedroom. Hanging beads are extremely fun and quite the novelty. They're always a blast to pass through.
One thing to consider is if this is for kids, you'll want to make sure your strings are durable, because if one string breaks you're going to have a line of beads bouncing all over the floor. You'll have to not only collect them but then repair the curtain.
You can make this easy to hang using a tension rod so you don't have to hang any curtain rods or make holes in your various types of drywall.
Young girls may enjoy using glitter tassels instead of beads as door alternatives for bedrooms. You can even sit down with them and make an event out of it using arts and craft kids and let them design their own mixture of beads and tassels.
Double Swinging Saloon Doors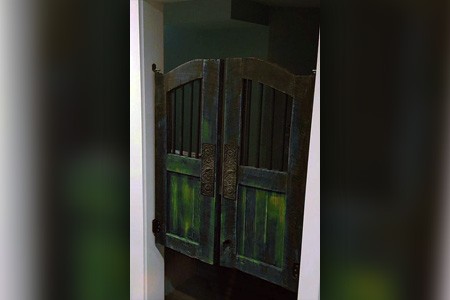 If you're a fan of the wild west and like its vibes, the double swinging doors will be the ideal pick for you, like a bedroom door.
The body of this product is similar to the iconic structure of the doors you'd find in the saloons and bars of cowboy movies. Put it before your bedroom, and it will completely change the mood of the interior. They make awesome types of interior doors but probably not if you have kids blowing through them all day.
Among all the different bedroom door ideas out there, the Double Swinging door is one of the more budget friendly options. Its frame is much shorter, and it has a lighter body than the more conventional doors.
Thus, it is available at a significantly lower price point. So, those who are looking to make a purchase at an affordable rate can go for this unit. Saloon style doors make great bathroom door alternatives as well.
Another exciting feature about the double swinging doors is its premium build materials. This item is made from the finest wood, which brings a sense of originality to your bedroom doorway.
Not only are they very sturdy, but they also have a more significant chance of customizability. Having a wooden body lets you sculpt different designs into it to make it more pleasant.
Although the double swinging door might sound like an exciting and interesting prospect, it does have its fair share of issues. The most significant problem with this commodity is its lack of privacy.
These bedroom door alternatives do not cover the entire height of the doorway. So, the chances of others sneaking a peek inside are very high, which can seem uncomfortable to many.
Accordion Room Divider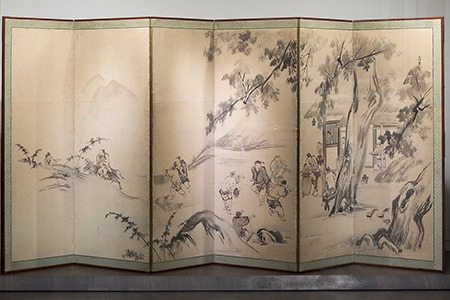 Using a room divider, like you see in classic movies where someone always gets dressed behind them, is a wonderful way to bring some privacy to a bedroom without a door.
If you place it on the inside of the room near the door up against the wall, you can kind of create a miniature hallway where people have to take a right angle turn to get into the room. It works just like public restrooms without doors.
These require zero installation, you can move them around whenever you want, and you can always buy really elegant and nice room dividers. These alternatives to bedroom doors are wonderful options that can work for males or females.
Desk, Ropes, Lattice, or a Side Table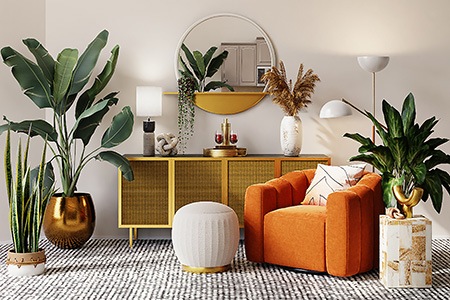 This idea is similar to using a room divider. You can place some kind of table or desk where the back faces towards the door. Then you can either hang ropes and let vines grow down them from a hanging potted plant, or you can create a backing from lattice and grow vines on that.
If you don't want to use plants (I recommend whatever types of ferns tickle your fancy), you can always create a backing that you can decorate on one side, and on the other you can have cork board or any other surface you can use while working at the desk.
Dutch Doors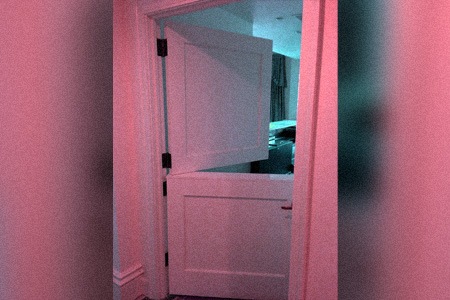 If you're looking to add a touch of retro and old school vibes to your bedroom door, then the dutch door can be a great option. It is a sign of a time long gone by, one that is bound to make people feel nostalgic.
This product is equally beautiful and handy, making it a great option as a gateway to your personal quarters. The very first thing that is going to draw your attention to the dutch door is its unique body. The top part consists of glass windows, while the bottom portion has solid wood.
It's a great pick if you're looking to buy a door that will let you keep an eye out of your room. Furthermore, the use of dual material in the main body makes it unique too.
An excellent aspect of the dutch doors is its universality in attachment compatibility. Both pull handles and round types of door knobs function equally well with it, allowing you a bit more liberty in choosing options.
You can also install flaps in the bottom if you own a dog or cat, making it easier for them to enter your room with ease. These dutch doors can really be very fun and utilitarian bedroom door alternatives.
Even though the dutch doors have a lot of features and qualities, which makes them an attractive choice, it does have a significant problem. The presence of glass in its body makes it more susceptible to damage than conventional bedroom doors.
It's going to be incredibly difficult to maintain if you have a child at home and replacing window panes is a costly endeavor.
Sliding Doors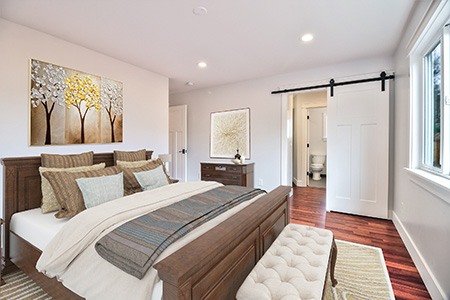 People who prefer a touch of modernity and effortlessness into your bedroom, then they will absolutely adore the sliding door. That may be a barn door on the outside of the wall, a pocket door, or any of the pocket door alternatives we've talked about.
It is an extremely fashionable and trendy option to the conventional doors that are bound to add some freshness to your home. Moreover, there are tons of customization options for you to find a design that matches your taste.
One of the most unique aspects of the sliding doors as alternatives to having a bedroom door is their mechanics. There are tiny wheels beneath the frame of the doors that helps it move smoothly from one side to another.
Therefore, you won't have to apply much pressure to opening it or shutting it close. It certainly seems more comfortable to operate than the more traditional ones.
Sliding doors are particularly considered as a reliable and dependable option by many due to its premium build materials. Its primary ingredients are metal and wood. The only thing is you'll have to learn how to adjust pocket doors because over time they can sag and not roll as freely.
You can even substitute the timber with opaque glass to set a different kind of aesthetic vibe while ensuring privacy for yourself. It's durable enough to withstand a good amount of bumps too.
There aren't many things to look out for when using the sliding doors other than one major flaw. You will have to conduct routine maintenance and oil it regularly to ensure that it continues to function smoothly over time.
Lastly, this item also tends to derail itself when moving along the frame, so it's crucial for you to handle it with care.
Bifold Doors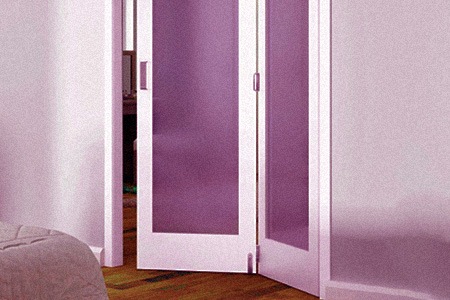 People who love to own things with a mix of vintage and aristocratic aesthetics will absolutely love using the double fold-in doors. Using it feels like living in royal fashion as these doors seem to come out of a mansion or manor.
Opening these bedroom door alternatives to the comfort of your bedroom after an exhausting day will also have a relaxing effect on you.
A wonderful feature of the double fold-in doors is the ample space it offers in the doorway. Classic models of this sort tend to have a wider area and a larger frame.
Therefore, you can easily enter your room comfortably and at ease. Furthermore, it makes it easier to move furniture and other larger things in and out of your bedroom.
Another wonderful quality of the double fold-in doors is its simple set up process and its affordability. Its structure is similar to that of a regular door, making it relatively easy to put up.
On top of that, it's made of regular, durable wood with minimal metal handles, making it a more inexpensive option than other alternatives.
Having a double fold-in door for your bedroom might seem like an exciting idea, however, it does have a major flaw to consider. It takes up a practically larger area than typical doors.
Therefore, make sure that you can spare enough space for it. This model is practically impossible to use if you live in a small flat or studio apartment.
Bedroom Door Alternatives to Regain Some Privacy
Now, all that's left is for you to choose one that matches the setting of your home, and you're good to go.
Having a beautiful bedroom is necessary if you want to impress your guests while also establishing its significance. Now that you have reached our article, you are now familiar with the most popular bedroom door alternatives in the present market.
You'll Also Enjoy: