How to Make a Daybed Look Like a Couch?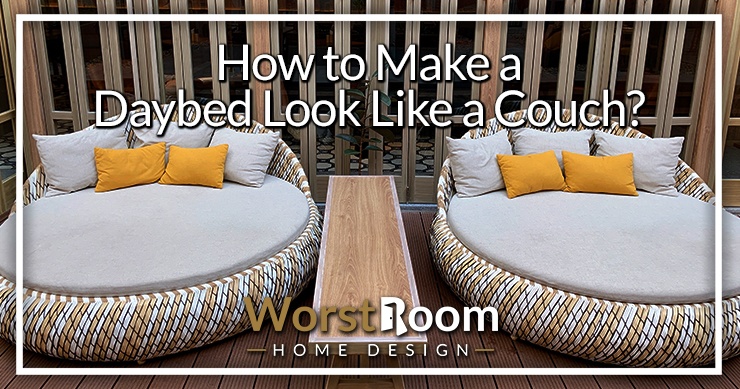 Are you looking for ways to improve the visual aesthetic of your living room by learning how to make a daybed look like a couch? You've come to the right place, as I once shared a one bedroom apartment and was the person in the living room, and conveniently the one who cares about home decor.
If you want to make your daybed a focal point in common room, turning your daybed into a couch really ties the room together. With the right design elements, you can transform your daybed into an attractive sofa and extend its utility when entertaining guests.
We looked at ideas from the leading designers and put them together for you in the post. You can make any daybed look great with these 8 simple design strategies to turn your daybed into a couch.
What are the Different Daybed Models?
Daybeds come in many different designs and shapes. Some look like a deep, cushioned bench., giving your home a European look; others are more traditional, featuring design with arms and a back for additional support.
You can use daybeds in every room in the home. They're great for the bedroom, giving you another option for relaxing without having to get into bed. Use them in the living room to stretch out for an afternoon nap, or place one on the patio or balcony to catch the afternoon sun.
Here are the most popular daybed designs:
Daybed Couches – These daybeds resemble a single bed, and they come with a flat design or a kink in the lower third of the bed for an ergonomic fit supporting your legs while lying down.
Outdoor Daybeds – These daybeds are ideal for outdoor patio, deck, or balcony use. They feature design and construction with weatherproof materials and are resistant to fading from the sun's UV rays, and they stand up to the rain, snow, and wind without perishing the materials. Typically, these models come with covers if they have cushions.
Daybed with Trundle – These daybeds have a twin bed that extends from underneath the main bed. It's a great choice for entertaining guests or as a second sleeping space for guests spending the night.
Daybed with Storage Drawers – These daybeds come with storage drawers that pull out from under the bed. They're great for indoor or outdoor use, allowing you to store books, blankets, or other items.
Now, are they types of beds, bed alternatives, or types of couches? They're both but we want them to visually lean towards the look of a couch.
How to Style a Daybed Like a Couch – 8 Transformative Ideas
So, how can you turn a plain jane daybed into a couch? Thankfully these aren't just a frame with a box spring on slats. They already look like couches to some degree. Here are our ideas on how to make a daybed look like a couch inspired by my now decades of design experience. Try these 8 transformative ideas to give your daybed additional utility and a new look.
1) Create Armrests with Rectangular, Square, or Bolster Pillows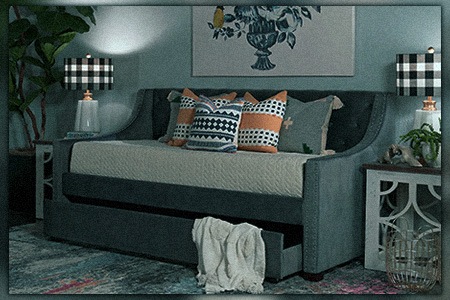 If your daybed has side panels, the chances are they're too tall or thin to act as an armrest. Add a big, comfy pillow to each side of the daybed, creating a comfortable armrest for your guests. The cushions give the day bed a couch-like appearance, with rectangular, square, or bolster pillows being the best choice.
You can mix your shapes and colors, creating a look that blends in with your lounge decor or offsets it. The key is to use comfortable and inviting pillows, drawing your guest's attention. Use any types of pillows except sleeping pillows, which work against your goal.
Using large pillows takes up more space on the bed, hiding depth and making it appear smaller than it is. They also push people sitting on the couch forward. Large pillows are great for creating a backrest if the daybed is pushed against the wall. Mix and match the colors, designs, and fabrics to complement or contrast the decor in the room.
2) Add a Few Throw Blankets
Toss a few throw blankets onto the daybed to give it the look of a couch. Throw blankets are ideal types of blankets for any furniture, from recliners to sofas and beds. Most people expect to see a throw blanket on a couch, giving them the visual cue that it's a place for sitting when they enter the room.
Adding a throw blanket to the daybed creates a cozy look and atmosphere that's friendly, warm, and inviting for your guests. The throw also acts as a blanket without needing a comforter that would create more of a bed-like look.
Throws come in a range of colors and designs to match the decor in the room. You can also store blankets around the room, too, to further distract attention and increase coziness.
3) Use a Bed Skirt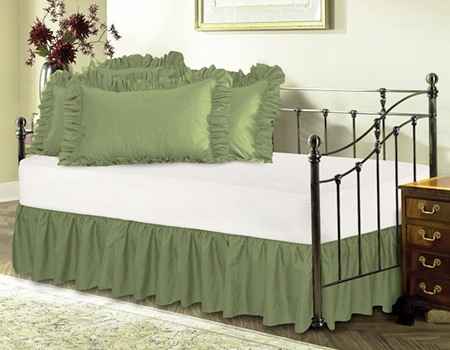 Adding a bed skirt around the bottom of a daybed or trundle bed covers the legs, creating the visual of a couch. You get a well-put-together look that's clean and fashionable. Match the skirting with the daybed fabrics or use a contrasting color to create a unique look.
The skirting also allows you to use the space under the bed for storing items like blankets and pillows to convert it into a sleeping area later in the evening. Look into these bed skirt alternatives, too, for further ideas.
4) Add Side Tables
Place a side table on either side of the daybed and give your guests somewhere to place their cups of coffee or glass of wine. Side tables are a classic design element seen next to couches, creating the visual impression that the daybed is a couch for sitting and not a bed for sleeping. Part of how to style a daybed like a couch is what's going on around it so you trick the minds of your guests into not noticing.
5) Add a Coffee Table
Placing a coffee table in front of the daybed creates the visual impression of shrinking its length, making it look more like a couch than a bed. The coffee table creates a focal point in front of the bed, asking guests to sit facing it rather than away from it.
Adding a coffee table also gives the seating area a classic living room feel, subconsciously instructing your guests to use it as a couch rather than a bed. Push the coffee table to the side at night when you want to use it as a guest bed.
6) Add Ottomans & Footstools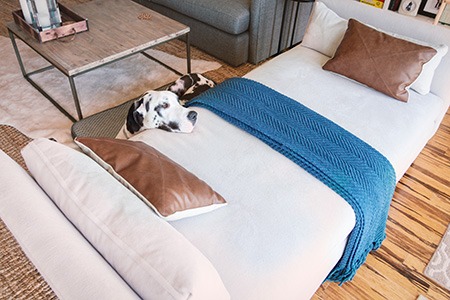 Placing a footstool or ottoman in front of the daybed guides the guest to put their feet to the side of the daybed, placing them in a sitting position rather than lying on the bed. There's no greater trick for how to make a daybed look like a couch than to surround it by couch-related items.
These coffee table alternatives also create more space in front of the bed, giving your guest somewhere to put up their feet. As a result, you can seat two or three people on the bed instead of just one.
Many ottomans come with storage drawers hidden in the base, allowing you to store blankets and pillows to convert the daybed into a bed if guests want to spend the night. Or you could use the additional storage for board games or kids' toys.
7) Lay a Rug
Placing a rug in front of the daybed creates a visual illusion of adding more space and length in front of it, telling the guest where you want them to walk. You shift the visual perspective of the daybed from a bed to a couch.
The rug guides your guest's eyes, adding a harmonious flow to the room. This is a great way to make your living room cozy in general as well as it kind of defines a comfort zone in which no bad vibes can enter.
8) Hang Some Artwork
Hang a painting or picture behind the daybed to create a focal point. This idea shifts the visual aesthetic of the area, making it look more like a couch than a bed.
Can I Put My Daybed in the Living Room?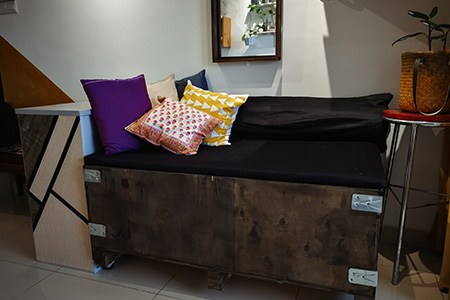 Of course! Daybeds are a great choice for the living room. They give you somewhere to stretch out on those lazy Sunday afternoons for a well-deserved nap. Daybeds are also ideal as a second couch for those days when you have guests around the house, giving you more seating space.
They also act as a second sleeping setup for guests that want to spend the night after that second bottle of wine or for the grandkids when they visit. Daybeds create a lovely, homely atmosphere for the living room and are great for relaxing when reading a book or watching TV.
Is a Daybed a Good Choice for an Everyday Couch?
A daybed makes a great couch if you follow our design tips. They're ideal for a small apartment where you can't fit a standard couch into the living room without clashing with the coffee table or a recliner.
There are dozens of daybeds available, and they come at various price points. Choose a luxurious model with a steep price tag or a basic, affordable model that's practical and easy to spruce up with our design ideas. Some daybeds are even more comfortable than a couch!
Is a Trundle Daybed a Twin-Size Model?
A trundle daybed is an oversized model with a twin-sized seating platform. The average dimensions for a trundle daybed are 39" x 75" and use the same sheets as a standard twin bed. It's a great choice for a spare bed for guests that want to spend the night.
Key Takeaways for How to Style a Daybed Like a Couch
Let's recap some of the quickest and easiest of the main techniques to get your daybed looking like a normal couch:
Create armrests with rectangular, round, or bolster pillows
Add a few throw blankets for color and decor
Use a bed skirt around the bottom to give it a couch look
Add side tables and give people somewhere to place their drinks
Add a coffee table and stack some magazines on it
Add ottomans and footstools to provide more comfort and seat more people
Lay a rug to improve the decor
Hang some artwork and create a focal point
As you can see, it's not only about how you style the daybed but the accessories surrounding it, like an ottoman or coffee table, the artwork in the room, and more.
That's How to Make a Daybed Look Like a Couch
With a few simple touches, you can decorate your daybed and living room at large in such a way that nobody will notice it's not a typical couch. A lot of it is simply creating the illusion of being in an expected living room, with all of the decor touches you'd expect. Then nobody even notices that you've taken the time to figure out how to make a daybed look like a couch, because it will never even occur to them.
You'll Also Enjoy: