18 Ice Cream Alternatives for Lower Calorie Enjoyment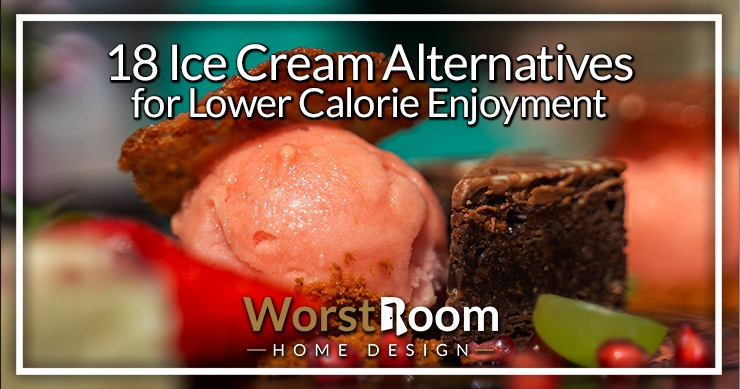 In general, ice cream isn't a healthy option to snack on. No worries, there are lots of nutritious ice cream alternatives to choose from. These are simple to make in a short amount of time and don't require the use of advanced home appliances.
Nothing beats a nice frozen treat to keep you cool during summer. And ice cream is without a doubt the most popular frozen treat on the planet. Unfortunately, the majority of ice cream is high in empty calories, unhealthy fats, sugar, and preservatives.
So, we compiled this comprehensive list of delectable ice cream substitutes for people looking for something good, as well as a delectable icy treat. Let's get to know them without more delay.
18 Ice Cream Alternatives
The good news is that there are many healthy ice cream alternatives to choose from to satisfy your cravings and get you away from all the legitimate types of ice cream. In this part, we invite you to take a look at the various possibilities available in the marketplace or to prepare one at home in a matter of minutes.
Frozen Kefir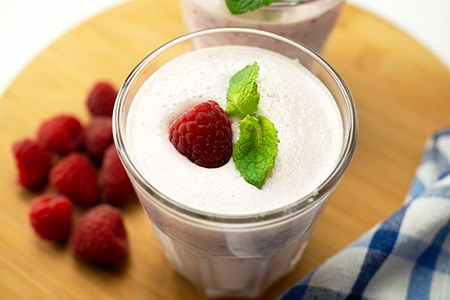 The Frozen Kefir is the kefirized alternative to frozen yogurt. This is a simple, healthful snack that is excellent for both children and adults. Honey-sweetened yogurt or kefir, sprinkled with natural fruit and nuts, following a frozen period before being broken into pieces and served.
Vanilla essence, cream, honey, kefir, and egg are the five key ingredients in this delectable dessert. A single egg, as well as whipping cream, are used to make the custard. The tanginess of this frozen treat comes from kefir. You have the option of making your kefir or purchasing it ready-made.
Kefir is a fantastic ice cream alternative, includes a lot of proteins and probiotics, and is one of the best ice creams substitutes you can think of. Don't forget to give this a try; we're confident you'll fall in love with it.
Neapolitan Nice Cream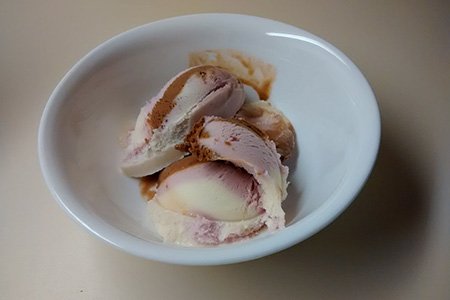 If you are undecided between strawberry chocolate or vanilla ice cream, make all three without worrying too much! This Neapolitan Nice Cream is a fantastic way to enjoy ice cream that's made of chocolates, creamy vanillas, as well as strawberries without the calories.
With swirls of vibrant pinks and other delicious ingredients, this Nice Cream is almost too pretty to taste. This ice cream substitute is dairy-free and vegan as well. It contains no added or processed sugar.
The strawberry's surprise blasts of fruitiness, combined with the chocolates and banana, provide the right combination of sweetness as well as tartness. The freezing banana also adds a beautiful creaminess to the recipe. Give these lovely ice cream alternatives a try if you haven't done so already.
Gelato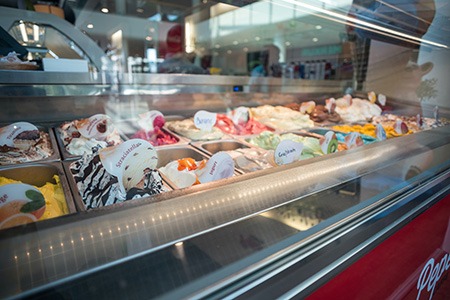 Gelato is an Italian frozen delicacy that is identical to ice cream, however, it typically includes fewer creams and no egg yolks. Gelator resembles ice cream but it has a thicker appearance and a richer, creamier flavor.
As for the toppings of the gelato substitute for ice cream, you can put whatever you want in it, such as different flavors, fruits, nuts, and a variety of other things.
It comes in a variety of flavors, just like ice creams. Traditional tastes of gelato consist of vanilla, hazelnut, pistachio, and stracciatella.
Modern varieties, on the other hand, include delicious flavors like black raspberry, lemon, apple, pineapple, and so forth. They've received a lot of great comments and are popular among the people.
Lemon Mint Snow Cones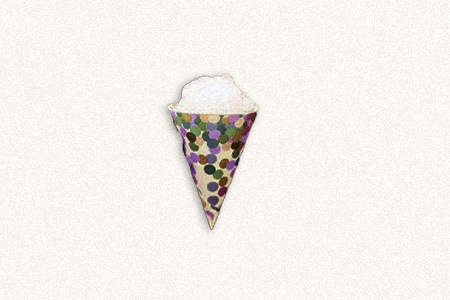 Lemonade is without a doubt, one of the most refreshing drinks of the summer. To add more to the excitement, this lemon snow cone is one of the best flavors to delight your taste buds. It can act as an ice cream replacement if your main attraction is the coldness of it.
Water, lemon juice (or 4 lemons), stevia powder, as well as green mint leaves are among the ingredients. You can use either lemon juice or entire lemons to make this deliciously refreshing juice.
Freeze for an hour to obtain its best flavor. Now, mix the ice and other flavors together with forks once it has been removed from the freezer. Offer it in a paper cone or a bowl and bask in the heavenly atmosphere it creates.
Sorbet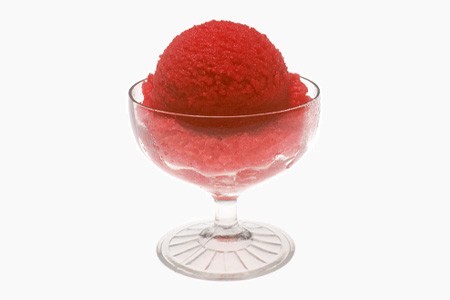 Ices or sorbets were one of the earliest frozen delicacies to be created. Granular ice made largely from simple sugar syrup, other sweeteners, flavoring agents, and some other refreshing components such as fruit purees are used to make these drinks.
The best part about sorbet is that it offers a variety of textures, therefore if you prefer it fluffy, creamy, snowy, or light, there's always an option for you. Sorbet is made without milk products and is far more acidic than ice cream, giving it a tangy flavor.
Sorbet comes in a variety of flavors similar to ice cream, and it commonly has a high creaminess that consumers seem to appreciate. The good thing about sorbet is that it's a delightful alternative for folks who prefer non-dairy dietary supplements or lifestyles. If you want to know what to eat instead of ice cream, you can't go wrong with sorbet.
Avocado Pistachio Ice Cream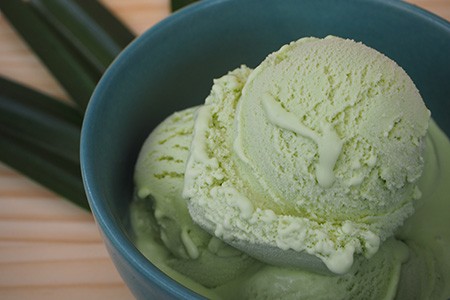 Although pistachio ice cream is delicious, pistachio avocado ice cream alternatives are much better! The pistachio avocado is a wonderful treat that is simple to prepare, creamy, and packed with nutrients and various tastes.
This ice cream alternative is outstanding, with a smoothness that no other ice cream can match, and its subtle creaminess, it will brighten up your sunny day!
Avocados, fresh lemon juice, condensed milk, whipping cream, as well as fresh pistachios are the ingredients used in this preparation.
It's indeed low in processed sugar and contains healthy fats from avocado and pistachios. It doesn't matter if you offer this lovely dessert on sunny summer or the cool autumn evening; it always tastes great and is a lot of fun to create.
Mango Frozen Yogurt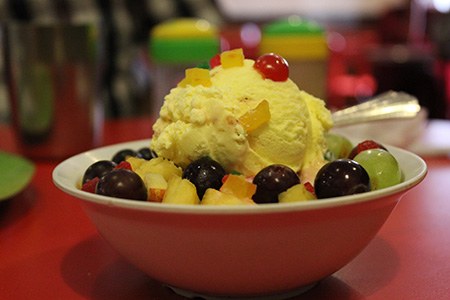 Who doesn't enjoy mango-flavored desserts or ice cream? This Mango Frozen Yogurt is delectable, very refreshing, and slightly tangy, and it's perfect to give a heavenly revive on a hot summer day!
The cherry on top? There's no need for an ice cream maker. To make this delicious delight, you simply need three basic ingredients, which take only minutes to prepare.
Frozen banana, yogurt, and frozen mango are the main components; if you want to make these alternatives to ice cream particularly more delightful, add vanilla extracts and sweeteners.
Granita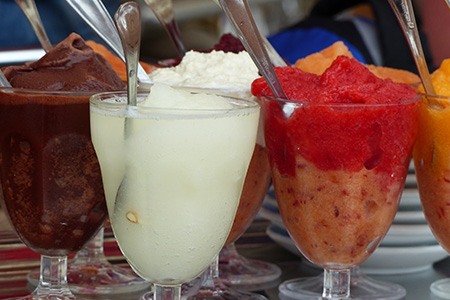 It's a frozen fruit treat that originates from Italy. Sugar, fresh and natural fruits, water, and other flavorings are used to make this semi-frozen treat. Granitas are available in a variety of flavors, ranging from berry and nut granita to orange-spiced coffee granita served with marsala cream.
They are identical to sorbet in that they're both nutritious ice cream replacements that are also simple to prepare. The granita differs in that it is produced by hand and is rougher and flakier than shaved ice.
Granita and sorbet are nearly comparable in terms of fruits and sugar content, as well as the preparation process. Nevertheless, sorbet is churned to achieve creaminess, while granita is thinly spread and chilled before being scrapped into fine crystals.
Chocolate Covered Banana Pops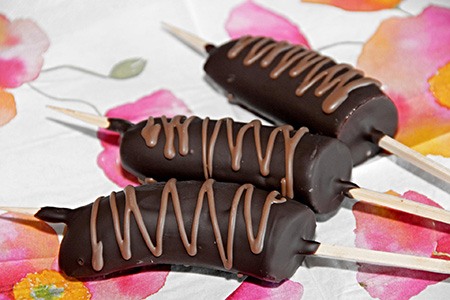 These are a fantastic alternative to have on hand rather than looking for an ice cream bar. These are so simple to prepare, and anyone can make them, and believe us, it won't take up much of your time.
These ice cream alternatives are wholesome and will definitely fulfill the sweet desire that you have. Bananas, popsicle sticks, chocolate bars, and butter are among the ingredients. As for the toppings, you can add chopped nuts, cookie crumbles, granola, toasted coconut, and so on.
The best part is that there are thousands of banana recipes on the internet, so you may pick the one that best suits your desire. Don't waste any more time if you haven't tried it yet. Do it right now!
Frappe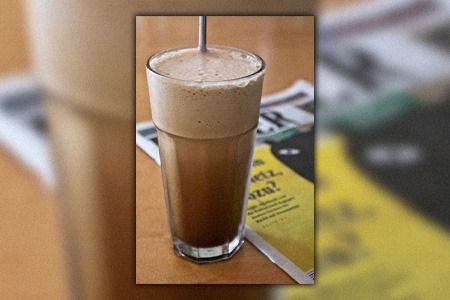 It's a handmade variation of a cafe dessert that combines iced coffee with a variety of ice cream. It resembles a milkshake, but a shake is a simple combination of milk and syrup, on the other hand, a frappe is a thick milkshake sprinkled with chocolate powder as well as whipped cream on top.
Milk, whipped cream, chocolate sauce, and ice are included in the ingredients. This is a delicious alternative to ice cream, and you can make it at home or go to a neighboring shop to satisfy your summertime appetite.
Frozen Yogurt Parfait Popsicles
Everyone knows about frozen yogurt. In fact, in my city alone there's probably 3 or 4 dessert shops dedicated just to self-serve soft frozen yogurt. One of the ways you can mix this up at home is to create frozen yogurt popsicle sticks at home.
Using popsicle trays, you can simply mix in chopped up fruit and granola with your yogurt in a bowl, and place it in the trays with popsicle sticks and place it in the freezer. When breakfast rolls around you can have a tasty treat that's healthy to boot.
Try this same tactic with chocolate flavored greek yogurt to create more of a replacement for fudge pops. This works great for those who really like chocolate and all types of fudge and must have it.
Frozen Strawberry Banana "Ice Cream" Sandwiches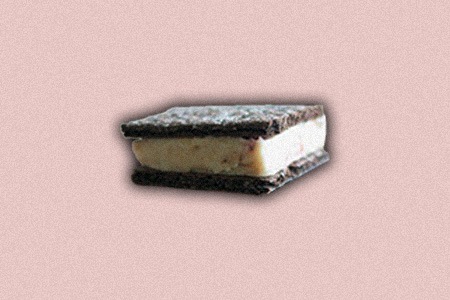 Freezing fruit, and especially bananas as the base, is a great way to make a smooth textured, but rich and creamy treat you can then smear between graham crackers. Instead of using cookies, the graham crackers will be a bit healthier but still tasty. Puree it all and enjoy!
You can take this same mixture and pour it into ice cream cones as well. Just as easily you can enjoy it in a bowl if you prefer that as well. Either way, these two fruits go together perfectly and will absolutely satiate your sweet tooth.
Pudding Ice Cream
Now, depending on your recipe, the calorie count on this treat may not significantly beat out ice cream, but it's easy to make on the fly without having to store gallons of ice cream in the freezer. Pudding tends to come in small packets where you can just add milk or water and stir.
But we're not suggesting to only have your typical pudding. You can cool it in the freezer to thicken it up, and add any types of garnish you want, from gummy bears and M&M's to chocolate chips or candy sprinkles.
Coconut Milk Ice Cream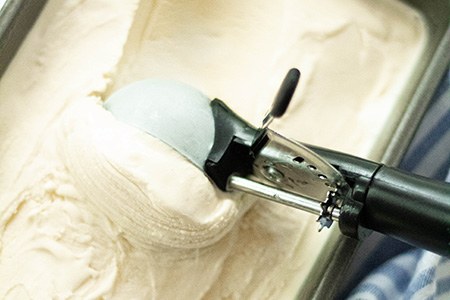 The best part of these ice cream alternatives are you can still avoid soy, dairy, and gluten by using coconut milk to whip into your creamy base. You can sweeten it with agave, stevia, or artificial sweeteners. You don't have to stop there. You can sprinkle on your favorite nuts like any of the types of almonds or types of pecans.
You can also sprinkle on some vanilla powder or chocolate powder even. As long as you aren't overly indulgent this will remain a healthier alternative to ice cream.
Hawaiian-Based Shaved Ice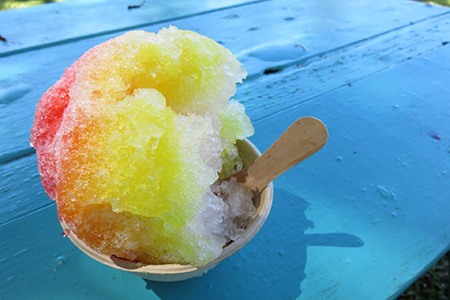 You may scoff at this ice cream substitute if you like ice cream for the rich and creamy texture. But many are just looking for a very sweet and flavorful taste to enjoy. And in that case, shaved ice is perfect.
You simply pour on your favorite flavor and let the ice absorb it, and dig in with a spoon. You can use lime juice, cherry juice, blueberry, or any of the classic flavors. You can even mix in yogurt if you want to thicken this ice cream alternative up a bit.
Halo-Halo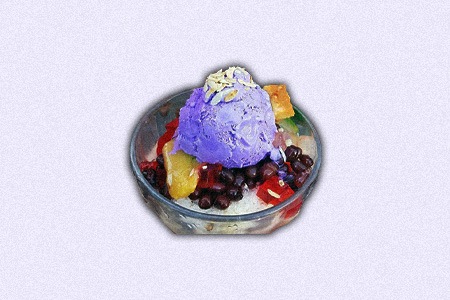 This cold dessert is extremely popular in its native country, the Philippines. It's made up of crushed ice foremost, with evaporated milk poured in and then tons of additional ingredients and flavors. The more colorful, the better.
You can expect to taste sweet beans, sago, seaweed gelatin (also called gulaman), rice, cubed roots, flan, coconut juliennes, fruit slices, gummies, seeds, and more. It's an explosion of flavor that you'll fall in love with immediately.
Tofu Ice Cream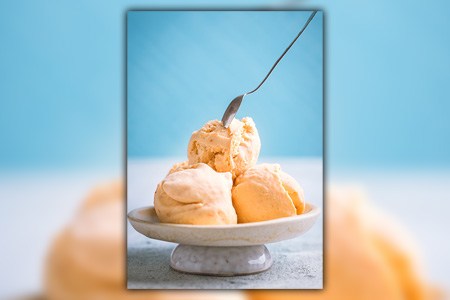 You've surely heard of tofu but maybe not heard of tofu ice cream. I wasn't aware of it until recently when I started looking for dairy-free alternatives to ice cream. It'll keep you away from the heavy creams and sugar that only add on to the dairy problem of traditional ice cream for some of us lactose-intolerant people.
This treat has decent protein and fiber and you can find endless recipes online for unique ways of making this treat fresh every time you have it. Tofu ice cream is a great choice for when you want to know what to eat instead of ice cream.
Bingsu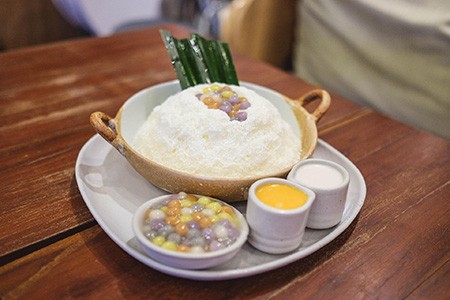 This dessert comes out of Korea and is sometimes written as bingsoo. The main ingredient of this substitute for ice cream is shaved ice but gets real indulgent when it comes to the toppings. We're talking red beans, chopped fruit, fruit and chocolate syrups, condensed milk, nuts, and more.
If you want the most traditional and common experience of bingsu, try pat-bingsu, the red bean variety. The flavoring is already in place with the shaved ice and not one that you add on top later.
Ice Cream Alternatives for Tasty & Healthier Treats
We hope you enjoyed learning about the numerous ice cream replacements available. If you're concerned about your health, these are a good alternative to consider —they're simple to make and consume less time giving you more flexibility.
Make these delectable ice cream alternatives and enjoy a feast of delight with your loved ones at home or at a gathering. Let's know which one you find most amazing.
You'll Also Enjoy: