18 Types of Frosting to Elevate Your Cakes & Cookies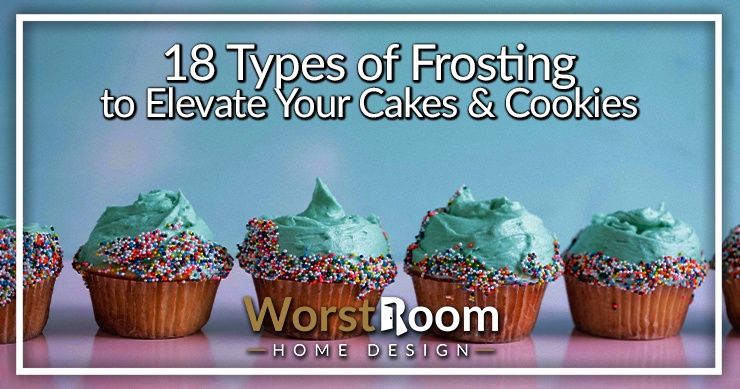 Be it cupcakes, sugar cookies, or birthday cakes, frosting and icing are needed for many sweet baking creations. There are many different types of frosting that pair well with different recipes or flavors of cakes.
To help you understand their differences and how to choose the best one, I have created this article. Let's begin!
18 Types of Frosting
From light and airy to rich and chocolaty, here are the most common frostings you can make right in your very own kitchen.
American Buttercream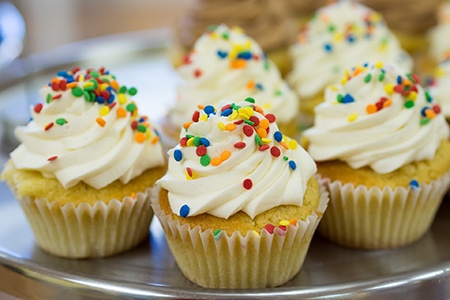 Skill Level: Beginner
Stiffness: Soft and spreadable, best used in a cooler environment because susceptible to melting
Texture: Creamy and thick
Uses: Sponge cakes, cupcakes, sheet cakes, and cookies
Color: Ivory or off-white (not very white)
Specialty: Easy, fool-proof, very few ingredients
American Buttercream is the most common type of frosting used all around the world. It is straightforward and relatively fool-proof to make, which makes this frosting great for beginners. It is the go-to frosting for most bakers.
As it is made of mainly butter and sugar, it can be a bit too sweet. So, this frosting pairs best with cakes and desserts that aren't very sweet by themselves and require a bit of additional sweetness.
To make buttercream frosting, you'll have to fluff up solid fat (such as butter or shortening) first. Then, slowly start adding powdered sugar into the butter until a smooth frosting forms.
You can add any flavor or other types of add-ons in the frosting if you'd like. Typical flavors and add-ins include vanilla, almond, chocolate, raspberry or blueberry jam, etc. For some added richness, add a dollop of heavy whipping cream.
Swiss Meringue Buttercream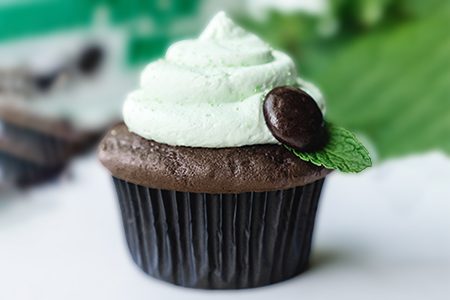 Skill Level: Intermediate
Stiffness: Soft and prone to melting
Texture: Airy, light, and silky smooth
Uses: Fancy cakes and cupcakes
Color: White
Specialty: The least sweet frosting; white so it can be used to make bold colors
American buttercream might be too heavy and sweet for some people. These buttercream cake frosting types are the perfect alternative for them.
Swiss meringue buttercream uses egg whites to add lightness and silkiness to the overall frosting, which is delightful. It is straightforward to work with, which is why many professionals use this.
To make Swiss meringue buttercream, whisk eggs white and sugar to form a meringue (any types of whisks will do the job).
Make sure no egg yolks remain in the whites, or else the meringue won't form properly. Whisk the mixture over a double boiler to cook the egg and get stiff peaks.
Once it is cool, add small cubes of room-temperature butter and whisk to get the final frosting. Swiss meringue is the least sweet option out of all buttercreams, so consider making it if you don't have a big sweet tooth.
Italian Meringue Buttercream
Skill Level: Advanced
Stiffness: Pliable, easy to work with
Texture: Smooth and silky
Uses: Cakes and desserts for outdoor events
Color: White
Specialty: Stable in hot temperatures; perfect for long term use; great for coloring
Let's turn the skill level for buttercream up another notch, and you get Italian meringue buttercream. Unlike the previous two frostings, this one holds up well in heat and does not melt.
That is why these kinds of frosting are perfect for use when the cake sits under the sun for long hours at events such as weddings or parties.
While making these frosting varieties is difficult, the result is worth it – an extremely smooth, silky, not too heavy nor too light, and stable buttercream that tastes delicious.
To make Italian meringue frosting, make a meringue of egg whites and sugar first. Then, make some sugar syrup and wait until it reaches the softball stage (240-degree Fahrenheit).
Add this sugar mixture slowly as you keep whisking the meringue. Stop when you get soft peaks.
Once this cools, whisk the mixture again and add a little cubed butter slowly until you get stiff peaks. And you're done!
German Buttercream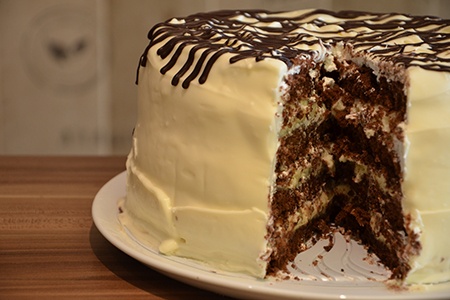 Skill Level: Intermediate
Stiffness: Pliable and soft, holds a shape but is very prone to melting off
Texture: Smooth, creamy, light
Uses: Fillings for pastries or cupcakes
Color: Light yellow (Caused by the pastry cream)
Specialty: A moderately easy filling for pastries and cakes, it adds a rich yet light creamy layer
These buttercream types of frosting are also called pastry cream buttercream because you have to combine pastry cream with butter to make it. What is pastry cream, you ask? Pastry cream is an egg-based custard that is made of milk and flour.
The combination of rich custard and light butter makes it a very popular filling for cakes. As custard is also used as a base for many types of ice cream, this buttercream tastes like one of the ice cream alternatives.
To make this frosting, follow a recipe to make a basic pastry cream first. Once it is cooled thoroughly, beat butter in another bowl until fluffy. Then, slowly add the custard in as you keep whisking the butter.
French Buttercream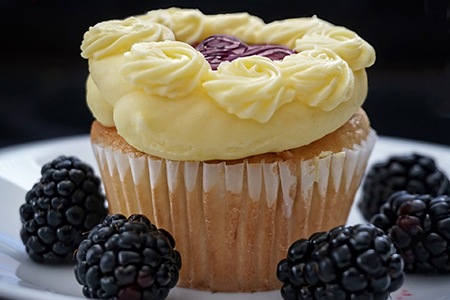 Skill Level: Advanced
Stiffness: Soft, cannot hold a shape, melt easily
Texture: Thick, extremely rich, and creamy
Uses: Fillings for cake layers and tarts
Color: Yellow (Caused by the yolks)
Specialty: Adds a rich, creamy texture to any dessert, taking its taste to the next level
No, we aren't done with buttercream types of cake frosting named after nationalities yet. The difference in this version is that instead of egg whites only, you use egg yolks or a mixture of whites and yolks.
Remember, we have another type of buttercream called 'French meringue' don't confuse that with this one.
This is yet another frosting meant for the filling because the egg yolks give it a very soft and rich consistency, almost like a custard.
It is best used in combination with another type of buttercream. Use another kind of buttercream to build the cake's structure and give it shape, and then use this to add a soft, rich layer of frosting in between the cake layers.
To make this, follow the same method for Italian meringue buttercream. But swap out the egg whites for egg yolks.
Cream Cheese Frosting
Skill Level: Beginner
Stiffness: Soft and spreadable
Texture: Velvety and smooth
Uses: Moist and rich cakes such as red velvet, carrot cake, and more
Color: White (Because of the cream cheese)
Specialty: Adds a tang to the classic frosting, which adds a new dimension of flavor to the dish
Cream cheese frosting is just like American buttercream, except it uses cream cheese along with butter. This frosting is widely popular for adding a bit of tang to any cake or dessert.
You can amp up any basic cake by just adding a bit of cream cheese to your American buttercream types of frosting.
Generally, moist or dense sponge cakes pair the best with cream cheese frosting. They add a nice contrasting flavor to balance out the richness of these cakes.
To make cream cheese frosting, you'll have to swap out most of the fats with cream cheese. Everything else is the same as American buttercream.
Ermine Buttercream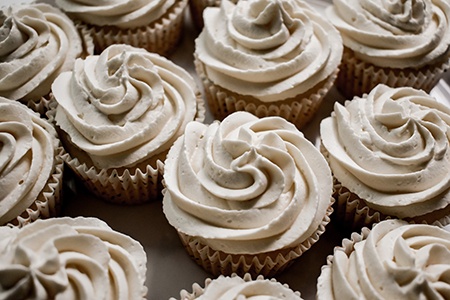 Skill Level: Intermediate
Stiffness: Extremely soft
Texture: Very light and silky
Uses: Any sponge cakes and cupcakes; Not suitable for intricate decoration
Color: Off white
Specialty: An eggless alternative of Swiss meringue buttercream
Remember the light and silky buttercream you taste when you buy pre-packaged pastries from grocery stores?
That's ermine buttercream. It is an eggless buttercream that resembles the Swiss meringue version. This can be a great option for your vegan friends!
Cook a mixture of flour, sugar, and milk until it resembles pudding. Let it cool, then whisk it until it is fluffy. Slowly incorporate butter as you keep whisking.
Whipped Cream Frosting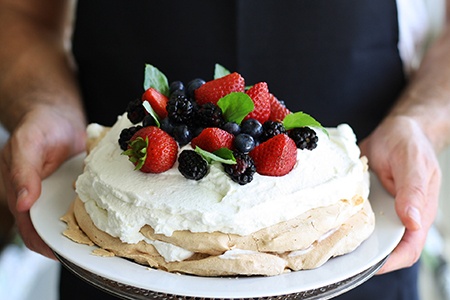 Skill Level: Beginner
Stiffness: Very soft
Texture: Creamy and soft
Uses: Cream pies, cupcake, and cake topping
Color: White
Specialty: Pairs well with almost any dessert
Sometimes, we don't have the time to make elaborate frostings with butter or eggs. We just want to whip something up in mixing types of bowls quick and get on with it.
Other times, we just prefer simple whipped cream over everything else. Whatever the cause may be, you can never go wrong with simple whipped cream types of frosting.
Whipped cream is really just heavy cream that you sweeten lightly and whip – there is not much to it. It is very light, subtle, and pairs well with almost any dessert you can think of.
Remember that whipped cream won't hold its shape nearly as well as the buttercreams, so it's best to swirl them on top of your cakes, cupcakes, or other desserts.
Ganache
Skill Level: Beginner
Stiffness: Pourable, frosting is pipeable and spreadable
Texture: Chocolaty and silky
Uses: Topping on donuts, pretzels, croissants, cakes; filling and frosting for sponge cakes
Color: Off white
Specialty: Can be used as both icing and frosting; very chocolaty
We cannot end our article without mentioning this rich chocolaty goodness. While you can use this as a frosting, it is somewhere in between a frosting and icing scale.
You can use this as icing to dip cake pops or pour over donuts, or you can chill it to spread as a frosting.
To make ganache, heat some heavy whipping cream until it reaches the scalding stage. Then pour this hot cream over chopped chocolate or chocolate chips.
Let sit for a few minutes, and stir to combine. To make it glossy, add some coconut oil too. You can do this in a microwave, too.
To turn it into a frosting, whisk the ganache until it is fluffy.
Seven Minute Frosting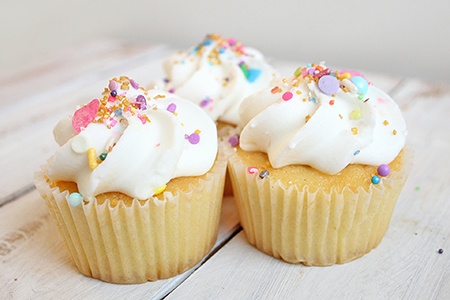 Skill Level: Intermediate
Stiffness: Soft but will become harder with leftovers
Texture: Airy and fluffy
Uses: Typically used on the top of cupcakes and cakes
Color: White
Specialty: Pairs well with shaved coconut
These types of frosting are given the name it has due to the mixing time the recipe calls for, despite it being fairly similar to meringue frosting in taste. To separate it, it is often paired with shaved coconut.
Making seven minute frosting isn't difficult. You don't need many ingredients... not even butter or any special types of spoons for mixing. But you do need access to a double boiler for mixing. You'll start by mixing the appropriate amounts of sugar and cream of tartar.
From here you'll combine the current ingredients with egg whites and water into a mixing bowl that can be whisked in the double boiler until it's frothy. Stop at this point and hand mix it for 7 minutes, which is when you should notice it stiffening.
Basic Vanilla Frosting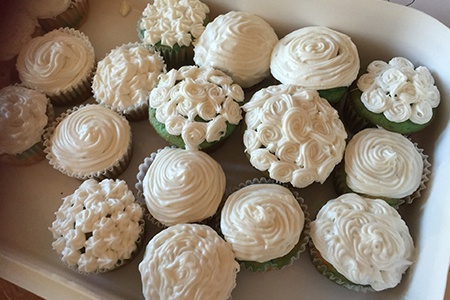 Skill Level: Beginner
Stiffness: Stiff but toward the softer side
Texture: Airy and fluffy
Uses: Typically used on the top of cupcakes and cakes
Color: Off white to yellow
Specialty: Very versatile, easy to please most everyone
If you've had cheap cakes and cupcakes, you've had basic vanilla frosting. Many try to spruce it up by adding sprinkles of various types. These rich and smooth cake frosting types are an easy bet because most everyone will be satisfied.
You can just as easily make this with chocolate flavors or any other. The real magic is with real vanilla, though, balanced with the right amount of sugar. Here's an example of a vanilla frosting recipe with butter in the mix to make it creamier.
Combine your powdered sugar, melted butter, milk, and vanilla and beat them until they're smooth and ready to be used in an icing tube. Then apply however you like!
Fudge Frosting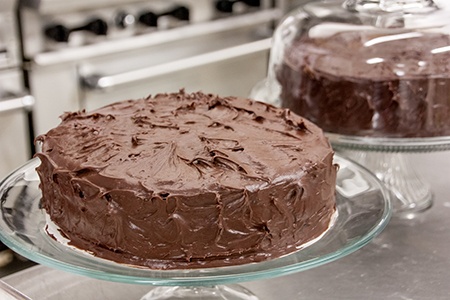 Skill Level: Beginner
Stiffness: Soft enough for an icing tube but becomes firm
Texture: Smooth, creamy, spreadable
Uses: Typically used on the top of milder cupcakes and cakes
Color: Light to dark brown
Specialty: Requires very few ingredients, hard to mess up
Whether you use chocolate drops or cocoa powder, the process is simple. You'll mix your melted butter together with your cocoa powder on low heat until it thickens into a paste. Slowly begin mixing in your sugar and milk, a bit of each at a time.
Within about five minutes you'll have a decadent frosting that's so strong in flavor that you're better off using it for less rich cakes, or pair it with tart items to balance the taste. Though you can be extra indulgent and spread it over your favorite types of fudge.
Lemon Curd Frosting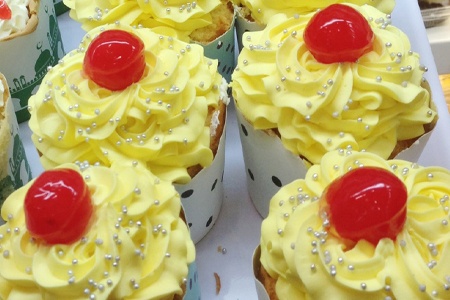 Skill Level: Beginner
Stiffness: Very soft, easy to pipe and spread, but thick
Texture: Glossy and smooth
Uses: Paired with yellow cakes
Color: Yellow and orange-ish
Specialty: Sweet, sour, and tangy, for the complex palette
Among the most different types of frosting is lemon curd. These frosting varieties create a juxtaposition of flavors in the mouth that don't confuse but compliment each other. If you've had lemon custard before, you know what to expect.
This flavorful, creamy frosting is so delicious that you'll find cupcakes with not only it used as frosting on top but filling on the inside, too. It's almost like enjoying pudding with extra cake texture on the side!
All you need to do is whisk together powdered sugar, melted butter, lemon juice, and lemon zest. Once you reach the right consistency you can mix in whipped cream to add a special touch.
Royal Icing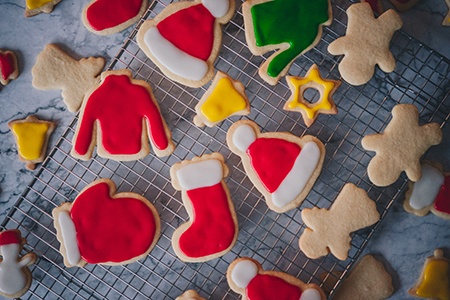 Skill Level: Intermediate
Stiffness: Stiff and brittle
Texture: Glossy and smooth
Uses: Used with cookies, cupcakes, and cakes to add decorative patterns
Color: White
Specialty: An artist can create beautiful decorations for desserts
Hard frosting varieties aren't common, but are needed for very intricate and delicate artwork created on top of desserts. Royal icing is perfect for this task, with it's ability to be piped out of a very fine tip on an icing tube.
Similar to glazed types of cake frosting at first, it ultimately dries much more firm, almost into a softer hard candy. Whether creating gingerbread men or placing snowflakes on chocolate cookies, the options are endless here.
Fondant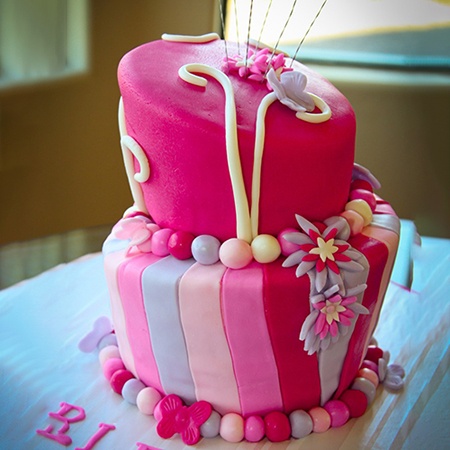 Skill Level: Expert
Stiffness: Stiff but moldable
Texture: Smooth and chewy
Uses: Used to seal cakes with smooth cover, cut for decorations
Color: White typically but can be colored any way you like
Specialty: Used to make decorative cakes
Fondant is a thick and rich frosting that, once the recipe is complete, must be rolled much like dough so that it is flattened. It can then be wrapped around the sides of cakes and laid on top.
It can also be used with cookie cutters or knives to cut out shapes for further decorating. It's all the rage right now with professionals on television and in cake shops around the world.
Marshmellow Frosting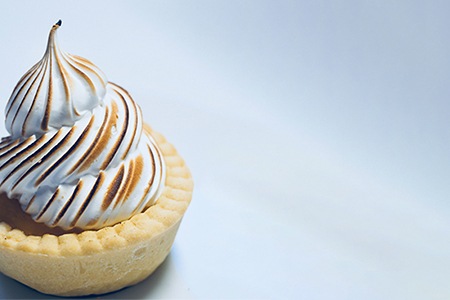 Skill Level: Intermediate
Stiffness: Ranges from thick to runny
Texture: Smooth, dense, fluffy, and sweet
Uses: Used on top or in between cake layers
Color: White, typically
Specialty: Thick variations can make fluffy designs on top of cakes and cupcakes
Marshmallow frosting is one of the buttercream types of frosting, this time focused on marshmellow fluff or creme. What makes it stand on its own past the basic buttercream frosting is the almond extract and marshmallow flavoring.
You'll notice how soft, fluffy, and light these types of cake frosting are compared to others. In some cases it's almost runny like syrup. It's a very dense (in terms of flavor) icing that goes good poured on top or between layers of cake.
Glazed Frosting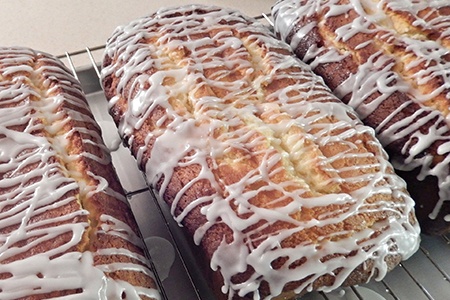 Skill Level: Beginner
Stiffness: Thick and firm
Texture: Smooth, dense, fluffy, and sweet
Uses: Used on top of doughnuts
Color: Food coloring based on flavor
Specialty: Can completely transform or define the types of doughnuts
Whether white, brown, or transparent, and any other color really, glazed kinds of frosting is most often seen on various types of donuts though it finds its way onto all kinds of desserts. The glaze is painted on and when it cools it hardens into a thin, brittle shell.
Cookie Frosting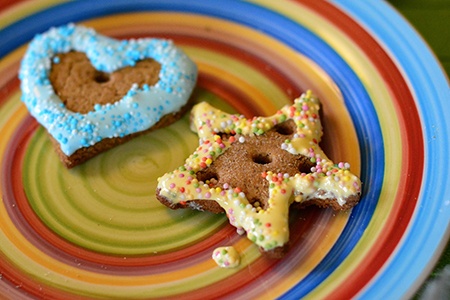 Skill Level: Beginner
Stiffness: Hardens quickly to become stiff and sometimes brittle
Texture: Smooth and sweet
Uses: Used on top of all types of brownies and cookies
Color: Any color with food coloring
Specialty: Gives cookies extra flavor while holding them together
If you've enjoyed cookies with colorful glaze over the top, often covered in sprinkles and candy, then you've experienced cookie frosting. It's made with milk, resulting in a rich and creamy tasting frosting that can almost be too rich.
It's extremely simple to make and takes no time at all. These types of frosting are basically just powdered sugar and organic types of milk. Whisk them together until you get a paste of the consistency you like, thickening it with more sugar if needed.
Types of Icing for Every Treat
With so many types of frosting, your possibilities are endless. You can change up depending on the type of item you are baking or your skill level. Get started on your baking adventure now!
You'll Also Enjoy: