13 Guest Bed Options to Help You Host Your Visitors Now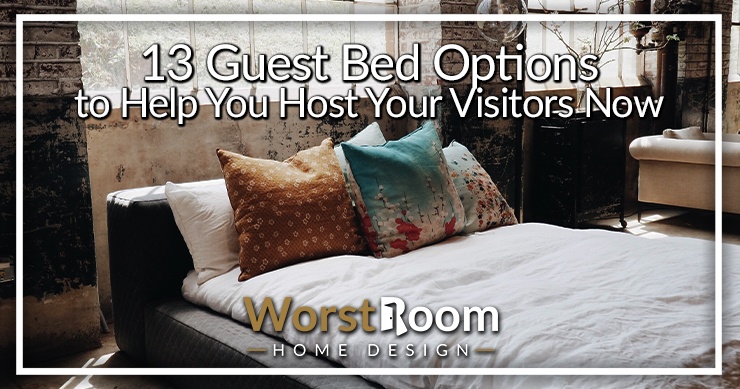 No matter how well prepared you are in your daily life, you always need to be with comfortable guest bed options. Having to entertain unexpected guests at home might be a hassle, with their food and accommodation to be taken care of. One thing that is usually a concern is—where will they sleep?
Having a guest bed on hand is a great way to keep your home ready for overnight guests. Here are some ways to always have a bed ready for overnight guests, no matter how big or small your house is.
Guest Bed Options for a Guest Room
If you've got an extra room in your home, you can always convert it into a luxurious guest room for your loved ones. In guest rooms, you can opt to get a full-sized bed or even choose to convert it into a multi-purpose room when guests aren't around.
Queen-Sized Bed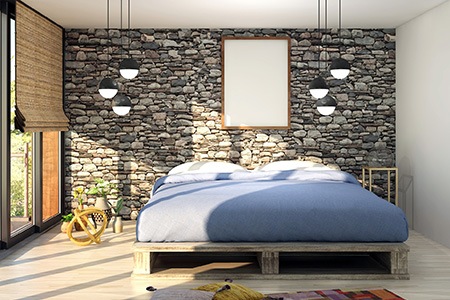 A proper queen-sized bed can be an excellent way to do up a permanent guest bedroom. While it is large enough for more than one person, it still doesn't overshadow the master bedroom.
You can set up a nice, relaxing space in the guest bedroom with a desk, a reading lamp, a bedside table, some blankets, and extra pillows. This is probably the best of the guest room bed options in terms of traditional comfort.
Having a dedicated room for your guests will surely make them feel at home, while also reducing your stress of setting up a bed every time a guest comes over.
Loft Bed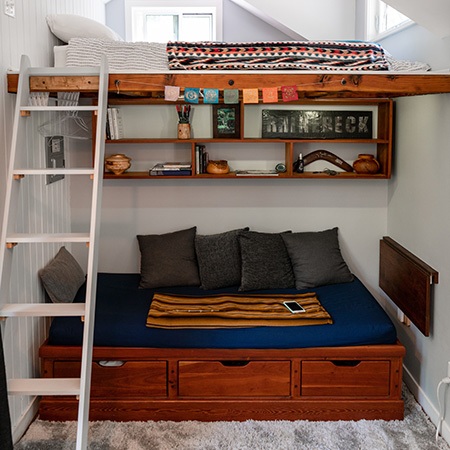 In smaller guest rooms, you can get a loft bed, provided that you have a relatively higher ceiling. Loft beds as guest bed options can have the bottom free, where you can keep a desk, a storage closet, or even a sofa there.
This way, the limited space can be used for multiple purposes. This is also a perfect way to convert a guest room into a home office while also keeping a bed always ready to use.
These types of bed frames are very versatile. If you'll be hosting young people or children, this is one of the best guest bed options as it will likely be a novelty for them as well.
Murphy Bed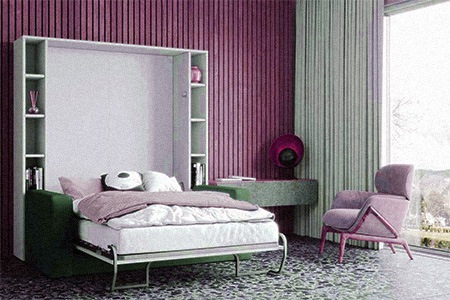 Murphy beds are built into the wall, saving space, and can be pinned up safely when not in use. Murphy beds are an excellent option for multipurpose rooms where you might want to leave the floor area open.
When you have the space for yourself, you can use the open floor as a workout area, play area or even a crafting area. When guests arrive, all you need to do is to pull the bed down from its frame.
Murphy beds are expensive but are truly worth the cost if it is used often. Some Murphy bed frames even come with built-in storage and desks or wardrobes.
You can even get side-mounted Murphy beds that can be hidden behind sliding TV sets or cupboards. These aren't cheap guest bed solutions but they're very fun.
Guest Bed Options for a Living Room
If you don't have a guest room or would like to make space for even more guests, your living room should be the ideal room for conversion.
These days, a lot of furniture comes with multi-purpose capabilities that can be converted from one to the other in minutes.
Here are a few types of furniture you should look out for that can be converted into guest beds at your convenience.
Day Bed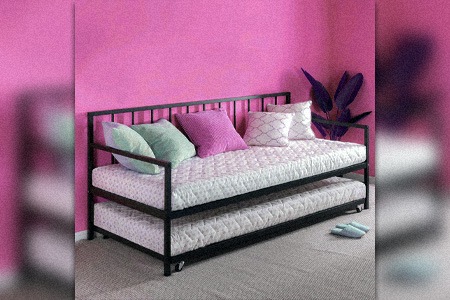 Based on the furnishing, day beds can fit in well in bedrooms and living rooms. In the daytime, you can just have some throw pillows and a throw blanket to make it a place to sit and lounge in.
At night, you can easily convert the day bed into a place to sleep by switching to regular types of pillows and blankets. These are probably the most common guest sleeping solutions in most homes.
Some day beds even come with trundles that can be hidden away in the day and then pulled out at night to make room for multiple guests.
Sofa Bed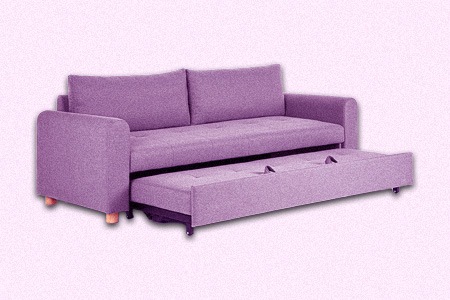 Sofa beds can fit into any room. Not only are they comfortable enough for you and your guests to sit on during the day, but they also can be easily converted into beds at nighttime. They are multipurpose and quite handy in small apartments with less space.
Sleeper sofa beds are usually 3-seater couches or twin-seat sofas with a pull-out mattress. These types of mattresses might not be ideal for daily use but are a good option for the occasional guests.
Sofa Bunk Bed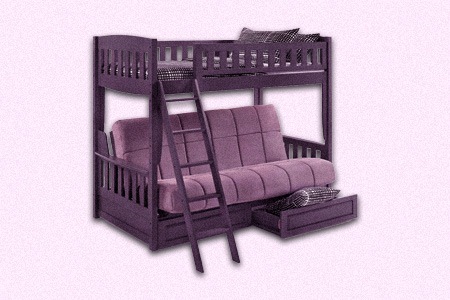 Sofa bunk beds are a common sight in furniture showrooms now, with more and more people looking for multi-functional furniture for guest bed options.
They are perfect for converting your living room into a guest bedroom as it just takes a few minutes for your sofa to convert into a 2-tier bunk bed for two guests to sleep in.
Cabinet Murphy Bed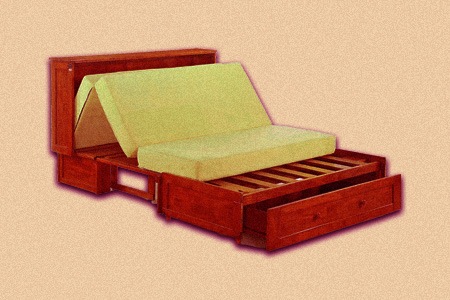 Cabinet Murphy Beds, as the name suggests, are Murphy beds that are disguised as cabinets. They look like a simple piece of furniture that fits well into a living room.
When needed, these can be just opened up to convert into a full-sized bed with a mattress. A lot of cabinet Murphy beds are intelligently integrated with storage space and bedside stands as well.
Usually ideal for storing extra pillows and types of bed covers, you can also use this to store other items from around the house. As far as bed alternatives for guests go, they'll have a lot of fun with a Murphy bed.
Cabinet Murphy beds are freestanding, unlike normal Murphy beds that need to be installed into a wall or frame. They're pretty interesting bed alternatives and space savers.
Ottoman Bed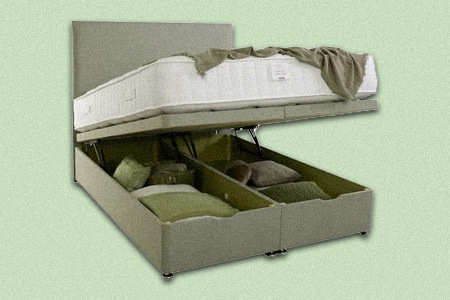 Ottoman beds are also a popular choice. These can usually be converted into recliners as well as single beds, as per your need. They're neat guest bed alternatives that otherwise can be used for normal purposes and essentially be completely hidden.
They might not be too comfortable, but can be neatly folded into a compact ottoman for your living room.
Floor Mattress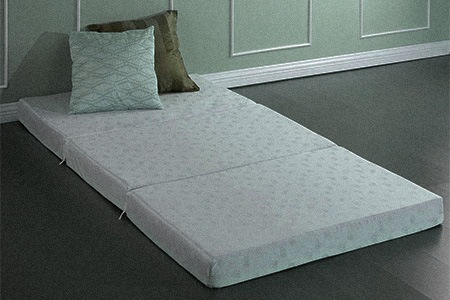 Floor mattresses are all the rage these days, with the bohemian trend taking over the world. Floor mattresses or floor cushions can be stacked on top of each other to be used as a single bed or day bed and can be split up to make room for more guests.
Floor cushions are available in a range of vibrant colors that can elevate the room instantly. They can even be used to create cozy reading nooks or lounging areas in the house.
Guest Bed Options for Studio Apartments
In the case of studio apartments, a single room serves as the living room, dining room, kitchen, bedroom and home office.
In these cases, it can get hard to have dedicated space for a couch, let alone a guest room. Here are a few guest bed ideas to have a guest bed in studio apartments.
Trundle Beds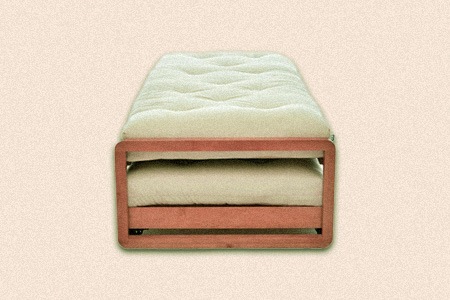 Trundle beds are 2-in-1 beds, with twin mattresses, that take up less space. A trundle bed is perfect for studio apartments as it can be your permanent bed while hiding the guest bed underneath.
Trundle beds usually have rollers underneath the bottom bed so that they can be rolled out easily when needed.
When you have a guest coming over, just make some space in your studio and pull out the trundle for an extra bed. They are also a great option for extra seating when you have friends over.
Futon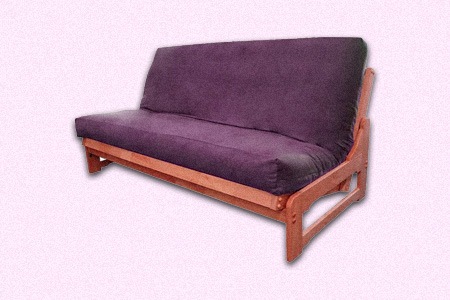 Futons are quite similar to sofa beds as guest bed options. These mattress alternatives are perfect to sit on in the day and can be easily converted into a proper bed at nighttime.
In upright types of futons, the back can be folded down to flatten it to the seat level. They convert easily into full-size beds and are a lot cheaper than sofa beds.
Futons and even the futon alternatives are perfect for studio apartments where you might not have enough space for a large sofa or pull-out couch.
Foldable / Portable Guest Beds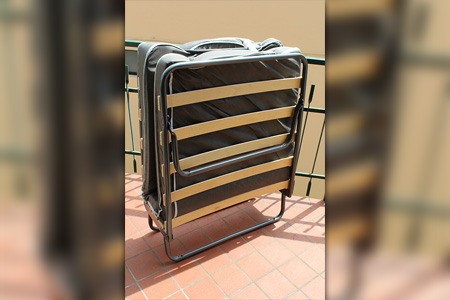 Foldable beds are available in two variants, one with a bed frame and mattress and the other with just a mattress. These can be unfolded easily and set up anywhere, making them convenient in any kind of home.
Mattresses with bed frames usually come with a roller at the bottom of the bed frame, making it easy to move around the house whenever needed. These can be folded back into an upright position and stored conveniently when not in use.
Foldable mattresses are lightweight mattresses that can be folded or rolled up when not in use. These can be stored easily under your bed to keep them away from sight when not in use.
Foldable mattresses are perfect for kids' sleepovers and college dorm parties as you can easily store multiples of these very easily.
Air Mattress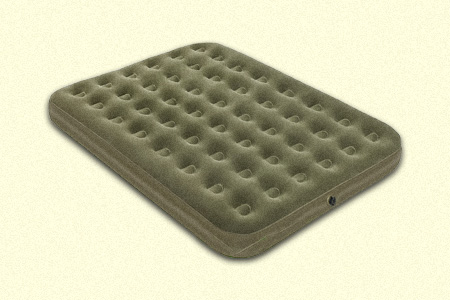 The cheapest way to always have a guest bed on hand is to buy an air mattress. These days, most air mattresses come with electric pumps that can set up the mattress within minutes.
They can be deflated just as easily and can be folded and stored in a closet when not in use.
Guest Bed Options for Any Size Home
You can set up a guest bed in any room or keep it hidden away for when your guests arrive. Remember to also add a nice comfy mattress, a couple of pillows and a blanket or duvet so that they can rest well through the night.
For additional ease, always have a plan for where you might want to set up the guest bed options so that your guests have some personal space to work or set aside their belongings. Happy hosting!
You'll Also Enjoy: