16 Nightstand Alternatives for a Unique Bedroom Decor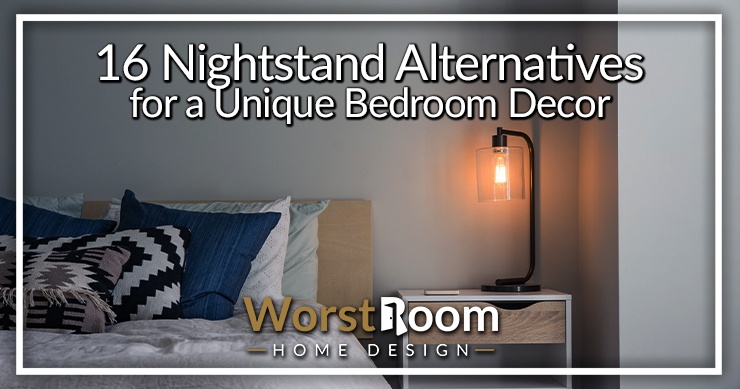 While nightstands are seen in almost every home, there might be a number of reasons why you dislike them. Whatever your reason for not having a nightstand, this article will introduce you to the greatest nightstand alternatives out there.
Some may find them excessively big, others too conventional, and yet others too pricey. If you stick to our recommendations and follow our advice, you'll end up with the finest option for you.
16 Nightstand Alternatives
Before we get into the specifics of our best options, which we identified after conducting comprehensive research, here's a helpful tip for you.
It is advisable to utilize two on each sides of the bed, whether you use a nightstand or one of its substitutes. This creates the illusion of perfect symmetry and enhances the appearance of your bedroom.
Let us now look at the seven finest home items that may be used in place of a nightstand.
Small Desk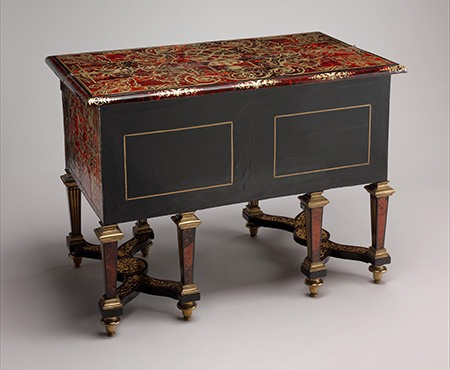 Our very first piece of advice is to use a small types of desks as a bedside table. This is most suitable when you need to store a large number of things at a time.
For instance, if you're someone who has to work on their laptop till late and then doze right off to sleep, you can just easily set the device on the desk and call it a night.
As desks are relatively larger and come with one or two drawers, you can store everything from a lamp to midnight snacks in one.
Since desks are rather unconventional alternatives for nightstands, you can create a unique synergy in your bedroom by arranging two similar desks on opposite sides of the bed.
Floating Shelf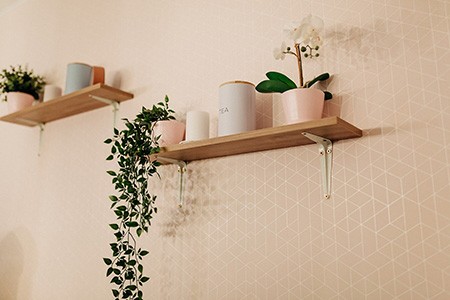 Following that, we offer a very simple yet sophisticated choice for you. This differs from the first choice in that it can only store the bare essentials for the night. As far as alternative nightstands go, these are the most modern and minimal.
This is due to the fact that floating shelves are often small pieces of planks horizontally placed on either side of the bed on the wall. Because these shelves are usually relatively narrow, they cannot support high weights or a huge amount of material.
Moreover, this results in a very minimalist appearance. So, if you have a small and simplistic house, this alternative would be ideal.
Most significantly, this option is extremely cost effective. So, if you're on a tight budget, you can get two shelves set for very little money. If you believe that one shelf on either side is insufficient, you can add two more. Even so, the final cost would be quite modest.
Console Table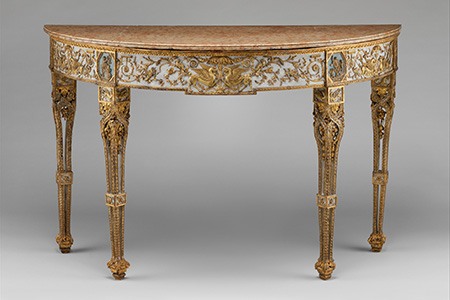 You're probably aware that console tables are intended to be utilized in entryways or hallways. When you enter someone's home, you will notice a small console table at the entrance; and they usually have one set of drawers at the top. These tables exude an air of openness and cleanliness.
Now, you can choose to use one or two of these as nightstand alternatives to give your bedroom a clean and minimalist look with plenty of place for storage.
More importantly, their elongated structure will not take up much room but will still provide a sufficient surface area to set the essentials for the night.
Antique Trunk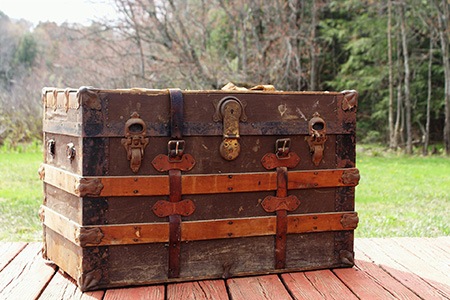 If you can find an antique trunk with a flat top, you've got the perfect accent piece to use as a nightstand replacement. Trunks are great because you can also store duvets and extra sheets or blankets inside, plus pillows even.
But truthfully, what we're really suggesting is using anything that can act as an accent piece. We've seen people stack up suitcases, using a cross section of a big tree trunk as a table, and much more. It's all about creativity and matching your color scheme.
Dresser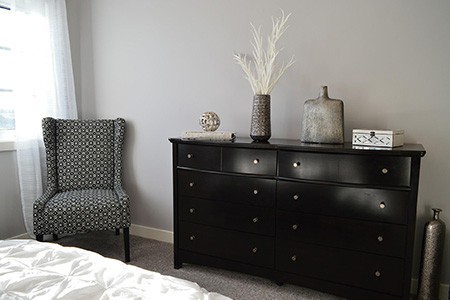 Our next option of the alternative nightstand ideas is for those of you who want a large amount of storage space, particularly if you have extremely compact rooms and must squeeze a lot into a little space. We've all heard of a dresser.
They are generally extremely large and have multiple drawers. Even if you buy little types of dressers, it will include at least three drawers for you to keep your belongings.
If you live in a tiny space, you can keep your bedtime necessities in the upper drawers and use the remainder for other purposes.
Not only that, but dressers are large and bold and will provide a splash of color to your bedroom. As a result, you shouldn't be concerned about using a dresser as a bedside table. You can look for more ideas by checking out our dresser alternatives article as well.
Stool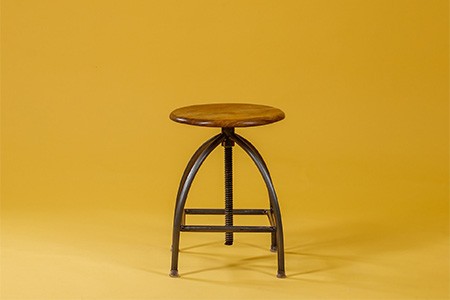 For those of you on a budget, we have another simple alternative nightstand idea for you. This time, you won't have to hang it on the wall. You can simply use a small tool made of bamboo or rattan, or similar material to get a simplistic image.
These cost effective nightstand alternatives are enough to hold your phone, earphones, medications, and other small nightly needs. And if you have a stool at home, you don't have to spend any money on it at all.
Stools are lightweight and readily transportable, so if you have company and need more seating area, you can just take them out.
Bar Cart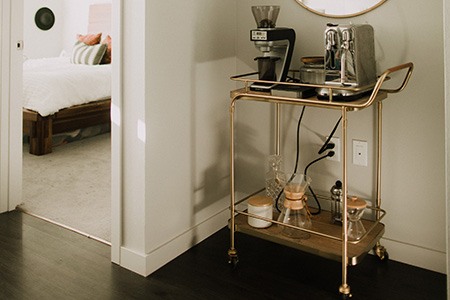 Another option that looks nifty is a bar cart. You've seen these in hotels where they have two layers to cart drinks and plates of food to rooms, rolling on four wheels that you can lock into place.
The two types of shelves on these bar carts make them easy to decorate and very functional, usually with the top hosting your alarm clock, nighttime reading material, any just-in-case types of flashlights, some lotion, etc.
Stylish Chair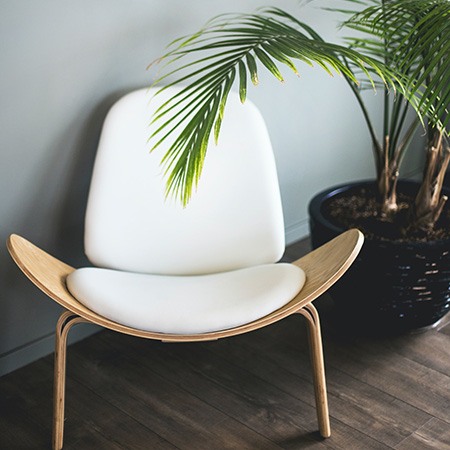 We're almost at the middle of the list of alternative nightstands, and we're going to provide another low cost solution, and that is, using a simple chair in place of a nightstand.
This is best suited for people who only set aside small things like a book and a phone. And a chair is perfect for cases like these. Otherwise you might want to use more durable and larger types of chairs.
Now, this option is especially great for those of you who don't want to spend anything. You can simply bring your computer chair or your dining table chair for the night and set it aside in the morning.
Book Shelf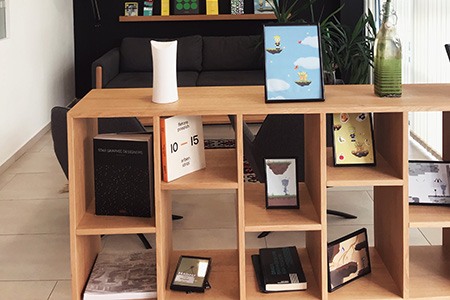 Last but not the least, we have a great alternative, and you will love it if you're a bookworm. Well, we're talking about a whole book shelf here.
If you already have a vertical bookshelf at home, you can bring it by your bed. And if you don't, you can get one made to match your bed instead of pulling in whatever you had as nightstand alternatives. You'll need to secure the bookshelf to the wall without screws or with them so they can't tip over as you fill them up and your kids and cats climb all over them.
If you want to bring a symmetric outlook to your room, you can get two of the same kind. Use the upper shelves to store books and the lower shelf to store your sleeping necessities.
Poufs & Ottomans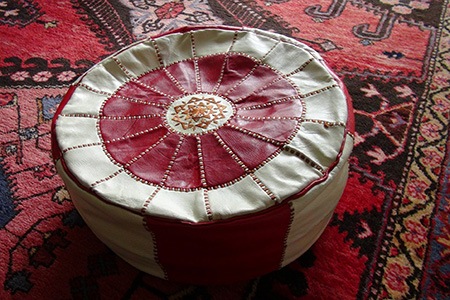 You may think that poufs, ottomans, and other soft surfaces may not work for an alternative to a nightstand, but if you stack your books up or even place a tray across it you can create the flat spot you need to safely place drinks down and more. People even use ottomans as coffee tables with trays and it works effectively. If you're unsure about the difference between poufs and ottomans you can learn more here.
Tree Trunk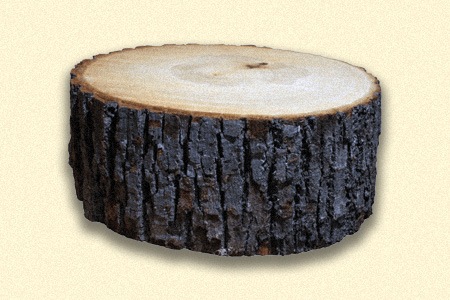 By now everyone has seen a cut of a tree trunk being used like it's a tree stump in the home. With the top and bottom cut flat and sanded smooth and the rest of the trunk debarked, you have an attractive and natural feeling nightstand at your disposal.
The best part is you can make this yourself. Once you remove the bark and sand everything smooth, simply add some polyurethane clear coating to smooth out and protect the tree trunk from rotting. This will lock in (and protect from any other) moisture.
Short Wooden Ladder or Step Stool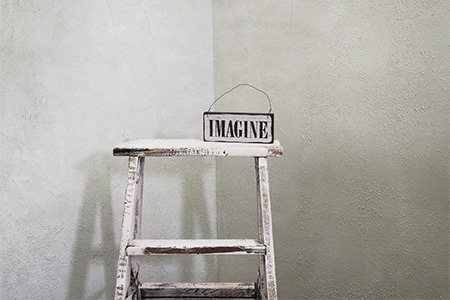 A great choice, especially for the artistic types, is to place a small two or three rung wooden ladder next to the bed. You can stack books like you would in a bookshelf on one rung, host your alarm clock and nighttime water glass on another, and even place a lamp on the very top.
What you'll want to concern yourself with is stability. I don't mean of the ladder itself but of the items you'll be placing on the rungs, since the rungs aren't too large. Make sure you're not the type to knock everything off in a sleeping daze.
Repurposed Crates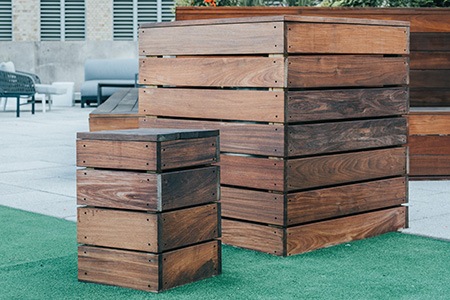 Two wooden crates turned on their side and stacked up can work just like a bookshelf, giving you three shelves to place items on. The important parts of turning crates into nightstand alternatives happen during the restoration of the crates.
First, you need to make sure there aren't any types of nails sticking out, either the sharp bottom or the heads. You can clip them off and file them down if needed, but don't pull them all the way out or the crates may fall apart.
Next you should sand all of the surfaces of the wood to remove the risk of splinters. Finally you can stain them if you wish or skip straight to a polyurethane coating. This will make the crates last for the long haul, protecting them from moisture issues.
Tool Chest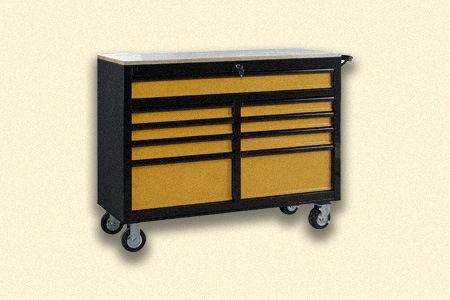 While you may not want a colorful tool chest (like the really fancy ones in garages) in your bedroom as an adult, it can look right and feel exciting in a young boy's room. It will offer all the storage he may need and be extremely durable.
At the same time you may wonder why you'd ever spend that kind of money just for a nightstand for a young kid. Well, you can treat these alternative nightstands as a birthday or Christmas present and pass it on to them as they become adults.
Plant Stand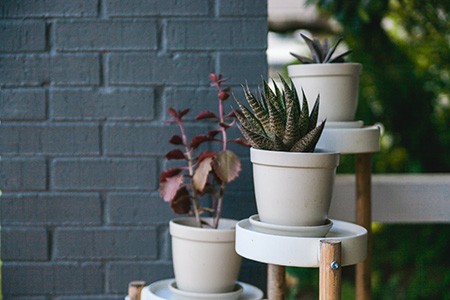 If you don't care about actually using the nightstand and are looking for a way to balance out the decor, then a plant stand can work great as a multi-tiered shelf to decorate and hold some of your nighttime items. You can bring in some natural green colors and then make the stand blend in with whatever other color scheme you have going on.
You can choose the height of the stand to your liking, depending on the height of your bed and the "visual weight" of the comforter and headboard. You may opt for thick or solid materials, or thin materials built in a way you can see through the stand to the wall behind.
Stacked Suitcases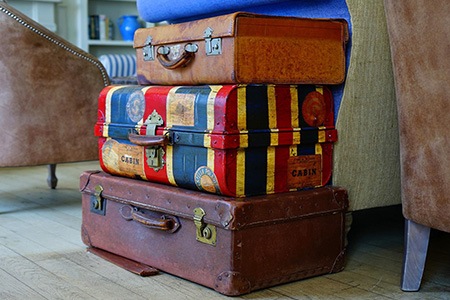 People who travel may enjoy finding a set of three or four vintage hard shell suitcases to stack on their sides to form a night stand. A fun idea is every time you travel to a location you can collect stickers to place on these suitcases to remind you of your adventures.
Nightstand Alternatives to Suit Your Bedroom Decor
If you're on a tight budget, consider getting a floating shelf or a stool. If you need more storage space, consider a dresser, and so on.
We have discussed our top picks from this category. From our nightstand alternatives, you can pick your most suited option depending on your particular budget, aesthetic, and, most importantly, needs.
You'll Also Enjoy: